Introduction to Sales for Beginners
Sales are the backbone of any business or organization's growth because, most of the time, the goals and objectives of the business or organization depend on the availability of finances. For instance, a company whose goal is to increase its profit margin will need to engage in marketing or improve its product or service quality, and it will need to generate revenue for this cause. Sales are the most reliable way to generate revenue for a business or organization. Thus, acquiring sales skills is really important for beginners.
This article aims to create detailed information about the meaning and purpose of sales skills to understand how to achieve sales skills and provide foundational knowledge and effective strategies to navigate sales efficiently.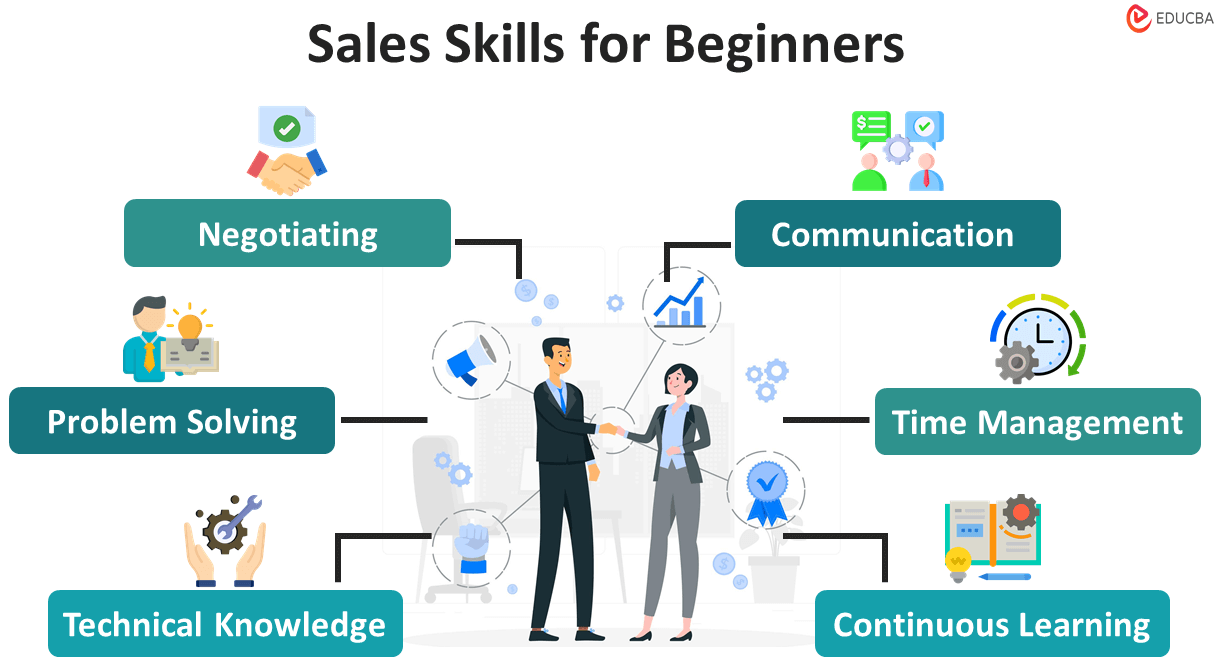 Sales Process
The sales process includes stages that a salesperson or a business follows to identify, engage, and close a deal with a potential customer. While specific processes may vary across industries and organizations, a general sales process typically includes the following stages:
Begin the sales cycle by understanding the needs of your target market. By doing this, you will know what products or services are likely to translate into sales.
When you have identified the needs of your target market, you can fine-tune your products or services to create value for your potential customers.
Actively sell your products or services to the target market using your efficient sales skills.
Earn revenue from the sales made to reinvest in the business to enhance capabilities and produce more.
Seek external financial assistance, especially for small or new businesses starting the sales cycle.
Consistently understand and address the needs of potential and existing customers to maintain the effectiveness of the sales cycle.
Repeat the sales cycle to sustain business growth and thrive over the short and long term.
How to Build Foundational Sales Skills?
Building foundational sales skills for beginners is crucial for success in the field. Here are steps you can take to develop and strengthen your sales skills:
1. Research and Learning
It is the most common way of building your knowledge in sales. Research and learning help you develop foundational skills and even allow you to keep growing as your knowledge expands. So, whether you are engaging in personal research or learning about sales from professional sales, as long as you are committed to gaining knowledge about sales, you are on the right path to becoming a professional at sales!
2. Practice what you have learned
Sales is a very practical field, so if you want to know that you have understood and fully acquired the knowledge, you will need to be practical. If you already have the products and services you want to sell, now will be the best time to apply your sales skills in real-world scenarios. However, if you don't have a product, you may begin applying to sales roles to solidify your experience.
3. Networking and Mentorship
As a beginner, you need to connect with and learn from experienced professionals, especially in the industry where you are interested. Networking and mentorship will provide valuable insights from individuals who have succeeded in sales and can help you accelerate your learning curve.
Top Necessary Sales Skills
Sales is a field that requires a combination of interpersonal, communication, strategic, and analytical skills. Here are the key sales skills needed for success:
1. Communication
As a salesperson, communication should be one of the first sales skills you acquire because you must be a good communicator to convince potential customers to buy your goods or services.
Another reason you need communication skills is to understand the expectations of your target market and input your strategies accordingly.
Furthermore, effective communication helps you tailor your approach to address the specific pain points of potential and existing customers.
2. Negotiating Skills
Communicate the added value of your product beyond just features and prices, creating a compelling story for customers.
Use straightforward language and a clear presentation to showcase how your offerings go beyond the basics, making them more attractive to customers.
Approach negotiations as a conversation, emphasizing effective communication over a simple transaction.
Communicate the deal's benefits in a way that connects with the customer's goals, enabling collaboration and mutual benefit.
3. Problem-Solving Skills
As a salesperson, you must channel your passion to identify and solve the problems your potential or existing customers face.
As a problem solver, you should be open to finding creative solutions to customer's problems.
You must also be able to address issues within the organization that may impact the value expected by customers or render your sales effort futile.
4. Time Management Skills
This skill is especially useful for salespersons in highly competitive industries.
As a salesperson, it is important to know how to prioritize tasks and ensure that you don't miss out on leads due to your inability to manage your time.
Remember that managing your time effectively can allow you to capitalize on potential customers and maximize your potential as a salesperson.
 5. Technical Knowledge Skills
Due to the ongoing digitization of processes across multiple industries, salespeople must acquire technical skills.
These skills will help you complete tasks more accurately, timely, and effectively, thereby helping you improve your conversions as a salesperson.
With technical skills, tasks such as creating market projections, receiving customer feedback, creating market projections, and putting out adverts will be more efficient, accurate, and timely.
One important technical skill that you need as a salesperson is data analysis. Data analysis helps you understand customer behaviors and make informed decisions, making identifying leads more effective.
 6. Empathy
Your primary goal as a salesperson is to convert your target audience into paying customers, but showing empathy is equally important.
You must show empathy by understanding your audience's needs and concerns before promising them value.
You can empathize with your target audience by asking for feedback, providing good customer service, and addressing their challenges or desires.
In addition, demonstrating empathy also promotes long-term relationships with your customers and referrals from them.
7. Continuous Learning
As a salesperson, your first sales knowledge will not carry you through your sales career.
You must be open to learning more about the evolving markets to stay ahead of trends and use them to attract and convert your target audience.
Being a continuous learner will also help your sales career be versatile by exposing you to how to win conversions in other industries.
However, if you are a business owner, when you expand your products or services, being a continuous learner in sales will help you easily break into new markets.
Final Thoughts
Sales is like an ongoing journey, whether new or an experienced professional. It's a constant learning experience. When you feel you are doing well, the sales game throws in new twists. Staying sharp, updated with sales skills, and adapting to changes is the key. Imagine sales as a forever-changing adventure. If you see it that way, you won't just make it in this exciting and competitive field—you will do well!
Recommended Articles
We hope you found this comprehensive article on sales skills helpful. For similar articles, please refer to the following.