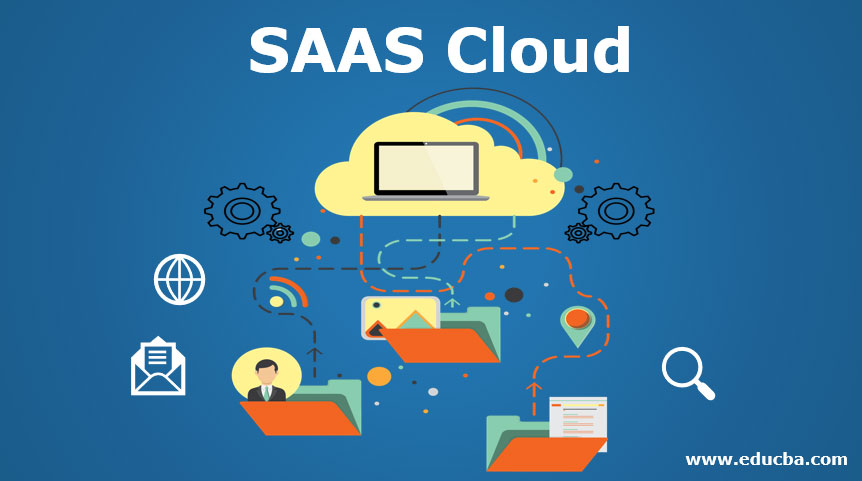 Introduction to SAAS Cloud
SAAS (Software as a Service) Cloud refers to the software licensing and delivery model where third-party cloud providers host applications and services over an internet platform and the user requires a license for using those software services. SAAS is one of the topmost cloud computing services that gains its importance after the late 1990s extending the idea of the ASP model. It is typically based on the web and from 2012, SAAS vendors continue to develop and manage their own software. It has been widespread because of its flexibility, as it requires only a web browser to run.
What is SAAS Cloud?
This represents the largest cloud application services that are growing immensely in today's digital market. As far as the name goes, it provides the necessary software as a service to the user that is managed by some third-party services. The software applications provided can be directly run on any web browser without any need for installing the software. SAAS is basically a web-based model that produces software on-demand, cloud vendors host applications on the server, maintain databases and transmit data over the internet to the end-user.
The SAAS vendor offers a great advantage over other service providers by allowing the buyers to outsource most of the IT responsibilities without having to invest in hardware platforms to host the software. The apps can be accessed by users via a web browser that has been a delivery model for various business applications including office software, management software, accounting, CRM tool, and various talent acquisition teams from various departments. It can be categorized into two types:
Vertical SAAS
Horizontal SAAS
SAAS Cloud has more benefits that will be discussed below which implements all the features of cloud computing making a robust experience.
Why We Use SAAS Cloud?
SAAS Cloud is a technology that rents software-based cloud platform services and is also a replacement model for such cloud platform services that the organization can access. For simplicity and reliability, anyone ranging from small to large-scale business use the technology of SAAS that needs an internet connection to run with the help of a web browser. So, we prefer using the SAAS cloud because of various reasons. I will discuss some of the basic points which are as follows:
For any scaled enterprise, they feel the necessity of using the SAAS cloud because of the low cost of services. We can purchase as much software as we want of our choice and will pay according to that.
In SAAS, we do not require any IT specialist team to work for. So during a shortage of resources, or when application development and maintenance become a big issue, SAAS comes into the picture.
SAAS application knows about its software creation that includes a bunch of experienced professionals and we can rely upon them.
Using the SAAS cloud, everything is processed and stored on the cloud itself that makes it easier to store hundreds and thousands of files and can access the same from the cloud whenever we want.
Advantages of SAAS Cloud
There has been a significant paradigm shift in technology while using cloud services. If we talk about the SAAS cloud, it also offers quite a wide variety of advantages to make our life so much easy and worthy. We will see the added advantages which are given below:
Easy to afford services: SAAS cloud model offers subscription-based services including service cost, maintenance, up-gradation cost, thus lowering the entire cost that is present on old traditional systems. Thus because of its affordability and wide range of features, many organizations started using SAAS.
Fast deployment: For using SAAS services, we need only a web browser and internet connection. SAAS solutions omit the headache of installing software on the system. Using a fast, stable internet connection, accessing software will be very fast and components can be deployed instantly.
No setup required for infrastructure: We, the users do not have to worry about the cloud infrastructure or hardware cost. SAAS cloud vendors handle everything. So there is no infrastructure cost as the SAAS vendor takes up all the responsibilities of maintaining the infrastructure as well as its configuration.
Fast upgrades: SAAS cloud supports on-demand updates and hardware updates when needed. The upgrades are very fast as it eliminates the downloading of software and patches. The systems are upgraded or downgraded as per the user's choice thus making our life so much easier.
Data backup and security: SAAS also takes the responsibility of backing up data on a daily, weekly, or monthly basis that can be found very fruitful at times. SAAS solutions also initiate automatic backup maintaining data integrity and security making the user tension-free.
Flexibility: Users get a chance to access SAAS services from anywhere around the globe. It makes the life of job seekers who used to love doing work from home a peace for them. It only requires a strong internet connection to be connected to cloud services.
Disadvantages of SAAS Cloud
Thus, most companies prefer working with the SAAS cloud platform as it provides excellent features and works flexibility. Despite having many advantages, the SAAS cloud also has some disadvantages. They are:
Data security breach: Since SAAS cloud runs mainly on an internet platform and there is only one server where all data gets collected and stored, there is a chance of data security breach. Unauthorized access and misuse of data can bring a big threat to the organization.
Termination of Service: Business Organizations that use SAAS applications can lose their data if the cloud provider terminates their services due to lawsuits and various other reasons.
Performance issues: Organizations that use SAAS that runs on slow internet speed can face problems of performance issues including daily backup, synchronizing apps and services.
However, still, if we see overall, the advantages outperform the disadvantages of using SAAS.
Conclusion
The features and upgrades that SAAS offers us today are immense and have been a replacement to the previous traditional system that is very costly.
Recommended Articles
This is a guide to SAAS Cloud. Here we discuss what is SAAS Cloud and why we should use it along with its advantages and disadvantages. You can also go through our suggested articles to learn more –