Updated September 15, 2023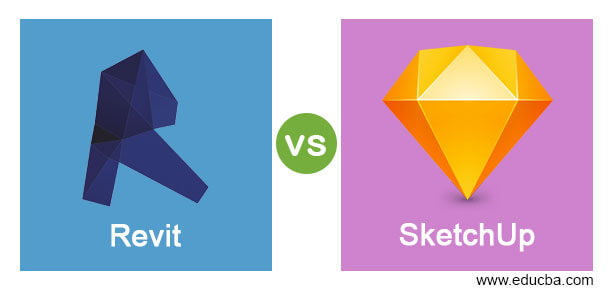 Difference Between Revit vs SketchUp
The following article provides an outline for Revit vs SketchUp. Revit is BIM (building information modeling) software and works for modeling of 2D and 3D object of different designing sectors such as used by architects as well as landscape architects, structural engineers, mechanical, plumbing, and electrical engineers and by contractors also.
It has a number of advanced features of 2D and 3D drawing; by using them, we can have a high quality of result in related work. SketchUp is also 3D modeling web-based software that deals with different 3D modeling fields such as interior designing, designing components of civil and mechanical engineering, and designing elements of film and video industries. It is generally free to use software, but you can go with a paid version for some advanced features.
Head to Head Comparison Between Revit vs SketchUp (Infographics)
Below are the top 12 differences between Revit vs SketchUp:

Key Difference Between Revit vs SketchUp
Let us discuss some of the major key differences between Revit vs SketchUp:
Although this two software are used for the same purpose, they differ in their working techniques and availability.
Revit offers us a different type of subscription plan with the same type of features such as for monthly subscription we have to pay $290, for yearly subscription we have to pay $2.310 ( you can pay this amount monthly by paying $193 per month), for AEC collection you have to make payment of $2,825 yearly ($235 per month). There are 3 years subscription plans also, and for that, you have to pay $6,235 ($173 per month).
SketchUp is freemium software, so it is free to use, but if you want to have other advanced features of it, then you have to make payment of $119 on a yearly basis for SketchUp shop, $229 yearly for SketchUp Pro, $575 yearly for SketchUp Pro Classic and $1199 yearly for SketchUp Studio.
Revit is focused on more complex designed projects of infrastructures and has a highly precise tool for dealing with this purpose. SketchUp is also used for this purpose but positively impacts interior design and uses 3D visualization tools to get your desired results.
As we discussed above, SketchUp is free software in comparison with Revit, but Revit offers free trials of 30 days to its user, and it is completely free for the educational purpose, which you can download from the website of Autodesk.
Revit vs SketchUp Comparison Table
Let's discuss the top comparison between Revit vs SketchUp:
| | | |
| --- | --- | --- |
| | Revit | SketchUp |
| Definition | It deals with designing of 3D models of different modeling sectors that are focused on building information modeling purposes. Currently, it is a product of Autodesk. | SketchUp works for the creation of a 3D model of the architecture field as well as different engineering sectors, gaming and media industries. |
| Developer and Initially Released | Charles River was its developer and developed it in 1997 as BIM software, but in 2000 it was released for public use. | Its developer was Trimble Inc., but it is managing by Google and released by them for public use in August 2000. |
| Latest or Stable Version | Its latest and currently stable version was released in April 2020 with several advanced features for dealing with the requirement of 3D modeling purposes. | On January 5, 2019, its latest version was released. 21.0.1 and 16.1.1450 versions of it was released for Windows users, and the 20.0 version was for Mac OS users. |
| Operating Systems | It has its compatibility with Microsoft Windows. | It is compatible with several operating systems such as Microsoft Windows, OS x 1.09 and their later versions. |
| Type | It can be categorized under CAD Building information modeling software. | It can consider as 3D computer graphics designing software. |
| License | Proprietary is a type of license under which Revit works, which means it is not free to use. | It has a Freemium type of license that means it is free to use, but you have to purchase a license for advanced features of this software. |
| Website | If you want to go through other details of this software or want to know how you can download it, then visit on: | www.Sketchup.com is its official website; by visiting here, you can have good information about it. |
| Supported Languages | Revit is available in multi-lingual languages that are English, German, French, Portuguese, Italian, Russian, Czech, Spanish, Chinese, Japanese, Polish and Korean. | This software is available in many languages such as English, French, Italian, German, Spanish, Japanese, Chinese (both simplified and traditional), Portuguese, Korean and Brazilian. |
| Native File Format | RVT, RTE, RFA, RFT are native file formats of Revit software. | You can save work in CAD file formats also in this software, and it has .dae, .dem, .ddf, .fbx, .kmz, and some other file formats. |
| Supported CAD Files | This software supported CAD files also, and CAD files which are supported by it are DGN, DXF, DWG, DWF, IFC, SAT and SKP. | .dwg, .dxf, .3ds and some others are CAD file formats that are supported by it. |
| Supported Image File | BMP, PNG, JPG, JPEG, TIF are some image file format that supports by Revit. | .jpg, .png, .tif, .bmp, .psd, .tga, .eps, and .pdf are image file formats. |
| Other Supported Files | Some other file formats are here which are in supporting file format list of Revit such as ODBC, HTML, TXT and gbXML. | You can export any work from it in ESP or PDF form also. |
Conclusion
After going through this informative article, do you know the purposes of Revit and SketchUp software and how they work to achieve the best result in their work? Then, we suggest trying the free version of both software for more information about their working methodology and deciding which one is better.
Recommended Articles
This is a guide to Revit vs SketchUp. Here we discuss Revit vs SketchUp key differences with infographics and comparison table, respectively. You may also have a look at the following articles to learn more –