Malaysia
If you are looking for the top restaurants in Malaysia, you've come to the best place! The city of Malaysia offers the most delicious food across the excellent restaurants spread across the country. From local dishes to international cuisines, these four restaurants have something unique to offer that will leave your taste buds begging for more. Whether you prefer traditional Malaysian flavors or something a little more exotic, these four restaurants have plenty to offer.
Top 4 Restaurants in Malaysia
Exploring the varied and diverse culinary landscape of Malaysia is an absolute must. These are the top four Malaysian restaurants that satisfy everyone's cravings!
#1 Marini's On 57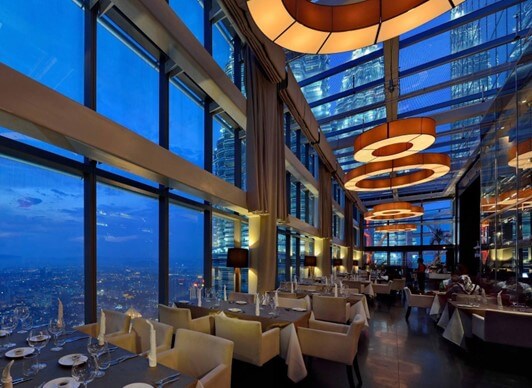 (Image Credit: Marinis Group)
One of the top-rated restaurants in Malaysia, Marina's On 57, is the place to go if you're searching for a fine-dining restaurant offering Italian food in Kuala Lumpur. With a restaurant, bar, and lounge, it provides the best Italian cuisine and a stunning view of the landmark Petronas Twin Towers.
Address: Level 57, Menara 3 Petronas, Persiaran KLCC
Price: It ranges between $51-200
Timings: 3:00 PM – 3:00 AM
Cuisine: Italian, European, Contemporary
What to eat: Uova, Burrata, Sfoglia Di Gambero, Tagliatelle Al Tartufo, Raviolo, Pappardelle All'Anatra, Merluzzo, Guancia Di Manzo, and Cheese Platter.
Signature Dish (Must have): Pan-fried sea bass stuffed with shrimp, lemon dressing, spaghetti with bottarga (mullet roe), and almonds.
#2 Oriental Pavilion Restaurant
Oriental Pavilion, one of the top Malaysian restaurants, is located in a suburban Kuala Lumpur shopping mall. It is not surprising that it is busy on most days, especially weekends, due to the numerous mouthwatering dishes it serves. The roasted meats and dim sums at Oriental Pavilion attract locals to the fantastic restaurant, which is the best place to experience Asian cuisine.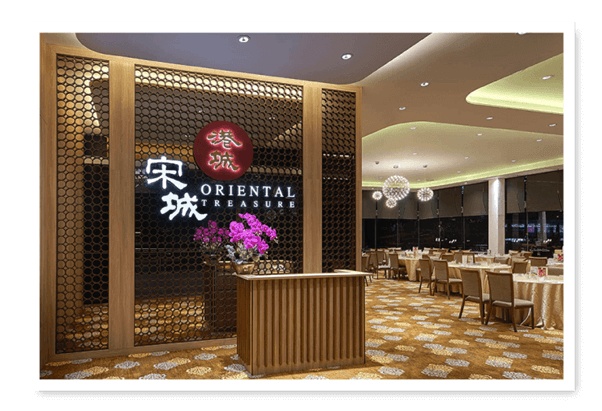 (Image Credit : Orientalrestaurants)
Address: Seksyen 13, 46200 Petaling Jaya, Selangor, Malaysia
Price: $21.88 for two people without alcohol
Timings: Mondays to Fridays (11.00 AM – 3.00 PM), (6.00 PM – 11.00 PM) and Saturdays, Sundays & Public Holidays (10.00 AM – 3.00 PM), (6.00 PM – 11.00 PM)
Cuisine: Chinese
What to eat: Golden Crispy Enoki Mushrooms, Salmon & Anchovies, Pacific Clams, Pan-Fried Scallop With Salad & Japanese Icy Vegetables, Braised Egg Noodles With Prawn, Chilled Aloe Vera & Dried Longan, and Fragrant Pork Ribs With Ginger Chips are some of the dishes on the menu.
Signature Dish (Must have): Siew Yoke and Char Siew served with crisp crackling.
#3 El Cerdo
El Cerdo is a vibrant restaurant that specializes in home-cooked pork dishes. The restaurant is in Changkat Bukit Bintang in the center of Kuala Lumpur. The restaurant has a giant pig at the entrance displaying its specialty in pork dishes. The staff is friendly and pleasant. They are always willing to offer you the best suggestions while dining here.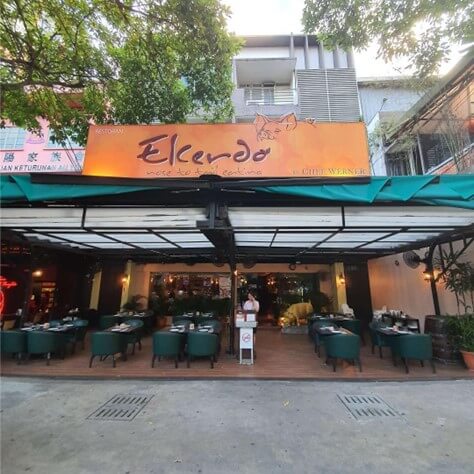 (Image Credit : Elcerdokl)
Address: Wilayah Persekutuan Kuala Lumpur, Malaysia
Price: $65 approx
Timings: 6:00 PM – 12:00 AM
Cuisine: European, Spanish
What to eat: Pastas, House Special Ribs, Cold Appetizers, Sausage Galore, Paella, Schnitzel, Elegant Cold Tea, Beef, and Warm Appetizers.
Signature Dish (Must have): Roasted Suckling Pig is also known as Cochinillo Al Estilo Segoviano.
#4 Le Que Restaurant
Le Que is Modern Malaysian, Asian, and Western cuisine. They provide hotel food at a restaurant price because they are passionate food lovers. It is a fusion restaurant where you can experience a variety of Western dishes, including a good selection of pasta dishes made by skillfully trained chefs.
Address: Jalan Tun Tan Cheng Lock, 75200, Melaka
Price: It ranges between $2.16- $7.80
Timings: 5:00 PM – 12:00 AM
Cuisine: European, Malaysian, International, Asian
What to eat: Starter, Main, Steak, Pasta, Gourmet Burger, and Beverages.
Signature Dish (Must have): Teriyaki Chicken with Angel Hair
Conclusion
These top 4 restaurants in Malaysia will make your dining experience memorable. These restaurants will not only provide you with the best cuisine, but the charming atmospheres of these restaurants will sway you away. Whether you're looking for a romantic evening or an exciting night out with friends, these restaurants have something to offer.
Recommended Articles
We hope that this EDUCBA information on "Restaurants in Malaysia" was beneficial to you. You can view EDUCBA's recommended articles for more information,
Restaurants in Washington D.C.