Updated June 1, 2023
Washington D.C
Washington, D.C., is a vibrant city with a diverse culinary scene that reflects the many cultures and communities that make up the area. The city is home to a wide variety of restaurants for fine-dining establishments, and there is something to suit every taste and budget.
Some popular types of cuisine in Washington D.C include American, Italian, French, Mexican, and Mediterranean. There are also many Asian restaurants, including Chinese, Japanese, Korean, and Thai. Additionally, several restaurants specialize in farm-to-table and sustainable cuisine and a growing number of vegan and vegetarian options. Overall, there is a wide variety of restaurants in Washington D.C., and whether you're in the mood for a quick bite or a fine-dining experience and sure to find something that suits your taste in this city.
Top 4 Restaurants in Washington D.C
Here are the top 4 restaurants in Washington D.C. that every tourist should visit if they want to savor their taste buds. It's recommended to make reservations at these places.
#1 Elizabeth's Gone Raw Restaurant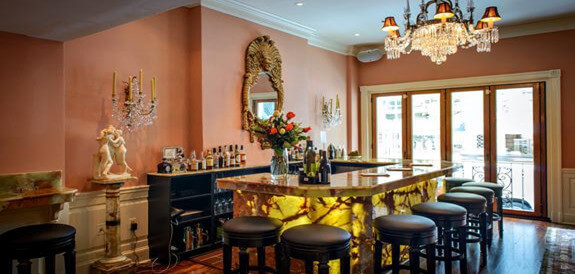 All dishes are made using plant-based ingredients at this well-known vegan restaurant in Washington, D.C., and nothing is cooked over 118 degrees. You can sip a glass of the best wines while indulging in the best raw vegan tasting menu at this gourmet restaurant. This unique restaurant in the city is excellent for vegetarians and vegans looking for a fun night out. It is one of the best restaurants to visit in Washington, D.C.
(Image Credit: Elizabeth's Gone Raw Restaurant)
Address- 1341 L St NW Suite 1, Washington D.C., 20005, USA
Price for two– INR 20,500 Approx
Timings- 05:00 P.M. to 09:30 P.M.
Cuisine- Vegan, Vegetarian/ Vegan, Organic
What to eat- Sorbet, Kale Chips
Signature Dish- Line-Cashew Yogurt, Spirulina Powder, and Porcini Paper
#2 The Bombay Club
In the heart of the U.S. capital, Washington D.C., this restaurant serves the best Indian food. The restaurant's interior design is meant to evoke historic colonial buildings in India. This restaurant strongly emphasizes using regional ingredients and spices to produce meals that are true to their roots. This restaurant gives you Indian vibes in a foreign land.
Address- 815 Connecticut Avenue Northwest, Washington D.C.
Price for two: INR 14,000 Approx
Timings- 11:30 A.M.–2:30 P.M., 5–9:30 P.M.
Cuisine- Contemporary, Fresh, Delectable, and Authentic Indian Cuisine, Parsi Cuisine, Goin Cuisine, Mughlai Cuisine, Coastal Cuisine
What to eat- Bombay Thali, Paneer Tikka, Biriani
Signature Dish- Fish Curry, Chicken Tikka, Dal Makhni
#3 Das Ethiopian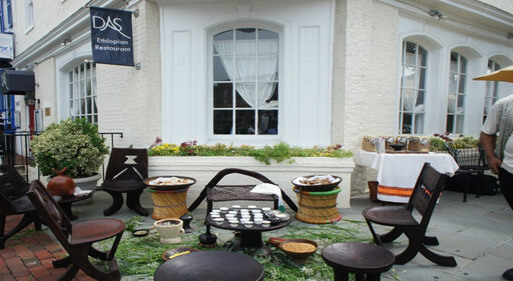 A date night is perfect at this cozy Ethiopian restaurant in Washington, D.C., which serves the best Ethiopian cuisine. Popular Ethiopian dishes like the Red Lentils, Collard Green Gomen, and delectable modern mashes like Carrot and Eggplant may be found here. Delicious Ethiopian specialties are displayed and taste just as good as they look.
Address- 28th Street Northwest, 1201, Georgetown, Washington D.C.
Price for two- INR 4,500 Approx
Timings- Tuesday, Wednesday 5:00 P.M.–9:30 P.M., Thursday–Sunday 11:00 A.M.–9:30 P.M.
Cuisine- Ethiopian
What to eat- Sambusa, Ethiopian Style Short Ribs
Signature Dish- Ethiopian Harvest Vegetable
#4 Daikaya
Daikaya is a well-known eatery located in the city's Chinatown neighborhood. A tourist can walk right by this restaurant due to the hotel's unattractive exterior. Don't let this eatery's exterior appearance fool you; the residents here wait in line for hours only to try the delectable delicacies it serves—the top Chinese restaurant in Chinatown serving delicious Japanese food.
Address- 705 6th St NW, Washington, DC
Price for two– INR 4,500 Approx
Timings- 11:30 A.M. to 09:00P.M
Cuisine- Japanese Cuisine
What to eat– Noodles, Sake, Gyoza
Signature Dish- Grilled Avocado, Veggie Ramen, Abura Miso Onigiri Rice Ball
Conclusion
Washington, D.C., is home to a diverse range of excellent restaurants offering various cuisines and experiences. From Michelin-starred fine dining experiences to contemporary American, Mediterranean, and many more. When searching for top restaurants in Washington, D.C., it's essential to consider factors such as reputation, positive reviews, menu diversity, price range, location, and ambiance.