Updated March 23, 2023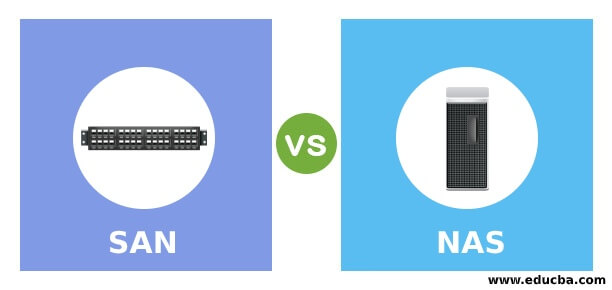 Difference Between SAN vs NAS
The following article provides an outline for SAN vs NAS. Basically, both SAN and NAS are the storage network which is used to manage the storage at the central level and they allow us to share the storage with more than one server as per requirement. On the other hand, NAS is totally based on Ethernet, and SAN is based on Ethernet as well as Fibre Channel. Both are network-attached storage, but it uses different protocols. Normally we use SAN because it majorly focuses on performance, and it has low latency.
Storage can be managed centrally and shared with multiple hosts (servers) using either SAN or network-attached storage (NAS). However, while SAN can utilize Ethernet and Fibre Channels, NAS is based on Ethernet. Additionally, NAS places a greater emphasis on ease of use, manageability, scalability, and lower total cost of ownership (TCO) than SAN does on high performance and low latency. This effectively gives the server that uses the storage an impression of a Windows or UNIX/Linux server.
SAN uses the Fibre Channel Protocol, Internet Small Computer System Interface, Fibre Channel over Ethernet, and Non- Volatile Memory Express and NAS uses the Common Internet File Services and Network file system.
What is SAN?
SAN is nothing but a Storage area network which is used for high-speed network access of storage. SAN is developed for switches, different storage elements, different storage devices, and hosts which are interconnected with the help of different technology, topologies as well as protocols.
In the below diagram, we can see the structure diagram of SAN as follows: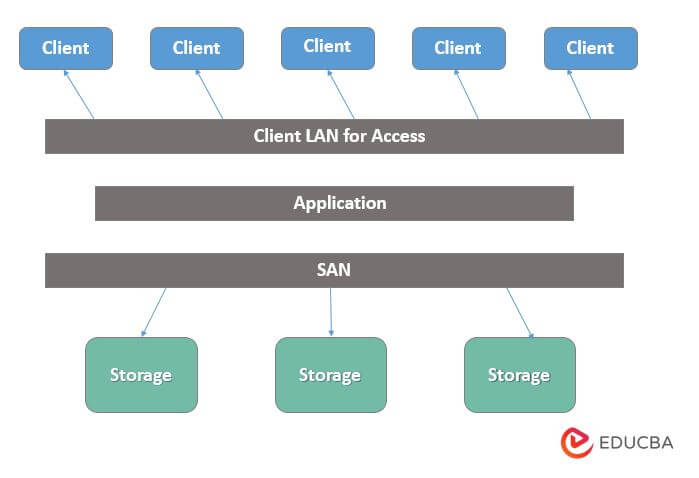 Basically, SAN is the most important part of any organization to manage business-related activities. In the above diagram, we can see the SAN is totally based on the fabric technology, Ethernet as well as InfiniBand. SAN uses the gateway to share the data between the SAN. The Fibre channel is used for the enterprise environment, and it uses the SCSI, FCoE, and RDMA with different protocols. On the other hand, Ethernet is used for small and medium-scale organizations; it is used to share storage on the same network with the help of IP and protocols. Third is InfiniBand; it is used for high-performance computing structures and also uses different protocols.
What is NAS?
A type of storage device that connects to a network and offers computer systems file access services. A file service engine and one or more devices on which data is stored are typically the components of these devices. File access protocols like NFS and CIFS are used by NAS.
File-based systems are typically used by developers of software applications for smaller businesses to achieve these objectives, particularly those related to flexibility, simplicity, and management ease; Additionally, a wide range of user-friendly tools are available to provide robust backup and recovery as well as security.
As efficient, scalable, and reasonably priced storage options, NAS systems are well-liked by small and large businesses across a wide range of industries. Supporting email systems, accounting databases, payroll, video recording and editing, data logging, and business analytics are just a few of the many applications they can be used for; NAS systems serve as the foundation for a wide range of additional business applications.
Most cloud service providers provide NAS services due to their popularity and adaptability; which enables a company to combine NAS storage systems with cloud services, allowing for cost, management effort, and performance optimization while giving the company complete control over security and location.
Head to Head Comparison Between SAN vs NAS (Infographics)
Below are the top 10 differences between SAN and NAS:

Key Differences Between SAN vs NAS
Let us look at the key differences between SAN vs NAS:
When we talk about user perspective it is a major difference between the SAN and NAS is that in NAS it uses the NFS and SMB/CIFS protocols to share the storage in the network on the other hand SAN is connected to the local drive that means disks.
SAN Requirement
Hardware Requirements for SAN is as follows:
| | |
| --- | --- |
| Component | Details |
| Server | It required Dell EMC. |
| Switches | EMC networking switch |
| Network Card | It uses the Dell Quad Port Broadcom |
| SAN Storage | Dell EMC Hybrid Flash. |
Software Requirement for SAN is as follows:
| | |
| --- | --- |
| Component | Details |
| Hypervisor | Windows server 2016. |
| OS | Windows. |
| Database | SQL server 2016. |
NAS Requirement
Software Requirement for NAS is as follows:
| | |
| --- | --- |
| Shared Type | NAS Mapped to |
| CIFS | Mapped with Windows proxy. |
| NFS | Mapped with Linux proxy. |
| CIFS/SMB and NFS | Mapped with Windows and Linux proxy. |
Hardware Requirement for NAS is as follows:
| | |
| --- | --- |
| CPU | Three Core CPU is the minimum requirement per job as well as three CPUs for a virtual machine. |
| RAM | Minimum of 3 GB per allocation is required. |
| Space free | For Windows and Linux servers it required 2% of total space. |
Comparison Table of SAN vs NAS
The table below summarizes the comparisons between SAN vs NAS:
| | |
| --- | --- |
| SAN | NAS |
| It is used for large-scale and enterprise organizations or businesses. | It is used for the small and medium scale organization we can say that business. |
| As compared with NAS it is more expensive. | It is less expensive. |
| It is required more administrative work. | It is easy to manage and handle. |
| We can access the data through the server. | Here we can access the data if we connected network. |
| It uses Fibre, iSCSI and FCoEProtocol. | It uses different protocol such as SMB/CIFS, NFS, SFTP and Web. |
| It is easy to scale performance as well as storage whenever we required. | It is not easy to scale but we can higher end of NAS. |
| It provides fault-tolerant functionality to the user. | It provides the single point for failure. |
| It is not required to archive files immediately. | Synchronization of a file is present that means central place if there. |
| It provides the dedicated environment. | It uses the Ethernet. |
| It uses the Fiber Channel for data transmission. | It uses the TCP/IP Ethernet network for data transmission.. |
Purpose of SAN
Basically, SAN is used for accessing the data devices from the local drive and connected to the server, so we can easily access the storage device which we connected to the server and it is dedicated to the local area network.
Purpose of NAS
It is directly connected to the hard drive so we can easily access them through the network. It provides additional storage to the user, it requires less implementation as well as less admin work; it provides the private cloud and automatic data backup functionality to the user.
Conclusion
We hope from this article you learn more about SAN vs NAS. From the above article, we have taken in the essential idea of the SAN vs NAS and we also saw the representation of the SAN vs NAS. From this article, we saw how and when we use the SAN vs NAS.
Recommended Articles
This is a guide to SAN vs NAS. Here we discuss the SAN vs NAS key differences with infographics and comparison table in detail. You can also go through our other suggested articles to learn more –