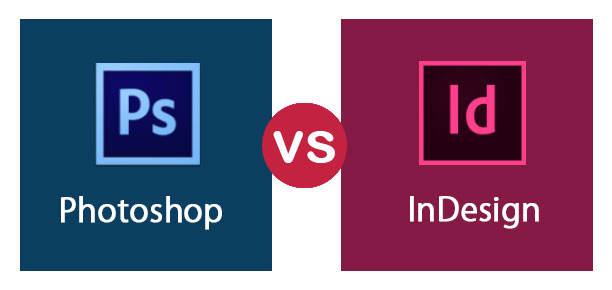 Difference Between Photoshop and InDesign
Photoshop, which is also commonly known as Adobe Photoshop, is a software programmed to edit and create customizable graphics inputs, texturing for 3D Models using 3D software's like Maya or 3D Max, edit photos, create flyers, banners, and images for print media, as well as for the web media. Photoshop is also called a Raster Image Editor and can be saved in file formats such as JPEG, PNG, GIF, and TIFF. It has been recognized as an industry-standard image rendering software. Adobe InDesign is a software application that Adobe Systems produced for typesets and publishing for various commercial activities. InDesign was previously known to be available as a part of the Creative Suite. There are some great uses made for an artist that supports in many forms such as posters, flyers, brochures, magazines, newspapers, presentations, ebooks.
Adobe Photoshop
Adobe Photoshop uses and supports multiple layers for its output in masking, alpha compositing and adjusting other color modes such as RGB, CMYK, CIELAB, spot color, and duotone. While its uses are amazing, this makes Photoshop an expert and more valuable as a commodity in the workplace specializing in various aspects.
The program was designed in 1988 by Thomas and John Knoll. To the present, neither Thomas nor John Knoll knew for sure as to how or who gave the name "Photoshop". In its first pre-process stage, the alphabet 'S' for the shop was capitalized in the beginning, and after that, the inter cap was changed.
During that time around April 1989 and when it had its official release date in the early 1990s, its development continued bringing in suggestions into account for various purposes. In February 1990, Photoshop 1.0 was finally shipped over, making it an ultimate and resourceful source of industry-proven software.
Adobe InDesign
In its recent versions, there have been a lot more interactive output options. With it, you can generate e-books from your devices like a Kindle. You can also create layouts for viewing it on tablets like the iPad and add in a video or export interactive PDF files. InDesign is also much alike as a vector-based program comparing to the likes of Illustrator although, InDesign boasts its strengths that lies in its ability to handle multiple prints and generate master prints.
InDesign is widely used by web artists, graphic designers, publishers and marketing professionals for commercial artwork. It is available individually or as a part of the Adobe Creative Cloud. You can also create simple vector illustrations using the available tools in InDesign. The first version of its release was on August 31, 1999, which began development long before this. It was associated with a different company known as Aldus, which was based in Seattle and had created desktop publishing software.
So forth, Aldus developed some of the graphics and desktop publishing programs that were running early versions of the Windows and Mac operating systems which included applications such as Superpaint and PageMaker. Aldus released the very first version of PageMaker in July 1985. and made it famous for its early desktop publishing use.
Head to Head Comparison between Photoshop and InDesign (Infographics)
Below is the top 9 difference between Photoshop vs InDesign :

Key Differences Between Photoshop and InDesign
Both are popular choices in the market; let us discuss some of the major difference:
With Adobe Photoshop, the effects used for designing as you apply them are best with its results, and it can be viewed again after it's opened later. Following through the line, the depth and complexity of its Layers using Blending Modes and Adjustment Masks are easy and user-friendly.
While in Adobe Indesign can be something of a smart choice to use it for applying various typographic effects, it also adds a credit to maintain the consistency of those effects throughout your work.
Photoshop is the best use for designing is so-called as raster-based software for its projects, meaning it works on a pixel to pixel-based level without any compromises while being used in bigger companies or studios for the vast amount of work done on big-budget films or tv shows. Images built using it can be easily pixilated, but they can be avoided for certain conditions and circumstances.
Indesign is designed for most of its vector-based projects, which can build an image with lines and curves that can be enlarged or minimized to any size ( its, e.g. are logos).
Photoshop vs InDesign Comparison Table
Below is the topmost Comparison:
| | |
| --- | --- |
|  Photoshop | InDesign |
| Adobe Photoshop is software for editing, painting and creating industry-standard raster graphics for its users. | Adobe InDesign is software which is used for various typesets and also for publishing various commercial activities. |
| Adobe Photoshop, once it is imported into it, converted to paths or fake vector files, but still, the final output remains pixilated. | Adobe InDesign supports all vectors files as also it imports.AI and.EPS files with its vector data encoded. |
| Adobe Photoshop supports XML (Extensible Markup Language). | Adobe Indesign does not support XML (Extensible Markup Language). |
| Adobe Photoshop saves it designated objects or design in the document. | Adobe Indesign links its design objects or options from various locations in the storage. |
| Its filtered effects can be used and well adjusted in Adobe Photoshop. | Its filtered effects are limited in Adobe InDesign. |
| Adobe Photoshop operates in both systems like Windows and OS X. | Similar to Photoshop, Adobe InDesign operates in both systems like Windows and with macOS. |
| Adobe InDesign does not create page layouts. | Adobe InDesign creates page layouts. |
| Adobe Photoshop was released in the year 1990. | Adobe InDesign was released in the year 1999. |
| Adobe Photoshop is made available in 26 different languages. | Adobe InDesign is made available in 24 different languages. |
Conclusion
In the end, what we can learn from all of this is that Photoshop for all its users is far better at using layers to their full potential than using InDesign to the fullest. There's never been a change considering the fact that Photoshop's Layer panels are designed to be more fruitful in every workflow for all the artists than the Layers panels in InDesign. Both Photoshop vs InDesign software is programmed to have their pros and cons, and Photoshop can be an exceptionally useful tool for creating those print designs for its final output.
Recommended Articles
This has been a guide to the top difference between Photoshop vs InDesign. Here we also discuss the Photoshop vs InDesign key differences with infographics and comparison table. You may also have a look at the following articles to learn more –