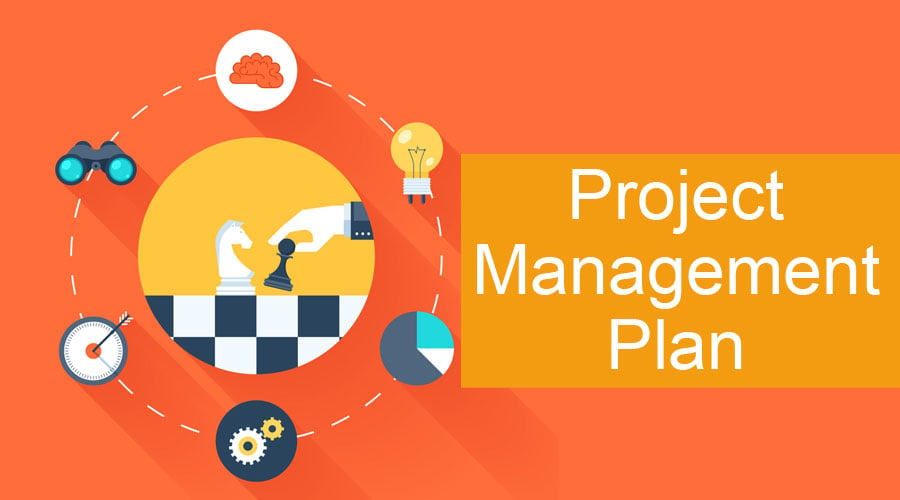 Introduction to Project Management Plan
Katherine Tate rightly quotes, "Trying to manage a project without project management is like trying to play a football game without a game plan".
In today's competitive and volatile global economy, project management offers the possibility of delivering consistent business results. As per a report by Economist intelligence, 80% of global executives asserted that having project management as a key competency kept them competitive during times of recession.
What is the Project Management Plan (PMP)? What purpose it has?
PMP is a formal, approved document that determines the execution, monitoring, administration & closing of a project.
Imagine there is a family function and you have ordered dresses for yourself from an online store, and to your surprise, they are delivered semi-stitched! You did not realize it while you placed an order and just went ahead with the purchase based on product photography. You feel messed up and realize that now it requires a tailor to get them custom stitched in a certain way. Similarly, PMP's require steps or methods to be followed to make a project successful. While this is a simpler example, project plans go through the same process. The purpose of PMP is to determine:
The outcomes of a project
The probability of successful outcomes to be attained
The people (internal/external stakeholders/project sponsors/Project Managers & team/Senior management/Resource Managers) who would be involved in the project
The ways to measure and communicate the project
Project Management Plan without a Plan
As the name suggests, project management requires a plan. Inevitably, planning is a key phase in project management. It is a primary stage in project management, wherein documentation of project plans, requirements, and deliverables are defined & a project timeline is created. The objectified plans are communicated to the team, thus elaborating on the implementation and closure stages of the project.
The following illustration highlights the benefits of planning in Project management: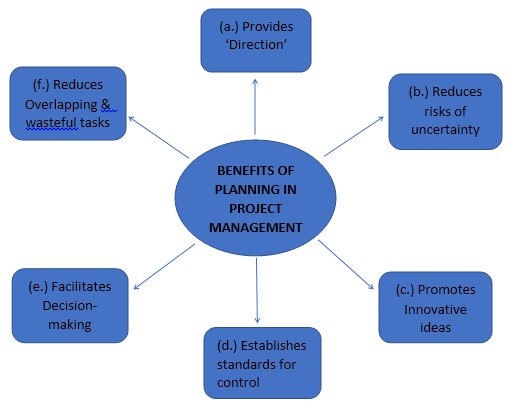 What does PMP contain?
The key components of PMP are illustrated below: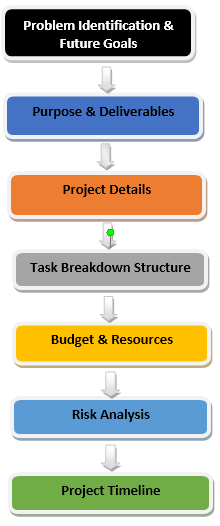 The stages in the illustration are elaborated as follows:
Problem Identification & Future Goals: Before commencing a project, it is always wise to think that the 'why' this particular project has to be undertaken. And what problems or issues can be addressed or fixed. Therefore, proper root cause analysis of underlying issues has to be done to define methods to cure the same. Goal setting is the next step, which cannot be completed without problem identification. In the 1950s, Toyota Motors pioneered the use of the Kaizen methodology under the supervision of Taiichi Ohno. It emphasizes on identifying the root cause of any problem to bring in a lasting solution. Since then, many companies worldwide are using it to improve in all areas.
Purpose & Deliverables: The purpose and deliverables signify the end results of a project. They must be precise, quantifiable, and time-specific. For example, a project requires construction site workers to be multi-skilled in a variety of tasks to facilitate time & cost reduction within a timeframe of 3 months. Therefore, the purpose would be to raise the Worker's Multi-skill Index in that stipulated time to attain the desired result/deliverable.
Project Specifications: Project specifications are standards and requirements to undertake a project. Considering the above example, it defines ways to raise the multi-skill index and has set standards to upgrade & denote the index for all workers.
Task Breakdown Structure (TBS): It outlines all the tasks that are paramount to the purpose of the project. It includes a sequence in which the tasks have to be completed. For example, the first task would be to identify the present multi-skill index for a worker, and the consecutive task would be to identify the type of training to bring in the desired index.
Budget & Resources: TBS helps to determine the estimated budget & resources such as Human Resources, Equipment & materials. As the resource needs are identified, project cost and duration are estimated. Taking the above example, the estimated number of trainers to train the workers and cost incurred to the training would comprise of Budget & Resources.
Risk Analysis: Anything that can adversely affect the success of a project is a 'risk'. For example, if a trainer falls sick or, due to some unfortunate circumstance, goes on leave for a longer duration, it can affect project cost and duration. Identifying such educated risks helps in developing a plan to deal with the risk. It also helps to identify project stakeholders who are to be notified about the same.
Thinking of a career in Project Management
The rapid advancement in technology has created a pool of varied jobs and has bought in changes to the way people work. Project management was not recognized as a different job until recent acknowledgment of the same. In the present economy, the demand for project management has towered. As per recent statistics by Project Management Institute, around 87.7 million project management jobs would be available by the year 2027. In fact, after China which is expected to have 46 million project management jobs, India comes second with the availability of 21.7 million by the year 2027.
The following statistics highlight the availability of project management jobs (in a million) in 10 different countries as expected by the year 2027: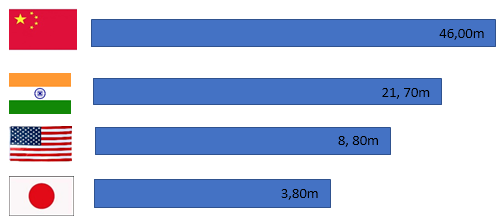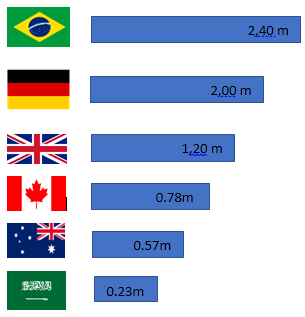 So, what are you waiting for? Enroll yourself for one!
Considering the importance of project management, demand for qualified and talented project management professionals is on rising. Getting a professional course in project management will definitely help you understand different aspects of the job, efficiently identify and manage risks. Last but not least, a certified training course in project management will enhance your understanding of how different various projects work. (Adapted from the report published by Project Management Institute, 2017)
Recommended Articles
This has been a guide to Project management Plan. Here we discuss the concept, purpose, Key Components, and the Thinking of a Career in Project Management. You can also go through our other suggested articles to learn more –