Updated June 7, 2023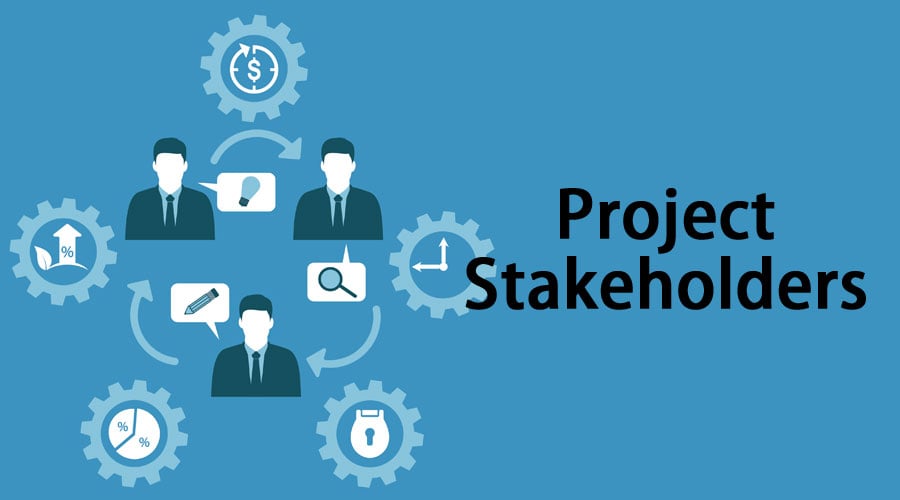 What do you mean by project stakeholder?
A group of entities interested in a project is called a project stakeholder. These entities could be a group of people who may belong from within the organization or perhaps outside. For example, members of a project team could be typical project stakeholders. This could comprise project managers, resource allocators, the end customers for whom the project is solely intended, and company executives could be examples of essential stakeholders in a project.
These entities or bodies have a say in these projects, coined as interest. A project may be affected to a large extent because of its positive or negative influence on the completion of a project. Project stakeholders are cautious in involving themselves from the project's beginning to its launch not to hamper their interests and suit their choices and perspectives.
Project stakeholders have a key role to play.
They may help raise or contribute funds for a project or sponsor it themselves.
They have a strong interest or profit (gain) upon successful project completion.
Might have a negative or a positive input on the outcome of the project completion process
Let us look at some of the major project stakeholders.
Customers: They are the users of the organization's product or service, which may include internal or external customers. Since clients have invested heavily in the project, the timely launch would help them increase revenues from their business services, operations, and offerings to avoid the consequential cause.
Executives of the company: These executives are responsible for the project's timely completion without missing the deadline. The timely launch of a project saves on avoiding time overrun, cost overrun, and other factors like keeping the inventory idle. Effective project execution requires proper planning and advance execution of human labor management.
Project Manager: is the project leader who handles and leads the entire team, managing people, resources, budgets, and finances
The team members: who work on the project under the leadership of the project manager
Resource level managers: who at all times monitor and control the different kinds of resources that would be needed during the development stages of the project
Sponsor: the one who invests in capital to launch the project and takes it up as a contract
How do we approach project stakeholders?
Making sure that you listen to your stakeholders and fulfill their needs makes your job much easier in the long run.
Identification of the potential stakeholders: The first step before signing up for a promising project is to find out and list the stakeholders. Figuring out what motivates them is crucial to serving their best interests.
Listening to what they would like to say: Communication channels must be wide open to avoid missing minute details. Understanding their objectives can only be possible by listening to them in person by practicing open communication. We should make an effort to understand their points and perspectives. We need to keep in mind that this point covers all those people (who are stakeholders) and that each of them might have a different temperament, tone, talents, and interests.
Meeting them face to face: To avoid conflict during the project's completion, it is advisable to schedule timely meetings with stakeholders more frequently. Regularly conducting face-to-face meetings can significantly decrease the likelihood of negotiations being cut off by a large percentage.
Understanding what they want: Are they more concerned about the budget or providing raw materials and resources to the manpower? Understanding what is going on in the minds of the stakeholders paves the way for a hassle-free execution and launch of a project. This is a win-win situation for both the client and the company.
Stakeholders can be put into three different categories
Primary stakeholders: Customers and users majorly fall into this category. They are the direct beneficiaries of the project. They are the primary stakeholders as they are affected directly by the project.
Secondary stakeholders: These stakeholders indirectly affect the project, but their perspectives and motivation still hold significant importance in its execution. These are usually the teams supporting the project, supervising and monitoring simultaneously.
Key Stakeholders: Top-notch executives of the company fall into this group. Their inputs have a strong influence, and they have vested their interests in it.
Stakeholders can be further put in subcategories through a more simplified representation.
High-power and high interest: Engaging with this stakeholder category is extremely important as they show much interest in your work and have a powerful position to help you succeed.
High-power and low interest: These stakeholders do not have much involvement in the work but hold a powerful position. Satisfying them involves explaining how their work can positively impact the project. Establishing relationships based on trust and mutual care will win over their ideas, insights, and interests.
Low power and high interest: These stakeholders have a lot of passion for the project but can barely do much. One needs to keep them in the pipeline and engage them with any significant development in the project. Also, these stakeholders are always keen to help the project teams, so it isn't a bad idea to shake hands with them.
Low power and low interest: They are potential detractors with little interest in knowing what is happening in the project. The work does not affect them, and they require minimal time and attention from you.
Recommended Articles
This has been a guide to Project stakeholders. Here we have discussed the project stakeholders' basic concept, key role, categories, and subcategories. You may also look at the following article to learn more –