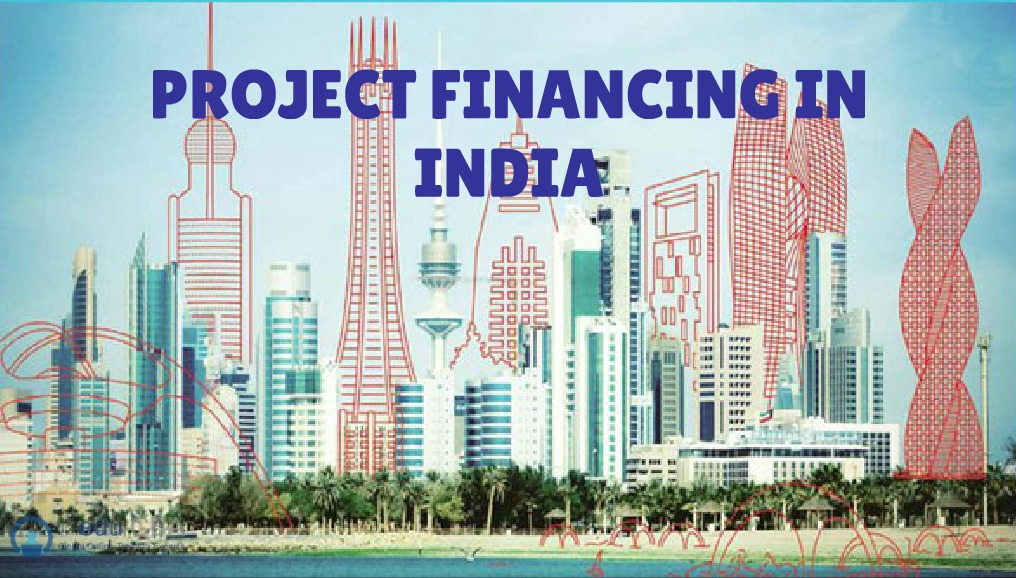 Project Finance is one of the key focus areas in today's world because of continuous growth and expansion of the industries at a rapid rate. Project finance is a centuries-old form of financing high-risk, development-oriented projects.
Project finance is the long-term financing of infrastructure and industrial projects based upon non-recourse or limited alternative of financial structure where project debt and equity used to finance the project are paid back from the cash flow engendered by the project.
They are most ordinarily non-recourse loans, which are fortified by the project assets and paid entirely from project cash flow, rather than from the general assets or creditworthiness of the project sponsors, a decision in part braced by financial modeling.
Methods of Project Financing
A survey said that 90% of respondents identified money as the greatest obstacle to implementation of any project.
The various sources of finance can be broadly divided into two categories, viz. equity capital and debt capital (borrowed capital). The combination of equity and debt should be judiciously chosen, and it will vary according to the nature of the project. The project manager can choose any one or a combination of two or more of these methods to finance the project.
Share capital – equity capital and preference capital.
Term loan
Debenture capital
Commercial banks
Bills discounting
Some more types of financing available are
Seed Capital
In consonance with the Government policy which boosts a new class of entrepreneurs and also aims wider spreading of ownership and control of manufacturing units, a distinct scheme to complement the resource of an entrepreneur has been presented by the Government. Assistance in this scheme is accessible in the nature of seed capital which is generally given by way of long term interest free loan. Seed capital aid is provided to small as well as medium scale units promoted by eligible entrepreneurs.
Government subsidies
Subsidies drawn-out by the Central as well as State Government form a very significant type of funds presented to a company for implementing its project. Subsidies may be available in the nature of absolute cash grant or long‑term interest free loan. In fact, while settling the means of finance, Government subsidy forms an key source having a vital bearing on the putting into practice of many a projects.
Stages in Project Financing
Pre- finance stage
It includes the following
a)Project identification
A Project or Projects selected should be integrated with the Strategic Plan of the Organisation.  The project plan should match the goals of the organization. It should be realistic to be implemented.
b) Identifying risk and minimizing
"The right project at the right time at the right place and at the right price".
There should be adequate amount of resources available for the project to be implemented.
c) Technical and Financial feasibility
An organization before starting any new project or expanding an existing one must look into analyzing each and every factor which is essential for the project to be feasible. It must be financially as well as technically feasible.
Financing stage
a)Arrangement of equity/debt/loan.
b)Negotiation and Syndication of the same.
c)Documentation and checking all the rules and regulations or policies relating to the starting of the project.
d)     Payment.
Post Financing
a)Monitoring and review of project from time to time. The project manager must           keep a check on the proper working of the project.
b)Project closure – It is ending the project
c)Repayment and monitoring
The amount taken in the form of loan, equity and debt must be repaid back and proper monitoring and control of the project must be carried.
Framework and Guidelines
The list of major contracts for project consist of
Concession agreement, license or mineral lease, construction contract or a development management agreement, supply agreement, sales agreement, operating agreement, other major contracts may occur in any specific project depending on the structure accepted.
The borrower may have to get certain statutory and non – statutory clearances essential for the projects like techno economic  clearance, pollution, environment and forest clearance, company registrations, financing and land availability/ concessions etc.
The promoter while making the application to the financial institutions records the copies of documents most vital of which are: i) copy of letter of allotment of plot/ sale deed in good turn of the borrower of the plot. ii) Detailed plan of project approved by the local body. iii) Partnership deeds/ articles of association in case of a company.
Boom of Project Financing in India
A study placed India on top in the global project finance market in 2009, ahead of Australia, Spain and the US. The key market for project finance in 2009 was the domestic Indian market, which rose up $30 billion (Rs 1.38 lakh crore), accounting for 21.5 per cent of the global project finance market. This was up from $19 billion in 2008.
The global project finance market was buttressed up in 2009 by government-linked projects such as social infrastructure and renewables and by the detail that 20 per cent of the market is in India, which poured to become the biggest and busiest market last year, knocking down Australia from the previous year' top position
Given the credit crunch and the collapse of major banks in the West, the global Project Finance figures were not as strong as in the previous couple of years. According to PFI data, globally, the Project Finance loan figure positions at $139.2 billion in 2009 compared to the overwhelming $250 billion in 2008 and $220 billion in 2007. Totaling the figures for project bonds at $8.2 billion, down from $11.9 billion in 2008, the global Project Finance market volume stood at $147.4 billion. That was a descent of 44 per cent from 2008, but to put it in framework, the overall global Project Finance market set upright at $114.5 billion in 2004 and at $166 billion in 2005.
SBI settled 36 deals amounting to $20 billion of debt – 35.2 per cent of the total volume for the Asia-Pacific region. This comprised some major contracts such as financing for the Sasan ultra mega power project, projects of Adani Power and Sterlite Energy, and resources for Vodafone and Unitech in the telecom sector.
The power sector sustained to decree lending and generated a record volume. More than $22.3-billion loans in 53 transactions in the sector were signed globally all through the year, accounting for almost 40 per cent of the entire PF market. Also, a major contribution came from social infrastructure development patterns launched by the government lately.
In all, 224 financial institutions were ranked. Only prime arranger mandates are credited for the league table, while involvement in syndications is not credited. Also, PFI tables do not include property or real estate sector transactions. In addition, the Project Finance tables do not comprise corporate loans and those guaranteed by sponsors or governments.
2013 Project Finance volume by top 15 nations
An Example of Project Financing
World Bank keen to finance solar projects in India
The World Bank has hurled consultations with the ministries of finance and new and renewable energy for financing solar projects in phase II of the National Solar Mission.
The World Bank is really enthralled with the performance of phase I of the National Solar Mission in which, the mounted capacity has increased to 2,000 Mw from 30 Mw.
The World Bank was tied up with the ministry of new and renewable energy during phase I in working out the policy and positioning in place essential guidelines but had not provided funds. Though, in the course of phase II, the World Bank is quite ardent to finance solar projects. The total prerequisite of funds is of the directive of Rs 80,000 crore ($13 billion) of which, as high as Rs 54,000 crore ($9 billion) will be debt based on a 70:30 debt equity ratio. The World Bank has conveyed that it was profound to a degree finance debt requirement. The total debt prerequisite of Rs 54,000 crore, is much necessary to come from the scheduled commercial banks.
In the course of the first phase, commercial banks had lent $700 million and they need to scale up to the levels foreseen. In order to make investment in solar power more striking for scheduled commercial banks, the government will need to tactically use limited public resources to leverage commercial financing, report structural barriers that preclude commercial banks from contributing and expedite appropriate technology deployment.
The role of enabling public funding in leveraging commercial lending on a constant basis through risk plummeting instruments as well as innovations in financing is important and authoritative for moving solar development to a largely non-recourse financing mode in India. The World Bank in its report titled, "Paving the way for a Transformational Future: Lessons from Jawaharlal Nehru National Solar Mission Phase I", recommends that the government could offer multiple financial way out involving viability gap fund, generation-based incentives, credit guarantees, credit lines to banks at a concession to cut interest rates and secondary public finance to spread the tenor of loans.  According to the World Bank, by means of public financing for lengthening the tenor of a loan and providing subordinated debt is least expensive amid all other options, with the objective of decreasing the solar tariff to Rs 5.50 per unit.
Conclusion
India required an investment of over $1 Trillion for infrastructure development in the 12th Five year plan which goes from 2012-2017. Government is putting a better prominence on infrastructure development and the successive need for much advanced levels of capital to fund these projects. However the knowledge & skill sets essential in these areas is absent and as a outcome there has been a rebirth of interest in PFI and PPP project finance deals.
The need for vigorous knowledge with respects to structuring and re-financing projects is greater now than ever before.
Project Financing in India Infographics
learn the juice of the article in just a single minute, Project Financing in India Infographics
Recommended Articles
Here are some articles that will help you to get more detail about Project Financing so just go through the lin