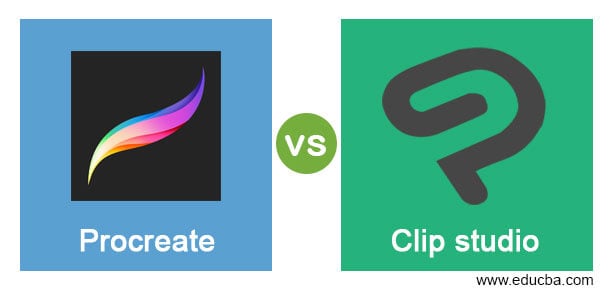 Difference between Procreate vs Clip studio
Procreate was developed by Savage Interactive as raster graphics editing software for iOS and iPad OS and works on digital painting and its main purpose is to recreate physical drawing so that it gives natural feel to its viewer and for achieving this aim it has handful of brushes, blending mode options, layers management and many more thing you will see in it. Clip studio is used for creation of digital form of comics, illustration, as well as 2D animation and it is generally known as Kurisuta in Japan which is its informal name and was developed by Celsys Inc. We, will understand both of the software in this article and also compare their working, requirement, supported forma and many other aspects. So let us go through this comparison first. In this topic, we are going to learn about Procreate vs Clip studio.
Head to Head Comparison Between Procreate vs Clip studio (Infographics)
Below are the top differences between Procreate and Clip studio

The key difference between Procreate and Clip studio
As we discussed above about that both software are developed by different origination so they have some special features although similarities in most aspect of them and these difference express their specialty. So let us go through them now.
I will tell you about pricing of both software first and you can have Procreate in just $ 9.99. This is one time payment and after that there will be no need of subscription or renewal of Procreate plans. For clip studio we can make payment in two ways that are onetime or monthly and for onetime purchase you have to pay $ 49.99 (for Clip studio Paint pro) and same as in monthly payment you will find different rate for different versions. Clip studio has many versions so its price varies according to version and you can check all from its official website not only you can also find special offer in these versions which company offers time to time.
If you are in dilemma that with which software you should go then in this case you may find Clip studio helpful for you because it offers free version so that you can get interact with this software before starting to use its as your pet software. In other hand there is no free version available from Procreate side so you have to buy it first for trying it.
In Clip studio vector work is easy and you can draw smooth line with vector tools feature of it but in Procreate it might be difficult to draw smooth line because there is no vectors available.
You will have an Artificial intelligence features in Clip studio which helps you in coloring work of paintings as well as animations. Procreate offers you wide range of brushes which you can use in your digital art work in numerous ways. There is one more plus point with brushes offers by Procreate that is you can use sets of brushes which have created by other users and if you want you can create your own one.
These are points and fact will create good information environment in your mind about both of the software in term of pricing, system requirement and capacity, different type of file formats etc.
Compassions between Procreate vs Clip studio
Both software works for same purpose in different ways and their requirement as well as capacity are different so let me tell what are these facts?
| | | |
| --- | --- | --- |
| | Procreate | Clip Studio |
| Definition | Procreate creates digital painting by editing raster graphics for giving it more realistic look in its own way. | Clip Studio is used for creation of digital form of comics, illustration and 2d animation also. |
| Developer | Initially it was developed by Savage Interactive on March 16, 2011 for using it a graphics editor of digital painting. | It was developed in 2001 by Japanese graphics software development company named as Celsys and in officially it is known as Kurisuta in Japan. |
| Supported Languages | You can have it in many different languages such as English (United States), English (United Kingdom), German, Chines traditional, Chines simple, French, Italian, Turkish, Portuguese, Russian, Spanish and Korean. | It supported many languages which are English (United States), French, German, Japanese, Spanish, Korean, and also traditional Chinese. |
| Availability | For having this software on your personal computer you can visit www.procreate.art which is its official website. | You can go through www.clipstudio.net for having this software as your raster graphics editing software. |
| Operating system | Procreate is compatible with iPad pro (its all version), iPad Mini, iPad Air (its all version), iPad (2017), iPad (2018) and iPhone. | This software can run on Mac OS, Windows, iPadOS, iOS, Android and Chrome OS. |
| Latest version and its release date | Latest version of Procreate released on December 22, 2020 with name 5.1.5 and has lot of new features. | On December 23, 2020 1.10.6 was released as its latest version with number of updates for improving its working capacity. |
| File format that can be Import. | .procreate, .psd, .jpeg, .png, .tiff, .gif file format can import into this software. | .clip is extension file format of clip studio and .lip is file format of clip studio paint, .bmp, .jpeg, .png, .tiff, targa, .psd and .psb are the format in which we can save art work from this software. |
| File format that can be Export. | The artwork and animation created in this software can export in following file format: PDF, PNG, GIF, PNG, MP4, HEVC | It is supports bmp, jpeg, png, tiff file format for exporting artwork of this software. |
Now after this informative comparison between both software you can understand what are this software and how they work for having best result in their work. Now i will build more knowledge about some facts of these software for analyzing their differences.
Conclusion
I am sure that during analyzing this software with me in this article you have pointed out lot of good facts of Procreate and Clip studio software. Now i will suggest you if you want to start working on raster graphics editing for digital painting then go and try both of the software so that you can find better one according to your own opinion.
Recommended Articles
This is a guide to Procreate vs Clip studio. Here we discuss the Procreate vs Clip studio key differences with infographics and comparison table. You may also have a look at the following articles to learn more –