Updated June 2, 2023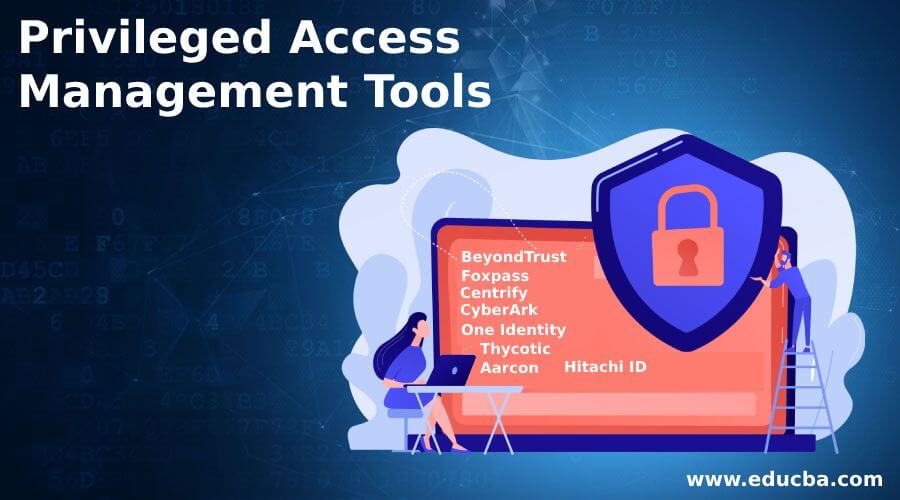 Introduction to Privileged Access Management
The following article provides an outline for Privileged Access Management Tools. Privileged access management consists of cyber security strategies and technologies for controlling privileged access and permission for users, accounts, processes, and systems across an IT environment. It helps organizations condense their attack's surface and prevent damage from external attacks or malware. Restricting privileges to the minimal range of processes to perform an authorized activity reduces the chance of incompatibility issues between applications or systems. It helps to reduce the risk of downtime.
Top 8 Privileged Access Management Tools
Given below are the top 8 Privileged Access Management Tools:
1. BeyondTrust
BeyondTrust is a Privileged access management tool that develops and supports privileged identity management or access management, vulnerability management products, and privileged remote access for various operating systems like Windows, Linux, UNIX, and macOS. It offers customizable privileged session management capabilities, which provide users with a versatile solution. It suits organizations with various operating systems in their network and mobile workforces.
2. Foxpass
Another Privileged access management tool is Foxpass. It provides SSH key and password management with MFA and password rotation. It can integrate with any system, including the cloud mail system and SSO solutions. It also integrates with third-party solutions such as google workplace, Okta, office 365, etc. It provides full API solutions which allow the admin to automate the server access control, manage group membership, and can change the information of the user.
3. Centrify
Centrify is a privileged access management tool with cloud-ready identify-centric PAM. It allows for establishing trust and then granting least privilege access just in time based on verifying who is requesting access, the context of the request, and the risk of the access environment. It offers integration capabilities. Primarily suitable for the hybrid IT environment. Once the user finishes their session, CyberArk automatically rotates its credentials to ensure that the user cannot use the same credentials and attackers cannot access the user's credentials and accounts. Because it is cloud-based, it can easily integrate with other platforms like SaaS and IaaS.
4. CyberArk
Another privileged access management tool is CyberArk. It provides organizations with privileged account security. It provides strong capabilities in intuitive privileged access management platforms. It has become popular because of its excellent technical support, migration of privileged account risk, and proactive assistance. CyberArk protects privileged accounts by automatically maintaining passwords. It is used in various industries such as healthcare, financial services, energy, retail, etc. Users can store and maintain their data by rotating the credentials of all the important accounts. So that they can protect themselves from any hacking threat or malware. CyberArk provides various types of accounts, such as emergency accounts, application accounts, user accounts, admin accounts, domain accounts, service accounts, etc.
5. One Identity
One identity provides identity-centric security solutions designed to reduce the attacks on the organization from internal or external threats. It allows users to access privileged and non-privileged resources from a single account to reduce the risk of errors. It also reduces strain on help desk workloads and automates granting privileged credentials according to the user's role. It provides auto-discovery and provisioning capabilities, making it easy for Admin to monitor and find suspicious or unauthorized behavior.
6. Thycotic
Thycotic is another popular privileged access management tool that provides secret service PA solutions to provide complete Security to the organization. It is available in the cloud. Its secret server stores all the credentials in an encrypted format, which only authorized users can access using the two-factor authentication method. Thycotic provides a session recording feature to monitor all privileged activities. Its zero downtime upgrade allows users to access the secret server continuously, even during system Updating. It minimizes the disruption to the end users and ensures that all the accounts are protected.
7. Aarcon
Another Privileged access management tool is Aarcon which allows the organization's security team to manage and secure all privileged accounts and information. It protects the privileged credentials from both internal attacks and external attacks. To automate frequent password changes, Aarcon provides a feature called a secure password vault. It generates and stores a strong password that only authorized users can access. To authenticate the user, Aarcon provides OTP (One-time password) mechanism.
8. Hitachi ID
Another Privileged access management tool is the Hitachi ID system. It randomized the password and stored it in the vault. To access the vault, users first need to verify their identity. If it is authorized, then only he/she can access it. It can integrate with all clients, servers, hypervisors, guest operating systems, databases, and applications and can be deployed on-premises or in the cloud.
Conclusion
This article shows the various privileged access management tools such as BeyondTrust, Foxpass, Centrify, CyberArk, One Identity, Thycotic, Aarcon, and Hitachi ID. Each provides various features and security mechanisms to protect against malware and attack.
Recommended Articles
This is a guide to Privileged Access Management Tools. Here we discuss the introduction and top 8 privileged access management tools. You may also have a look at the following articles to learn more –