Updated June 8, 2023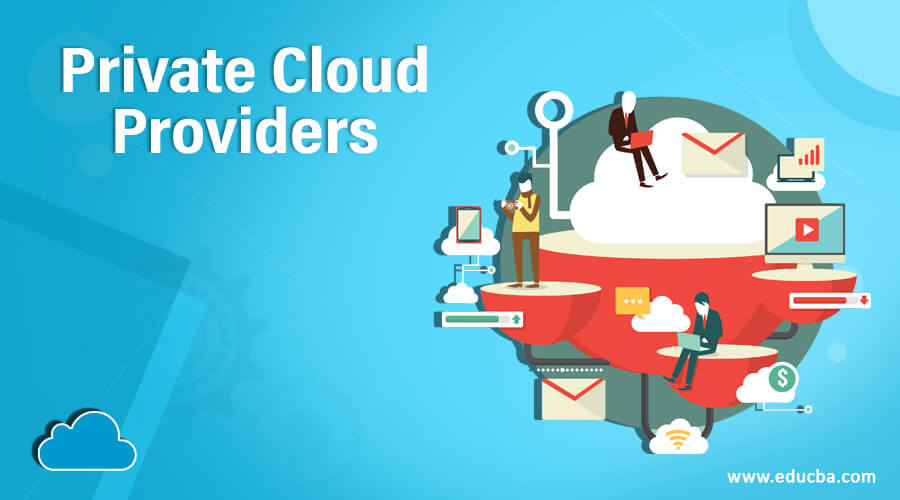 Introduction to Private Cloud Providers
Private cloud providers offer Information Technology (IT) services to the business in a secured, controlled, scalable, flexible, and regulated way within the internal network's firewall or hosted through the internet, and such services are offered only to a select few instead of the common public. Benefits of Public cloud, such as elasticity and self-service, are made available to the business, and inherent advantages like customization/complete control of enterprise-owned infrastructure hosted within its own data center or a dedicated infrastructure set up in a third party location.
Some of these service providers sell cloud software. Some offer cloud-ready Hardware along with software and allow the internal IT team of the enterprise to manage the entire cloud operation hence the enterprise need to engage staff and incur maintenance cost like a data center. Few other providers sell private cloud services virtually.
Let's go through the details of private cloud providers.
Private Cloud Vendors
A private cloud is a virtual data center operated for an enterprise by an enterprise, and the following parameters will have to be evaluated before selecting a service provider.
Multi-Tenancy: A key feature to manage multiple user groups such as Individual users, departments, offices, and divisions and share the resources based on requirements.
Billing: Individual user groups need to be billed based on their usage.
Reporting: Consumption of each user group should be reported
API: The platform should provide interfaces with other service providers and make them available whenever demanded
Delivery: It should deliver resources to the users as a service
Elastic: Scale up and scale down should be possible with ease
Top 10 Private Cloud Providers
Major Service providers in the private cloud arena and their strengths are
1. VMware
It is a popular virtualization software for managing private cloud deployments. One of its main products is vSpherestreamlines, which automates private cloud operations and service delivery. Another product vRealize a software-defined platform designed specially to manage private cloud and provides intelligent solutions to handle applications to hardware end to end. It has over 500,000 clients and is delivered in Enterprise, Standard, and Advanced editions.
2. Microsoft
One of the top players in the private cloud market, which enjoys more than 40% market share. Its virtualization software, Hyer-V, is well integrated into the Windows server. Azure cloud services are utilized by many enterprises in their pursuit of integrating private cloud deployments in their data centers. This platform effectively controls enterprise infrastructure, scalability, and data recovery setup. It also offers enterprise-wide unified storage solutions to consolidate individual storage spread across and cheaper backup solutions.
3. Red hat
This platform offers a variety of cloud solutions using open-source technology and enables easy integration with Red Hat cloud services. It offers flexible and agile solutions. Red Hat Enterprise Virtualization (RHEV) is the type-1 kernel-based virtual machine (KVM) hypervisor tool widely adopted. Apart from RHEV, this platform offers a variety of products such as Cloud suite management and development tools, Cloud infrastructure software, OpenStack platform, Gluster storage, Container Management, and CloudForms cloud.
Flexibility in managing the cloud operations, High performance, versatility in the offerings, and interoperability are the unique strengths of this platform.
4. Dell
With the merger of EMC, Dell has gained good ground in the Private cloud space. Dell and EMC account for 15% of the private cloud hardware market. It offers Simpler, faster, flexible, lower cost of ownership (TCO) solutions. Its product portfolio includes Virtual private cloud services, cloud security software, Cloud management software, and consulting services. This platform has unique features such as Centralized management, Effective Application performance monitoring, automated delivery, and simple configurations.
5. HPE
Hewlett Packard Enterprise is a leading player in this cloud arena, and it has got a market share of 20%. Its offering includes Cloud software, hardware, and services. The branding of all its cloud products, including CloudSystem Hardware, Cloud software, and Managed virtual private cloud and services, is done under the name "Helion" by Oracle. Its cloud products offer good control irrespective of the nature of private, public or managed cloud hosting.
Unique features of this platform include simplified operations, lower TCO, a unified single management window, improved efficiency through automation or Orchestration, and enhanced security. This platform revolutionizes the business and takes it to the next level.
6. Citrix
Its hypervisor offers a secured and highly reliable open-source virtualization platform for the cloud and server, and desktop infrastructures. The commercial offering from Citrix is known as Xenserver, and it is offered in 4 versions. The benefit of this platform includes a Reduction in infrastructure requirements, lower administration cost, minimal complexity, dynamic product updates, simplicity and flexibility in operations, and high scalability.
Its unique features are the management console, High availability, Alerting & Monitoring, live migration, effective memory optimization, and power management.
7. Oracle
This platform enjoys a leadership position similar to HPE and VMware. SUN MICROSYSTEMS ACQUIRED Oracle VM VirtualBox, the hypervisor for X86 virtualization, from Innotek. Its product portfolio includes Cloud Platforms/Applications, Infrastructure management, and lifecycle management tool. Its services cover Integration services and Managed cloud services. Oracle challenges Amazon's virtual private services in the private cloud arena.
8. IBM
Its Bluemix cloud product offers a complete solution to move the end-to-end business into Cloud and bring out a complete transformation in the business. IBM offers solutions in Servers and storage, Hosted cloud services, security tools, and cloud managers or orchestrators. Its unique features are portability or Integration, IBM Watson AI functionalities, strong analytics, 130+ services, and programmer productivity improvement.
9. SAP
SAP HANA Cloud is an in-memory database, an open PaaS (Platform as a service) platform. It facilitates faster application development and enhancement of the applications. Due to its columnar database and in-memory computing architecture, the data retrieval, analytics, and transformation of data are 10 times faster than a normal relational database.  This software is ideal for any user, and Master Data Management, real-time analytics with live data, and faster migration are its strengths.
10. Others
Other popular private cloud providers are Cisco, BMC Software, NetApp, and Platform.sh, Huawei Cloud, Amazon virtual private cloud, Google Cloud virtual network, Wolfram private Cloud, ASG Cloud, CA Cloud.
Conclusion
The private cloud provider offers many hosting models. The organization should first spell out the requirements in Application, Interfaces, Delivery, and Operational parameters clearly and then evaluate the vendors and their products. They should also consider their current sunk investments in Datacenter and take a prudent call.
Recommended Articles
This is a guide to Private Cloud Providers. Here we discuss the introduction and the top 10 Private Cloud Providers in detail. You can also go through our other related articles to learn more –