Updated March 24, 2023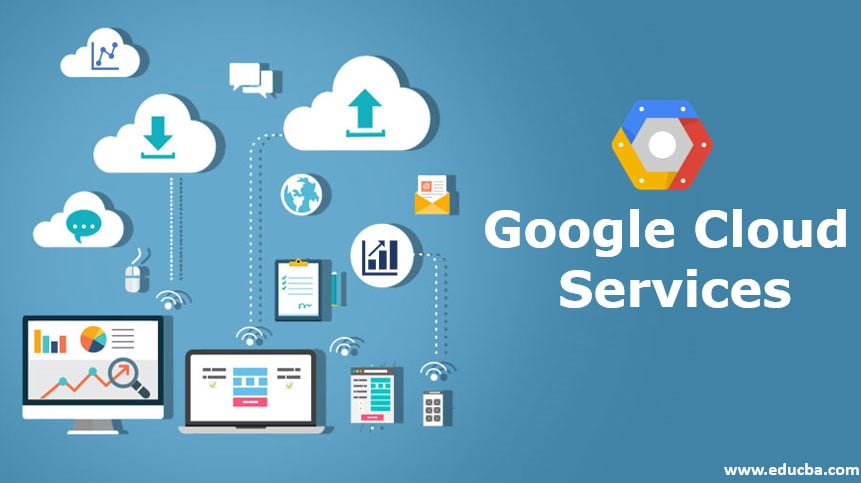 Introduction to Google Cloud Services
Google Cloud Services are actually cloud computing services that run on the same platform as Google runs that include a variety of computing storage devices, applications, etc. In the year 2008, Google launched its first search engine rather first platform consisting of various hosting applications and data servers that became the first successful cloud computing services. Google Cloud services introduced its Google cloud, which is an internet-based platform that makes end-users to be connected globally. Also with the advent of application programming interfaces and machine learning, google cloud platform services became widely popular today.
What is Google Cloud Services?
Cloud computing services are online services that contain information about the database, storage, applications that provide faster, smooth and effective resources to the end-users. Customers get a handful of these resources and pay only the use it for, thus lowering the operating cost and utilizing the business infrastructure very efficiently.
There are various cloud providers available on the market like Amazon Web Services (AWS), Microsoft, IBM, etc. offers unique and faster services than many other service providers from past years. However, with the advent of Google Cloud, most of the cloud providers fail in front of them because it offers some extensive functionality and reliability in comparison with others that created a big boom in the recent trade of cloud computing technologies.
Below are a few points mentioned regarding google cloud:
It is the cloud services that are offered by Google that consist of various core cloud computing products.
Google Cloud launches its Google Cloud sub, which is a real-time messaging service provider that helps in passing the message through desired channels and applications.
It allows the developers to build Application Programming Interfaces and make the services that host it to a cloud server and access it to all available platforms like Android and iOS.
Google Cloud Platform is an innovative idea of inventing innovation giving the best customer experience based on the products they sell. Google continues to bring the most unique and diverse collection of functional resources that help the business to grow at a huge level.
It began as the consumer business model that aims at getting the best software where it can distribute globally solving a lot of consumer problems and maintaining scalability.
Why we use Google Cloud Services?
It presents a wide variety of uses that we cannot deny in this generation. It has been widely popular and a lot of modern big and small companies use its services for a variety of reasons.
Some major points that why we should use Google Cloud Services instead of other cloud computing services:
One of the biggest factors that why one should google cloud service over any other cloud services is the price of services. The best part is that end users pay only for the services they are using and are entitled to get a huge discount for using it for a long time. Thus, google cloud maintains customer satisfaction because of its low cost and reliability.
Google Cloud also presents a huge private global network that uses high-speed fiber optics cable that can run from anywhere and everywhere. The major use of fiber optics cable is excellent network reception, an increase in speed, almost zero fluctuations in network traffic speed and fast data processing.
Google Cloud also helps in live migrations of virtual machines where many big cloud providers including AWS and Azure lack in this case. Even after the Virtual machines are shifted, there will be no impact in the performance. Therefore, the engineers have a better hold in resolving patches and updating any issues over google cloud.
Google Cloud also offers the best overall performance by decreasing the overall server response time. More than 500 security professional was hired in the beginning for smooth transmission of data and security would remain maintained while reaching the same to the customer. Google Cloud also made collaboration with several reputed Internet Service Providers (ISPs) that provide seamless performance and security.
Google cloud has been a trademark and keeps on increasing new technologies in the market. They kept on expanding its infrastructure and has reached a global level. Because of its success and low price, the whole global community started preferring it and recommendation has been reached to a high level.
Working
Google Cloud offers a wide variety of services that help develop other businesses to implement and earn a profit.
The functionality and working of google cloud services are as follows:
Google Cloud works as a Function as a Service (FaaS) which provides an overall seamless experience in connecting various cloud services. Google cloud acts as cloud function that are very simple coded functions, which is easy for the designers and for the end-users to use it in various workshops.
The app engine of Google Cloud acts as Platform as a Service (PaaS) which handles most of the management concerns and resource availability. Google has also the functionality of being scalable to provide resources. Google also provides the functionality of automatic security updates.
Instead of complex deployments and integration, Google cloud acts as Containers as a service (CaaS) which offers open-source code and also the flexibility of public cloud infrastructure.
It provides an intelligent computing engine acting as Infrastructure as a Service (IaaS). The system provides a robust infrastructure to work on which gives the flexibility of users to work on the platform components of their choice. Google also ensures that resources are available every time.
Google also provides cloud storage that is of high scale and large capacity. The computing engine offers solid-state persistent disks (SSD) that are very fast and reliable.
It is a wide range and variety of services and it has been the biggest network provider services giving faster speed and lower computing service charges giving a taste of balanced service.
Recommended Articles
This is a guide to Google Cloud Services. Here we discuss what is cloud services, uses, and working of google cloud services. You may also look at the following articles to learn more –