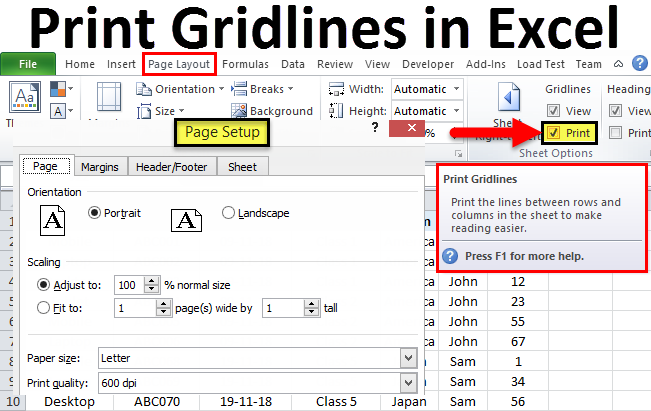 Print Gridlines in Excel (Table of Contents)
Introduction to Print Gridlines in Excel
Print Gridlines in Excel is used to print the gridlines for the complete selected data which we want to print. Print Gridlines can be accessed from the Page Layout menu tab under the Sheet Options section. Once we select the print gridlines option, then even if we have not bordered the data, we will still be able to see the borders or grids when we print preview the sheet. This helps us to enable the gridlines for the data which we want to print.
Examples to Print Gridlines in Excel
To access the Gridlines option, go to the Page Layout menu and check the Print box under sheet options as shown in the below screenshot.

Here we have a sample data of some part numbers which were sold in a month in the different region. As we can see in the below screenshot, we have not created any border or table. And the data is completely a plan.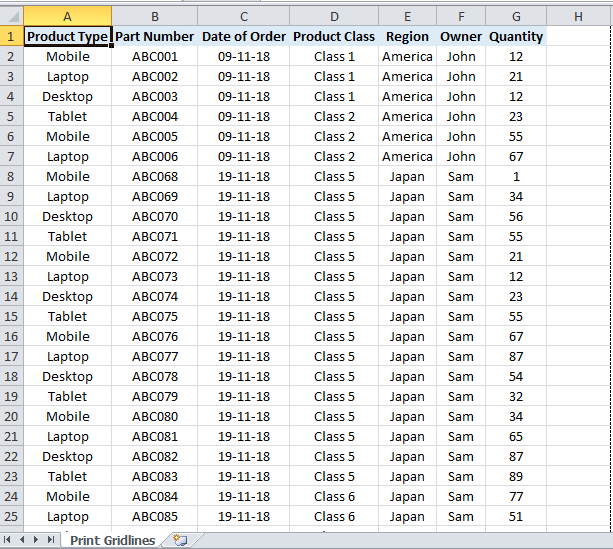 Now, for printing gridlines, follow the same path which is given above.
Go Page Layout menu and check the box of print under sheet option for gridlines. Once gridlines box in check with the tick. Then go to the File menu and click on Print. We will see the current sheet will be covered with the gridlines as shown in the below screenshot.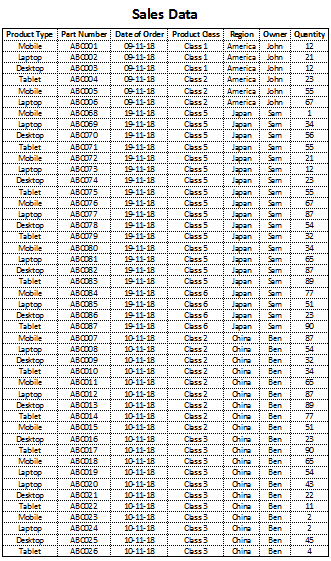 Instead of putting gridlines for each table, we can have Print Gridlines enables, which automatically gridlines in all sheets, which are ready to get printed. We can also check with short cut keys of Ctrl + P, which will directly take the use to the print option, which is given under the File menu. For improvising further in Print Gridlines, go to File menu > Print > Page Setup, as shown in the below screenshot.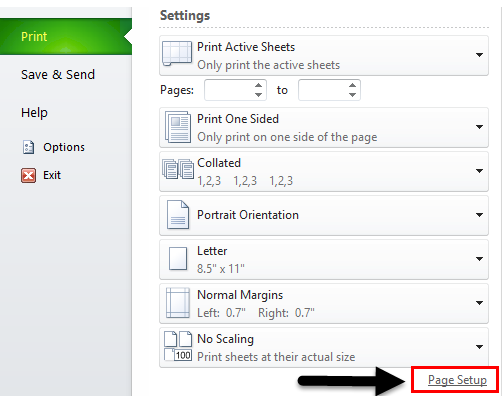 Once we click on it, it will take us to advance the page setup option, from where we can add or make changes in the existing page setup, as shown below.
Page setup window has four more options: Page, Margins, Header/Footer, and Sheet.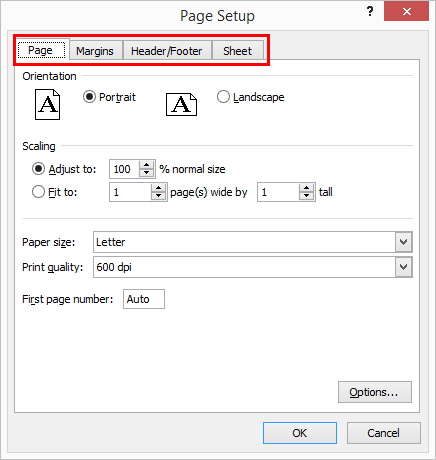 In-Page button, we can do adjustment or changes in orientation, Paper Sizer to print, Print quality and even enter auto page numbers as well.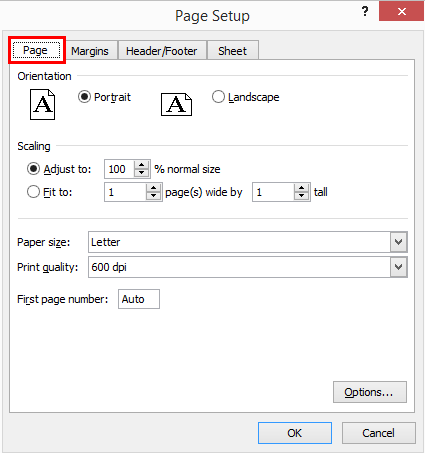 In Margin, we can set all side or any side margin. Also, we can adjust the position of the data table as per our need by checking the box of Horizontally and Vertically, as shown below.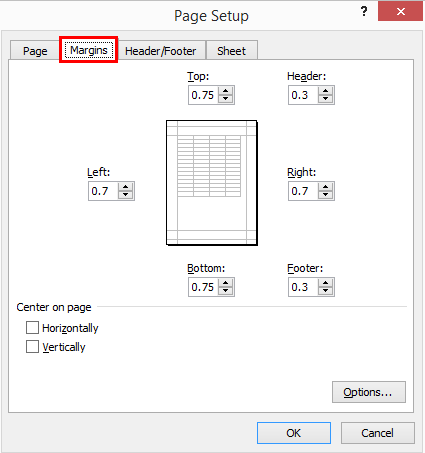 In Header/Footer, We can create customize Header or Footer instead of creating in these from the option available in the Insert menu tab. This saves space and time both so that our data will look good. There is an option of Custom Header/Custom Footer in the below screenshot, which will enable the Header and Footer in the worksheet in the print option only.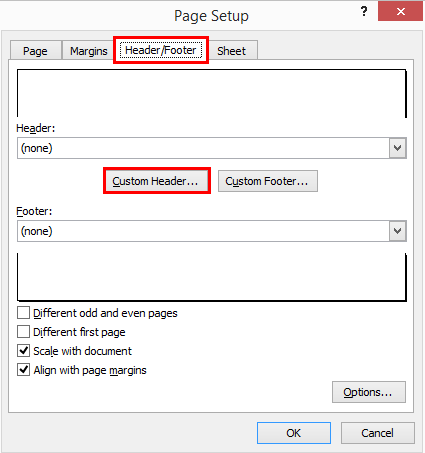 Once we click on Custom Header or Custom Footer option, shown in the above screenshot, we will get a box where we can fill desired or required Header or Footer name as shown below.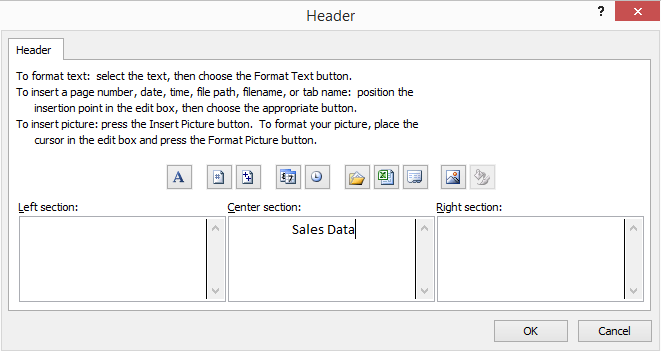 Once we are done with filling Header and Footer names in their respective blocks, we can click on Ok to see how our Header and Footer will look like in Print Gridline view, as shown below.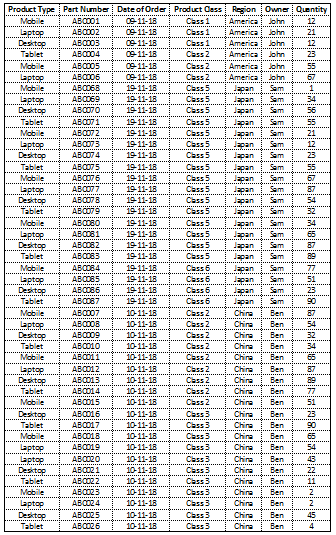 Print Gridlines has a few more advanced options available in the File menu and Option and Advanced. Once we follow the mentioned path, we will get the box as shown below.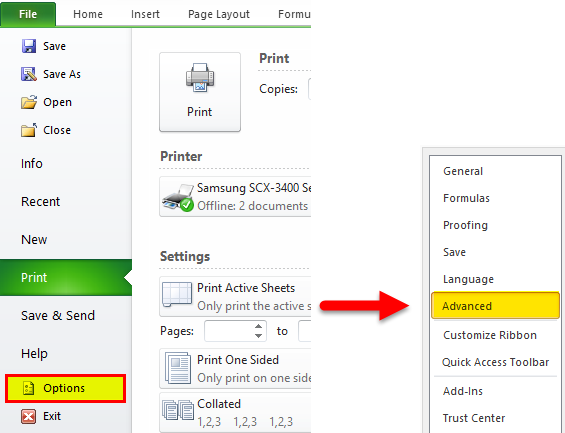 Here, we can do further modifications. And after that, we will be having final print gridlines, as already shown above, so that we complete the Print Gridlines in Excel and its application.
Pros of Printing Gridlines
Creating the print gridlines makes data presentable to anyone without showing the Header/Footer and gridlines on the current page.
Printing the gridlines makes data in printable form as well. We can print the data, with gridlines and it will be visible in output as well.
Things to Remember
Gridlines can be used with shortcut key Ctrl + P, which will directly take us to the Print Preview option, which has all the discussed commands and functions.
Giving borders in the form of Print Gridlines in any data table is very important. We must set print gridlines after every work so that the data set can be bound.
Recommended Articles
This is a guide to Print Gridlines in Excel. The easiest way to adjust a column is to use the Print Gridlines in Excel. Here we discuss how to use Print Gridlines in Excel along with practical examples. You can also go through our other suggested articles –