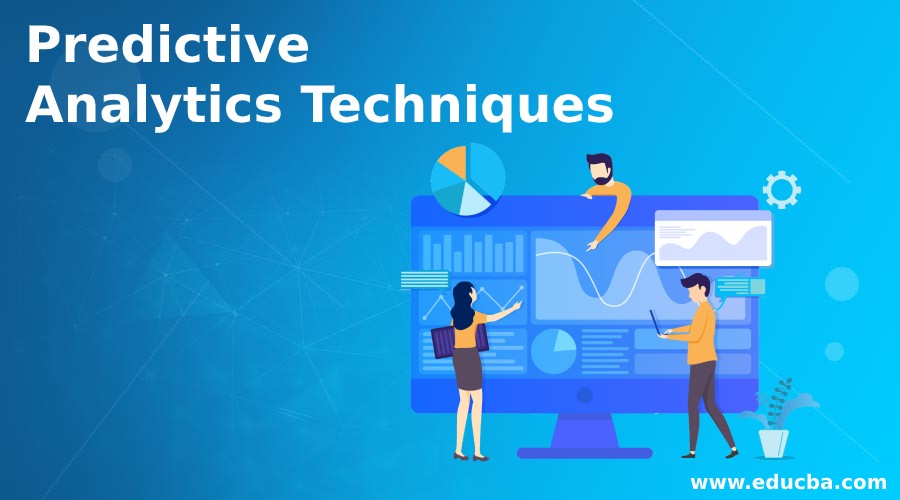 Introduction to Predictive Analytics Techniques
The following article provides an outline for Predictive Analytics Techniques. Predictive Analytics simply put is using big and varied data from various sources to determine or Predict future outcomes based on Historical and current trends or data. It involves big Data techniques to process large volumes of data to ascertain future outcomes. It is one of the most sought after techniques used for Forecasting and trend Analysis in various fields like Actuarial Sciences to Construction and from Financial Services to Retail. It takes various techniques and methods from the field of Data Mining, Statistics, Predictive Modelling, etc. By successfully applying Predictive Analytics, Businesses can benefit immensely by interpreting big data to their advantage.
Data used for Predictive Analytics could be both Structured and Unstructured, examples of Age, Gender, Location, Income, etc are structured and Social Media Comments, and other text heavy or image processing also is considered unstructured data. Predictive Analytics using concepts of Data mining, Statistics and Text Analytics can easily interpret such structured and Unstructured Data. Predictive Analytics Process typically involves a 7 Step process viz., Defining the Project, Data Collection, Data Analysis, Statistics, Modelling, Model Deployment and Model Monitoring.
Several Predictive Analytics Techniques
There are several techniques used in Predictive Analytics and more often than not, it's the combination of these techniques used by organizations to predict outcomes.
Broadly Techniques could be grouped in Regression and Machine Learning techniques.
1. Regression Techniques
Regression techniques are the mainstay of Predictive Models. They are a set of Statistical processes for estimating the relationship between a dependent variable and one or more independent Variable. It focuses on establishing a mathematical equation as a method to represent interactions between different variables. It is mostly used in Price optimization, specifically choosing best target price for an offering based on how other related products have sold. Stock Market Analysts also use Regression Models to determine how factors like Interest Rate would affect Stock prices.
The most common Regression Models used for Predictive Analytics are:
Linear Regression Model: It is one of the most widely used modelling techniques. In this technique the dependent variable is continuous and the Independent variables can be continuous or discrete and the nature of regression is linear. The relationship between variable X (Independent Variable) and Y (Dependent Variable) is established using a best fit straight line (Linear regression line). One of the more important things to know is Linear based Regression models is the inclusion of outliers as variables as they affect the estimates and the regression lines thereby affecting the outcome grossly which can misrepresent the model completely.
Logistic Regression: It is used when there's a need to find the probability of success in terms of Yes or No or Success or Failure. We can use this model when the dependent variable is binary (Yes/No) in nature. There's no need to have a linear relationship between the variables like Linear Model and therefore can handle various types of relationships as it applies Non-Linear log to predict odds ratio. Also, it requires large sample size to est mimic future outcome. If the value dependent variable is ordinal then it's called Ordinal Logistic Regression and if the dependent variable is multiclass it's called Multinomial Logistic Regression.
Time Series Models: Time series are used to predict the future behavior of variables based on historical data. These models are usually modeled through stochastic process Y(t) which refers to a sequence of random variables. Depending on frequencies, a time series can be of yearly (Annual budgets), quarterly (Sales), Monthly (Expenses) or Daily (Stock Prices). If you use only previous values of the time series to predict its future values, its called univariate Time series forecasting and if you use exogenous variables, its called Multivariate time series forecasting. ARIMA or AutoRegressive Integrated Moving Average is most widely used Time Series Model which can be developed in Python to predict future outcomes. It's a forecasting algorithm based on simple idea that information in the past values of time series can alone be used to predict future values.
2. Machine Learning Techniques
Machine Learning is a branch of Artificial Intelligence (AI) which was employed to develop techniques to enable computers to learn. It involves a number of advanced statistical methods and regression and classification techniques. ML is applied in almost every known field and newer avenues are being discovered everyday for its applications.
Some of the Predictive techniques using Machine learning are:
Neural Networks: Neural networks are nonlinear highly sophisticated modelling techniques that are able to model complex functions. It's used when exact relationship between input variable and output is not known. Their key feature as discussed is that they learn from their behavior through training. Some examples of neural networks are back propagation, quick propagation, conjugate gradient descent, projector operator, etc. They are widely used in various areas of Finance, Cognitive Psychology, Medicine, Engineering and Physics.
MLP: Multilayer Perceptron or MLP is a deep, Artificial Neural Network composed of more than one perceptron. They have an input layer to receive the signal and an output layer that makes a decision or prediction about input variable. In-between these two layers there's an arbitrary number of hidden layers that are the computational engines which drives the system.
Naive Bayes: Naive bayes algorithm is a classification technique which is based on Bayes theorem. It is a technique which is used to predict the likelihood that an event will occur given evidence that is present in the data. Naive Bayes theorem is a powerful algorithm for the classification problem. There are three types of Naive Bayes model viz., Gaussian Model which predicts from normally distributed features, Bernoulli which is used to predict from binary features and Multinomial which is used when features describe discrete frequency counts like word count.
Conclusion
Although Predictive Analytics has gotten its fair share of criticisms in that machines or algorithms can't predict future, Predictive analytics now is widely used in almost every field and with more and more data we can predict future outcome with relative precision. This enables businesses and Institutions to take informed decisions. Since it has several use cases in every field imaginable, learning tools of Predictive Analytics is imperative for anyone looking for a career in Data Science or Business Analytics in particular.
Recommended Articles
This is a guide to Predictive Analytics Techniques. Here we discuss the introduction to Predictive Analytics Techniques along with several analytics techniques. You may also have a look at the following articles to learn more –