Updated November 8, 2023
Explore North Carolina
North Carolina, also known as the "Tar Heel State," is located in the southeastern region of the United States and has a rich and diverse array of attractions for every traveler. From the picturesque Blue Ridge Mountains, offering breathtaking views and excellent hiking opportunities, to the stunning Atlantic coastline with its pristine beaches, historic sites, and abundant wildlife, North Carolina has something for everyone. The state also features charming waterfalls, including Linville Falls and Looking Glass Falls, which add to its natural allure.
North Carolina celebrates its diverse cultural offerings, including traditional Appalachian music in the western mountains and the vibrant arts and music scene. The state is famous for its culinary traditions, which include Southern cuisine, barbecue, fried chicken, and biscuits.
North Carolina also has several cultural institutions, including museums, music festivals, and theaters. Over the years, its economy has evolved from agriculture to a more diversified one that includes industries such as technology, finance, and manufacturing.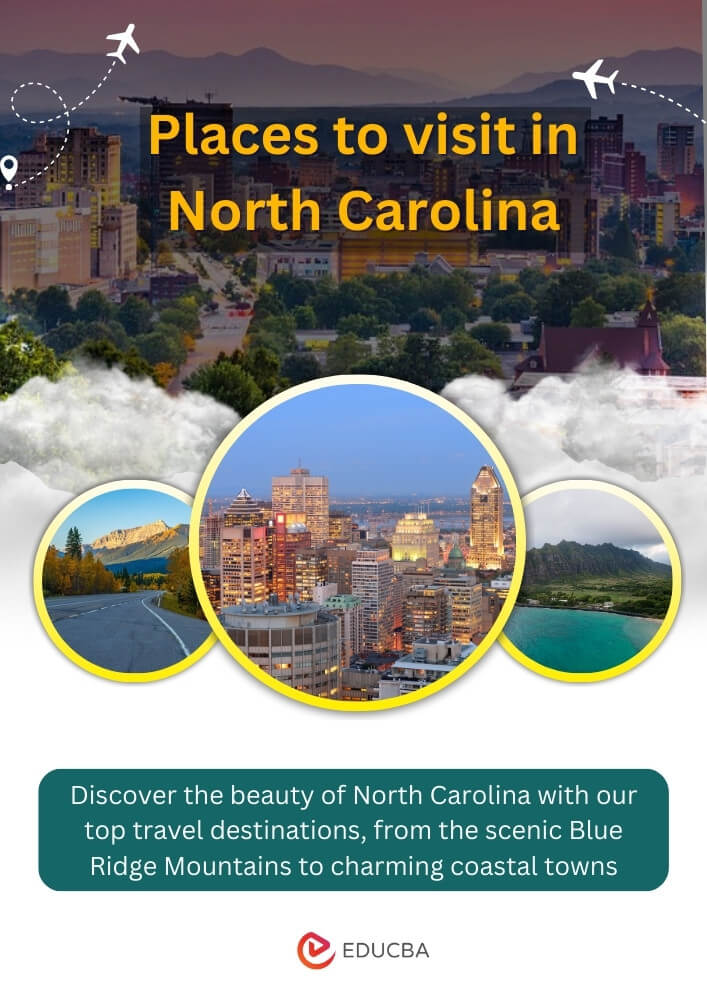 Must Places to Visit in North Carolina
Here are some popular places to visit in North Carolina:
1. Chimney Rock State Park
Chimney Rock State Park is a natural scenic attraction in the western part of North Carolina near Chimney Rock. It is renowned for its iconic granite monolith, Chimney Rock, which offers breathtaking views of the Blue Ridge Mountains and Lake Lure. The park encompasses a diverse range of ecosystems, including lush forests, rare plants, and unique wildlife, making it a haven for nature enthusiasts and outdoor adventurers.
Architecture and History: Chimney Rock State Park has a long history, officially established in 2007. However, the area has been a popular tourist destination since the late 19th century. Chimney Rock itself is a 315-foot granite spire that has served as a natural landmark for centuries. The park's infrastructure includes hiking trails, scenic overlooks, and an elevator that takes visitors to the top of the rock, providing panoramic views of the Hickory Nut Gorge and beyond. The elevator to the top of Chimney Rock was constructed in 1949.
Timings: The park's opening hours vary based on the season, so it's advisable to check the official website for the most current information.
Entry Fee: $17 per adult and $8 per youth (ages 5-15). Children under 5 are free.
Best Time to Visit: The best time to visit is spring and fall, when mild weather adorns the surrounding landscapes with blooming wildflowers or vibrant autumn foliage. It's wise to avoid the summer months to escape the crowds.
2. Bald Head Island
Bald Head Island is a charming and secluded barrier island off the southern coast of North Carolina. The island is a favorite destination for people seeking a calm escape away from the rush and bustle of city life due to its serene and unspoiled natural beauty. It offers a unique blend of pristine beaches, maritime forests, and a car-free environment, making it an ideal place for relaxation and outdoor exploration.
Architecture: Bald Head Island features a unique, car-free environment with golf carts and bicycles as the primary modes of transportation. Lovely seaside villas and seafront cottages complement the island's architecture.
Entry Fee: To visit Bald Head Island, you'll need to take a ferry from the nearby town of Southport. Ferry fees vary by age and time of year, so it's best to check the official website for current rates.
Best Time to Visit: The best time to visit is spring and fall for pleasant weather and fewer crowds. Summers are popular but can be crowded, while winters are quieter.
Nearby Places: Nearby attractions include Old Baldy Lighthouse, maritime forests, beautiful beaches, and the serene Bald Head Island Conservancy for nature enthusiasts.
How to Reach: To reach Bald Head Island, you must first travel to Southport, North Carolina. From there, take a passenger ferry to the island, as it's only accessible by boat.
3. Hanging Rock State Park
Hanging Rock State Park is a beautiful natural attraction in Stokes County, North Carolina, that offers picturesque landscapes and breathtaking views. One of its main features is the iconic Hanging Rock, a quartzite peak that provides stunning panoramic views of the surrounding Piedmont region. The park features a well-maintained network of hiking trails, picnic areas, and a visitor center. The park's architecture blends with the natural environment, allowing visitors to enjoy the area's beauty while preserving its pristine character.
Architecture and History: The park was established in the 1930s as part of a New Deal-era initiative by the Civilian Conservation Corps (CCC), which constructed many of the park's amenities, including trails, picnic areas, and the lake.
Timings: Generally open from 7 a.m. to 9 p.m., but the closing time may vary depending on the season. Boat rentals and concession stand timings are available on weekends only in the spring and fall, from 10 am – 5:30 pm, and are open daily during summer months, from 10 am to 5:30 pm.
Entry Fee: Accessing Hanging Rock State Park for day use does not require any fees, except for boat rentals and swim passes. However, the park charges fees for camping, group climbing, specific event permits, and facility reservations.
Best Time to Visit: The best time to visit is during the spring and fall seasons. Summers can be hot, and winters are typically quieter, but some trails may be closed or icy in winter.
Activities: Hanging Rock State Park offers visitors multiple activities to enjoy, including hiking (with over 48 miles of trails), biking (with 15 miles of trails), horseback riding (with 6 miles of trails), paddling, swimming (seasonal), fishing, picnicking, and rock climbing.
4. Asheville
Asheville, nestled in the Blue Ridge Mountains of western North Carolina, offers a vibrant city with breathtaking natural beauty, a diverse cultural scene, and a thriving arts community. Visitors can experience an unmatched blend of outdoor adventures, historic landmarks, and a bohemian atmosphere in this lively area.
Iconic Attractions: The historic Biltmore Estate, a bustling arts and crafts scene, and the picturesque Blue Ridge Parkway. The city is also famous for its craft breweries, farm-to-table restaurants, and live music venues.
Things to Do: Exploring the Biltmore Estate, the largest privately-owned house in the U.S., Hike and bike along the scenic Blue Ridge Parkway. Visit the historic downtown with its boutiques, art galleries, and restaurants, Experience the vibrant arts community, including the Folk Art Center, and Enjoy outdoor activities like rafting, zip-lining, and hiking in the nearby mountains.
Trip Ideas: A romantic getaway exploring the Biltmore Estate and enjoying fine dining, Outdoor adventure hiking in Pisgah National Forest and going whitewater rafting, Cultural exploration visiting art galleries, music festivals, and the River Arts District., Relaxation retreat unwinding at a spa, taking scenic drives, and enjoying farm-to-table cuisine.
Places to Stay: Historic inns in downtown Asheville, Cozy cabins and lodges in the nearby mountains, Upscale resorts with mountain views, Quaint bed and breakfasts, and Vacation rentals for a more private experience.
Food & Drink: Farm-to-table dining at local restaurants, Craft breweries offer a wide range of beers, Food trucks and street food, International cuisine from sushi to Mexican, Cafes and bakeries serving fresh pastries and coffee.
Packages & Deals: Check for Biltmore Estate packages that include tours and accommodations, Look for seasonal hotel deals and discounts on outdoor activities, Consider spa packages for relaxation and rejuvenation, Explore brewery tours and tasting packages, and Find last-minute getaway deals for budget-friendly options.
5. Blue Ridge Parkway
The Blue Ridge Parkway is a picturesque highway that spans 469 miles through the Appalachian Highlands, linking North Carolina's Great Smoky Mountains National Park to Virginia's Shenandoah National Park. Frequently referred to as 'America's Favorite Drive', it is renowned for its stunning panoramas and unspoiled landscapes.
Architecture and History: The Blue Ridge Parkway features a distinctive blend of natural beauty and architectural elements harmonizing with the surrounding landscape. Its design is characterized by stone bridges, overlooks, tunnels, and visitor centers, all crafted to complement the natural environment.
Constructed In: Construction began in the 1930s as a New Deal-era public works project. It was built primarily as a scenic route and a means to provide employment during the Great Depression. The parkway was completed in sections and officially opened in 1987.
Timings: The Blue Ridge Parkway is open year-round. Travelers are advised to check the National Park Service website for current road and facility conditions.
Best Time to Visit: Depends on your preferences:

Spring brings blooming wildflowers and green landscapes.
Summer offers pleasant weather, but it can be crowded.
Fall is famous for its stunning foliage, making it a peak season.
Winter provides a peaceful, snow-covered landscape, but some sections may be closed.
6. Charlotte
Charlotte, North Carolina, holds the distinction of being the largest city and is considered a major financial and cultural hub. It is widely known as the "Queen City" and is a perfect blend of modern city living with a rich history and diverse culture. The city offers various activities, culinary delights, and cultural experiences.
Activities: Explore the history of stock car racing in the birthplace of NASCAR. The bustling center features restaurants, shopping, and cultural venues. Catch a game featuring the Charlotte Hornets (NBA) or the Carolina Panthers (NFL). Enjoy nearby parks, greenways, and outdoor events.
Best Time to Visit: Visit Charlotte during spring and fall for pleasant. Summers can be hot, while winters are milder but cooler for outdoor exploration.
Nearby Places: Asheville, Biltmore Estate, Great Smoky Mountains National Park, Lake Norman
Culture and Etiquette: Charlotteans generally exhibit friendliness and politeness, with expectations of common courtesy and respect. The city's diverse and inclusive community results from its mix of cultures and backgrounds. Tipping is customary, typically 15-20% in restaurants and for service providers.
Accommodation Options: Charlotte has many accommodation options, including luxury hotels, boutique inns, and budget-friendly hotels. Uptown Charlotte offers convenient access to the city's attractions and dining. South End and Dilworth are popular neighborhoods for accommodations, with a range of lodging choices.
7. Wilmington
Wilmington, located on the southeastern coast of North Carolina, is a charming city known for its historic district, scenic riverfront, and beautiful beaches. Steeped in history and offering a diverse range of activities, Wilmington attracts visitors with its Southern hospitality and coastal charm.
Activities: Explore the charm of the historic downtown area with its cobblestone streets, boutique shops, and riverside restaurants. You can also visit the Battleship North Carolina, a World War II battleship transformed into a museum. Additionally, there are beautiful beaches, such as Wrightsville Beach and Carolina Beach, where you can enjoy sunbathing and water sports. For history enthusiasts, the Bellamy Mansion and Airlie Gardens are must-see historic sites. To learn about the city's history and enjoy scenic views, take a riverboat tour along the Cape Fear River.
Best Time to Visit: The best time to visit Wilmington is spring (March to May) and fall (September to November).
Nearby Places: Carolina Beach, Wrightsville Beach, and Kure Beach offer additional coastal experiences. Historic towns like Southport and New Bern glimpse North Carolina's history. The charming coastal communities and golf courses in the Brunswick Islands, located to the north, are well-known.
Culture and Etiquette: Wilmington embodies Southern hospitality, with residents known for their friendliness and politeness. Dress codes vary based on the establishment or event, so it's wise to inquire in advance. Tipping is customary in restaurants, for services, and for hospitality staff.
Accommodation Options: Historic inns and boutique hotels in the downtown area provide a charming and intimate experience. Chain hotels and motels are available in various parts of the city, offering a range of budgets. Beachfront resorts and vacation rentals offer coastal accommodations.
8. Great Smoky Mountains National Park
One of the most popular national parks in the United States is the Great Smoky Mountains National Park, which borders North Carolina and Tennessee. The park's breathtaking natural beauty, diverse wildlife, and abundant plant life make it a must-visit destination for outdoor enthusiasts.
Architecture: The park's architecture follows a rustic style that blends perfectly with its natural surroundings. You can also find historic structures such as old cabins and mills within the park.
Entry Fee & Timings: There are no entry fees for the park, and it is open year-round. However, hours may vary depending on the season, and some facilities may close in the winter.
Best Time to Visit: The best times to visit the park are spring for wildflowers, summer for hiking, fall for colorful foliage, and winter for peaceful snowscapes. Each season offers a unique experience that you would want to experience.
9. Outer Banks
Outer Banks is a group of barrier islands along the coast of North Carolina. The area is renowned for its natural beauty, historical significance, and laid-back beach atmosphere. With miles of sandy beaches, charming coastal towns, and abundant outdoor activities, it is a popular destination for those seeking a coastal retreat.
Things to Do: Visit historic lighthouses like Cape Hatteras and Bodie Island. Enjoy water sports, including surfing, kiteboarding, and fishing. Visit Wright Brothers National Memorial in Kitty Hawk, Relax on beautiful beaches, such as Nags Head and Corolla, and Discover the maritime history at Roanoke Island Festival Park.
Places to Stay: Beachfront vacation rentals and cottages offer a private and scenic retreat. Hotels and motels are available in various coastal towns, Campgrounds and RV parks cater to outdoor enthusiasts, and Upscale resorts provide luxury accommodations and amenities.
Restaurants: Savor fresh seafood, including Outer Banks-style fish and chips. Try traditional North Carolina barbecue and enjoy waterfront dining with stunning sunset views. Experience local cuisine and craft beer at casual eateries, and take advantage of the Outer Banks' famous donuts and seafood shacks.
Attractions: Historic lighthouses (Cape Hatteras, Bodie Island), Wright Brothers National Memorial, Beautiful beaches (Nags Head, Corolla), Roanoke Island Festival Park, Jockey's Ridge State Park (sand dunes), North Carolina Aquarium on Roanoke Island, Ocracoke Island (quaint village and historic sites)
10. Raleigh
Raleigh, the capital city of North Carolina, is part of the vibrant Research Triangle area, including Durham and Chapel Hill. Known for its rich history, cultural attractions, and research institutions, Raleigh is a diverse and dynamic city that offers many activities and experiences.
Activities: Explore the North Carolina Museum of Art and the North Carolina Museum of History. Stroll through historic neighborhoods like Oakwood and Boylan Heights. Attend live music events, cultural festivals, and sporting events. Visit the JC Raulston Arboretum and Pullen Park for outdoor activities. Savor diverse cuisine at local restaurants.
Best Time to Visit: The best times to visit Raleigh are spring and fall when the weather is pleasant.
Nearby Places: Durham and Chapel Hill are part of the Research Triangle, offering additional cultural and educational experiences. Cary, Morrisville, and Apex are nearby suburbs with shopping and dining options.
Culture and Etiquette: Raleigh's culture is welcoming, and residents are generally friendly and polite. Dress codes can vary, so it's advisable to check in advance when visiting specific establishments. Tipping is customary in restaurants and for services.
Accommodation Options: Raleigh offers a range of accommodation options, from upscale hotels downtown to budget-friendly chain hotels and motels. Bed and breakfasts in historic neighborhoods provide a unique experience. Vacation rentals and Airbnb options offer diverse choices for travelers.
11. Durham
Durham, part of North Carolina's Research Triangle, boasts a rich history and vibrant culture. Home to the prestigious Duke University, it offers diverse cultural attractions, including the American Tobacco Historic District and the Durham Performing Arts Center. Visitors can savor a wide range of culinary experiences and explore the nearby natural beauty of Eno River State Park.
Activities: Explore the historic tobacco town ambiance at the American Tobacco Historic District. Visit the iconic Duke University and its beautiful campus, including the Sarah P. Duke Gardens. Discover the interactive exhibits at the Museum of Life and Science. Enjoy live performances at the Durham Performing Arts Center (DPAC). Indulge in diverse culinary experiences at local restaurants.
Best Time to Visit: Best visited in the spring and autumn
Nearby Places: Raleigh and Chapel Hill are nearby cities in the Research Triangle, each offering unique attractions and experiences. The Eno River State Park provides hiking trails and scenic views outside Durham.
Culture and Etiquette: Durham's culture is diverse and inclusive, focusing on education and innovation. Residents are generally friendly and polite, appreciating mutual respect.
Accommodation Options: Durham offers a variety of accommodation options, including hotels, boutique inns, and budget-friendly motels. Many hotels are conveniently located near downtown and major attractions. Airbnb options and vacation rentals provide additional choices for visitors.
12. International Civil Rights Center & Museum in Greensboro
The International Civil Rights Center & Museum is situated in Greensboro, North Carolina, and it was a crucial player in the Civil Rights Movement. The museum stands on the same site where the historic Woolworth's store used to be, and it was in this store where the Greensboro Four began their sit-in protests in 1960. These protests played a pivotal role in the fight for civil rights and the integration of public spaces.
Architecture: The museum occupies the former F.W. Woolworth building, preserving it to showcase the architecture and atmosphere of the time. The iconic lunch counter, where the sit-ins took place, remains a central exhibit. They established the museum on February 1, 2010, the 50th anniversary of the historic sit-ins at the Woolworth's store.
Built By: A coalition of local organizations and leaders, including many civil rights activists and community members, established the museum. They developed it to commemorate the history and struggle of the Civil Rights Movement.
Entry Fee: Adults $12, Students and Seniors $10, Youth $8, Children under 5 FREE.
Best Time to Visit: The museum is open year-round, and any time is a suitable time to visit. However, visiting during Black History Month in February or major civil rights commemorations can provide a more immersive experience and additional educational programs.
13. The Biltmore Estate
The Biltmore Estate is a famous symbol of the Gilded Age, located in Asheville, North Carolina. It is known as America's largest privately owned home. It is renowned for its opulent architecture, expansive gardens, and historical significance as a prime example of the grandeur of the American aristocracy in the late 19th century.
Architecture: Designed by architect Richard Morris Hunt, the Biltmore Estate features a stunning Châteauesque-style mansion. The architecture incorporates elements of French Renaissance and Gothic styles, showcasing intricate details, turrets, gargoyles, and beautiful interiors, making it an architectural masterpiece.
Construction: Construction of the Biltmore Estate began in 1889 and was completed in 1895. The estate was officially opened on Christmas Eve in 1895.
Built by: George Washington Vanderbilt II, a member of the prominent Vanderbilt family, built the Biltmore Estate. George Vanderbilt commissioned architect Richard Morris Hunt and landscape architect Frederick Law Olmsted for the design and construction of the estate.
Entry Fee: The entry fee for the Biltmore Estate varies depending on the season and type of ticket. It ranges from approximately $70 to $85 for adults. It's advisable to check the official Biltmore Estate website for the most current pricing information and any available discounts.
Best Time to Visit: The Biltmore Estate is enchanting year-round, but the spring months (April to June) are especially delightful due to blooming gardens. Fall (September to November) is another popular time to visit, offering stunning foliage. Avoiding peak summer and holiday seasons can provide a more tranquil experience with fewer crowds.
14. Winkler Bakery
Winkler Bakery, located in Old Salem, Winston-Salem, North Carolina, is famous for its historical significance and traditional Moravian baking methods. It is renowned for being one of the oldest continuously operating bakeries in the United States, preserving the rich culinary heritage of the Moravian settlers.
History: Winkler Bakery was established in 1800 by Moravian baker Heinrich Freytag. It has been operating for over two centuries, maintaining the Moravian tradition of artisanal baking. The bakery is renowned for its authentic Moravian sugar cake, ginger cookies, and love feast buns.
Built By: Winkler Bakery was built by Moravian settlers who arrived in the area seeking religious freedom. The Moravians were known for their dedication to craftsmanship, and this bakery reflects their commitment to traditional baking methods.
Best Time to Visit: Winkler Bakery is a delightful place to visit year-round. However, the holiday season is an exceptional time to experience its offerings, as it is known for baking Moravian Christmas cookies and other traditional treats during this period. It's also a great time to immerse yourself in the holiday spirit of Old Salem.
Culture and Etiquette: Respect the historical and cultural value of Winkler Bakery when visiting. You can enjoy the bakery's products and learn about Moravian traditions from the knowledgeable staff. Being polite and patient during busy times is appreciated. It's also customary to pay for the items you wish to purchase, as this is a functioning bakery and store.
15. Wright Brothers National Memorial
The Wright Brothers National Memorial, located in Kill Devil Hills, North Carolina, commemorates the pioneering achievements of Orville and Wilbur Wright. These brothers achieved the first powered, controlled, and sustained flight in 1903. The site is of immense historical significance and symbolizes human ingenuity.
Architecture: The memorial features a 60-foot granite pylon that serves as a prominent landmark. It was designed by architects Rodgers and Poor and completed in 1932. The pylon stands on the exact spot where the Wright brothers' first flight took place.
Construction: They began constructing the Wright Brothers National Memorial in the early 1930s and officially dedicated and opened it to the public on November 19, 1932, to coincide with the 29th anniversary of the first powered flight.
Built By: The U.S. government built and dedicated the memorial to honor the Wright brothers' groundbreaking aviation achievements. It is now part of the National Park Service, responsible for preserving this historic site for future generations.
Entry Fee: Park entrance fees are $10 per person aged 16 or older. This fee covers one person traveling in a private non-commercial vehicle or with an organized non-profit group, such as a service organization, scouts, or church groups, for up to seven consecutive days.
Best Time to Visit: Visiting during spring and fall is often recommended for a more peaceful experience because the summer months can be crowded. Additionally, visiting during the December 17th anniversary of the first flight can be a memorable experience.
16. Levine Museum of the New South
The Levine Museum is a cultural institution in Charlotte, North Carolina. It aims to explore and exhibit the history and current impact of the American South since the Civil War. The exhibits and programs provide a comprehensive and thought-provoking insight into the complex and evolving history of the region.
Architecture: The Levine Museum of the New South boasts a modern architectural design focusing on functionality and accessibility. The design of the building aims to create a welcoming and engaging space for visitors to explore the exhibits.
Constructed In: The museum officially opened in 2001 and has served as a vital resource for understanding the historical and social transformations that have shaped the New South since its inception.
Built By: The community built the museum to explore the complex history of the South through their collective effort. Philanthropist Leon Levine and his family's name, the museum carries, supported its creation. Constructed to provide a platform for educational and cultural enrichment.
Entry Fee: $8 for adults, $6 for seniors (62+), students, educators, and active military personnel (with current, valid ID), and $5 for children aged 6-18. Admission is free for children under five years old, museum members, and on Sundays. Groups of ten or more visitors can enter for $5 per person, but advance reservation is necessary.
17. Grandfather Mountain
Grandfather Mountain, located in the Blue Ridge Mountains of North Carolina, boasts natural beauty and distinctive geological characteristics. Nature lovers and adventure enthusiasts alike flock to this renowned destination for its challenging topography, iconic mile-high swinging bridge, and exceptional biodiversity.
Timings: 9 a.m. to 5 p.m. (Last entry at 3:30 p.m., trails close at 4 p.m.)
Architecture: Grandfather Mountain is predominantly known for its natural beauty rather than man-made architecture. However, the most iconic architectural feature is the Mile-High Swinging Bridge, which allows visitors to experience breathtaking views and the sensation of walking above a chasm.
Built By: Geological forces have shaped Grandfather Mountain over millions of years as a natural formation. Humans did not construct it but sculpted it through the earth's processes. Developers created the park and its visitor facilities to offer access and protection for this unique natural wonder.
Entry Fee: Adult: $20, Senior (60 & over): $18, Child (ages 4-12): $10
Best Time to Visit: Spring and summer offer pleasant weather, blooming wildflowers, and vibrant foliage. Fall is famous for its stunning leaf colors, making it a peak season. Winter provides a quieter, snow-covered landscape, but some park facilities may be closed.
18. North Carolina Museum of History
The North Carolina Museum of History in Raleigh commits to preserving and showcasing the state's history. As a valuable educational resource, it provides a comprehensive view of North Carolina's rich and diverse history through various exhibits and artifacts.
Architecture: The museum's architecture combines modern elements with classic design features. The building is designed to invite visitors and provide them with an accessible space for exploring North Carolina's history. It features various architectural styles, making it an intriguing structure within the city's landscape.
Constructed In: The museum's history dates back to its founding in 1902, but they completed the building that houses the museum in 1994. The new building significantly expanded the museum's exhibition space and modernized its facilities.
Built By: The state of North Carolina established and continues to support the North Carolina Museum of History as the primary repository for the state's historical artifacts and collections, which is a state-funded institution.
Entry Fee: Entry does not require tickets. However, some special exhibits or events might have separate admission fees.
Conclusion
North Carolina is a wonderful destination that offers a great mix of natural beauty, rich history, and cultural experiences. From the stunning Blue Ridge Parkway to the historical Biltmore Estate and the charming coastal towns of the Outer Banks, the state provides a variety of attractions for all types of travelers.
Recommended Articles
We hope that this EDUCBA information on "Places to Visit in North Carolina" was beneficial to you. You can view EDUCBA's recommended articles for more information.