Updated September 15, 2023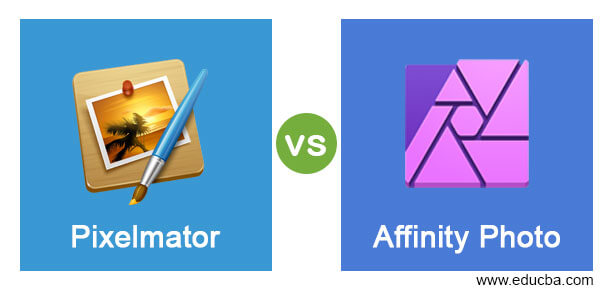 Difference Between Pixelmator vs Affinity Photo
Pixelmator is a graphics editor built upon a combination of Mac OS and Open-source technologies and deals with retouching, color correction, painting, and some other image manipulation work with its high level of editing features. It not only works on layer-based editing of images but is also incorporated with GPU-powered image processing. Affinity Photo is part of Affinity trinity along with Affinity Designer and Affinity Publisher and works as raster graphics editing software. You can do image stitching, optical aberration corrections, alpha compositing, and many other image editing works that can be considered non-destructive editing. Both software is for raster graphics editing but has different aspects. In this topic are going to learn about Pixelmator vs Affinity Photo. So let me tell you about these aspects.
Head To Head Comparison Between Pixelmator vs Affinity Photo (Infographics)
Below are the top differences between Pixelmator vs Affinity Photo

Key Differences Between Pixelmator vs Affinity Photo
Some facts of both software make them different from each other and make them unique in their working methodology. So let us have an analysis on the difference too of this two software.
Pixelmator is not available for multiple devices because it has its compatibility only with macOS and iOS operating systems, whereas Affinity Photo has accessibility for Microsoft Windows operating system, too, along with macOS and iOS.
Pixelmator uses core image and Automator technologies that work with layer-based management features (which helps in non-destructive editing) and impacts color correction, retouching, etc. It also has over 40 tools for performing these tasks along with 50 filters (that have pre-defined parameters for image manipulation and that parameters are also editable according to your requirement of work), Whereas Affinity Photo has its expertise in processing raw photos, has color space options, provides live previews of applied effect (so that effect's parameters can easily adjust), ICC color management as well as 16 bit per channel editing.
If we talk about the price of Pixelmator, then you can have the Pixelmator pro version of it for $39.99 (with all advanced features), which you can buy and download from the Mac App Store. Pixelmator teams offer discounts on their package from time to time, so it varies according to them. You will not have a free version of this software but can have a free trial version offered by the Pixelmator Team for a limited time period.
Affinity Photo is available on Mac App Store and Microsoft Store too, and you can have it for $49.99 with all advanced features. Serif also offers you discounted prices for Affinity Photo from time to time so you can check it out before purchasing it. In addition, affinity developers also offer you 30 days free trial version (in it, you will have all features of the full version) to you to understand it before starting working with it.
These were some important facts and features about which you have to know for having good command on Pixelmator as well as Affinity Photo.
Comparison Between Pixelmator vs Affinity Photo
To have a good understanding of this two software, you should know the basic information of the first, including operating systems, supported languages, license type, and so on… So let us have a look at the basic characteristics of Pixelmator and Affinity Photo.
| | | |
| --- | --- | --- |
| | Pixelmator | Affinity Photo |
| Definition | Pixelmator is a raster image editing software that works in combination of two technologies are Mac OS and Open source, and by using these technologies, it deals with colorization, retouching, image processing, and so on. | Affinity Photo deals with raster graphics editing and develops raw photos with unlimited layers of supports. This layer supports works by the layer-based editing of images. |
| Developer and Initially released date | Lithuanian brothers Saulius and Aidas Dailide developed this software for macOS, and Pixelmator team ltd developed it as an open-source program. On September 25, 2007, it was initially launched for public use. | Serif was its developer and initially released it on July 9, 2015, with lots of good image editing as well as processing features. |
| Operating systems | It has its compatibility with Mac OS and iOS systems. | It can run on several operating systems such as macOS, iOS and Microsoft Windows. |
| Latest release and version | On November 13, 2019, its latest version was released for macOS that is macOS 3.9, and on October 9, 2019, iOS 2.4.7 was released for iOS as the iOS latest version. | On April 13 2021, its latest version was released, which is named as 1.9.3. |
| Type | It can be categorized under Raster graphics editing software. | It can also categorize as Raster Graphics editing software. |
| License | It has a Proprietary license, which means you have to pay subscription charges for having it. | It is Proprietary commercial software and also a trialware ( that means you can have fully featured software for a limited time period which is decided by their developer) |
| Availability | You can visit www.pixelmator.com for having more detailed information about this software. You can also download it from here after going through subscription details. | On its official website, you can get more information about it and which is www.affinity.serif.com. |
| Supported Languages | Pixelmator currently supports 11 languages so that it can become easy to software for different users and that are English, German, French, Italian, Japanese, Korean, Spanish, Simplified Chinese, Traditional Chinese, Portuguese, and Russian, | Affinity Photo is also available in many different languages for making itself more accessible to different users, and these languages are English, French, German, Spanish, Japanese, Portuguese, Italian, Chinese, and Russian. |
These were some important details, and by analyzing them, you can get basic information about the characteristics of this software. Now let us find out if there are any differences between Pixelmator and Affinity Photo, although they are used for the same purposes?
Conclusion
Pixelmator and Affinity Photo will take no more an unknown word for you, and you have good information about their special characteristics. Now you can start using them for raster image editing and processing work so that you can have expertise on different features of this software. You can go with any one of the software as per your choice after analyzing this two software.
Recommended Articles
This is a guide to Pixelmator vs Affinity Photo. Here we discuss the Pixelmator vs Affinity Photo key differences with infographics and comparison table. You may also have a look at the following articles to learn more –