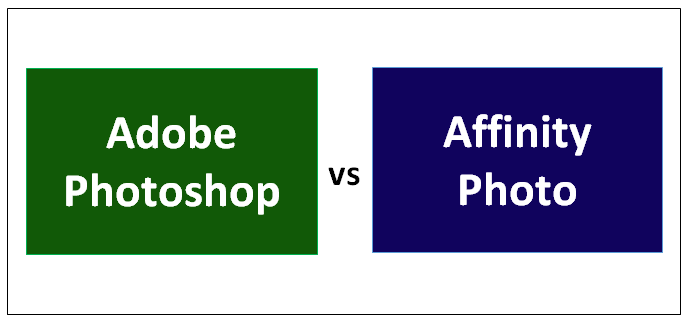 Difference Between Photoshop and Affinity Photo
The first image editing was known to be happening in the 1860s to a photo of Abraham Lincoln. In the early stages before the invention of the computer and other technologies, editing was carried out manually by hand. People used to edit pictures by cutting and pasting different photos and adding inks or paints. Later, with the invention of the computer and other technologies, computer programs for photo editing were made in the 1980s. Since then, many software was released, and many technologies were introduced in this field. Nowadays, mobile apps and online web services are also available for easy and fast photo editing. In this article, we will discuss Photoshop vs Affinity.
Today, we will compare two prominent image editing software, the most famous and leading Adobe Photoshop and Its competitive alternateAffinity photo. Before going into the comparison, let us have a basic idea of both Photoshop vs Affinity Photo applications.
Adobe Photoshop is a raster graphics editor founded and published by Adobe Systems. Photoshop was introduced in the 1980s, and since then, It is known as the trademark or industry standard in the field of photo editing. Even people started using the word Photoshop to describe editing an image. It is the most advanced image editing software capable of everything from simple retouching to complex 3D designs and illustrations. The possibilities are endless as it has many features and tools. Adobe Photoshop is not a program for everyone, both for its price and for its steep learning curve. It is, however, an indisputably powerful tool, and photo editors wouldn't be what they are today without the advances that this program introduces version after version.
Affinity Photo is commonly known as the alternate for Adobe Photoshop. It is a raster graphics editor found by Serif, and it is available on different platforms like MacOS, iOS, and Windows. Affinity photo is a part of affinity suit which comes with a package of 3 software. Affinity Photo, Affinity Designer and Affinity Publisher. Affinity designer was the 1st application launched from this family in 2014. Later in 2015, they introduced Affinity photo; recently, in 2018, Affinity publisher was released. This application includes editing RAW image formats, color space options, live previews, image stitching, optical aberration corrections, etc. Affinity photo is well accepted by professionals and common users due to its high performance and low price.
Head to Head Comparison between Photoshop and Affinity Photo (Infographics)
Below is the top 7 difference between Photoshop vs Affinity Photo :

Key Differences Between Photoshop and Affinity Photo
Both are popular choices in the market; let us discuss some of the major difference:
The main difference between Photoshop vs Affinity Photo application is the price of the product. Affinity photo is very cheaper as compared to Photoshop. Also, affinity is subscription-free software. Users can buy affinity photo at the cost of $49.9 as a one-time payment. At the same time, Photoshop costs $29.9 as a monthly plan and $239.88 for an annual subscription.
Move tool in Affinity photo is way better than Photoshop. For example, if we want to resize an object, too many steps are needed in Photoshop; at the same time, in affinity, we just need to grab the move tool and resize the object. Also, there is no need to make the layer as a smart object; Affinity automatically resizes its layers in a non-destructive manner.
Affinity photo has live brush previews, whereas Adobe Photoshop does not. Live brush previews helps to save time and reduce the work.
Another major difference in the interface of both the software is the five personas present in the Affinity photo. Personas are the useful features that are giving you the ability to control software interface based on your product. But Photoshop has a standard workflow.
Some of the features of Photoshop which Affinity photo misses are 3D features, 3D printing features, animation, video timeline, and scripting.
Smart objects and live smart filters are available in Affinity photo, and at the same time, these are missing in Photoshop.
Photoshop vs Affinity Photo Comparison Table
Below is the topmost comparison:
The basis Of Comparison 

Adobe Photoshop

Affinity Photo

Definition
Adobe Photoshop is a raster graphics editor developed by Adobe Systems for Mac & Windows operating systems.
Affinity photo is a raster graphics editor published by Serif for MacOS, iOS, and Windows.
Features

Functionality can be extended by using add-on programs called Photoshop plugins.
pen tools allow selecting objects through a precise path.
The stamp tool helps to duplicate objects or to remove defects in images.
Cropping and slicing of images are possible.
Marquee tool helps to edit a selected area without affecting the rest of the image.
Video editing is also possible with Adobe Photoshop.
3D Extrusion and 3D painting features are available in the latest versions.
360 Panorama workflow.
Adobe Camera Raw 9.1 enhancements.

No subscription charge and a free trial is available.
Inexpensive and single payment.
Fast and efficient toolset.
Live tools, live previews, and real-time editing.
Full set of 16-bit filters.
Instantly undo/redo over 8000 History steps.
Dedicated Raw editor with split view.
Advanced layer handling with unlimited layers.
64-bit Adobe Photoshop compatible plug-ins available.
High Dynamic Range (HDR) editing.

User Community
Beginners, Small business, Large business, Freelancers.
Beginners, Small business, Large business, Freelancers.
Supporting Platform
Windows, MacOS
Windows, MacOS, iOS
Price
$29.99/mo. – Monthly Plan
$19.99/mo. – Annual Plan (Paid Monthly)
$239.88/yr. – Annual Plan (Prepaid)
A one-time payment of $49.99 without any subscription fees.
Language Supported
Available in 26 languages.
Available in 9 languages.
Size of the Software
881 MB for Mac OS.
344 MB For Mac OS.
Conclusion
We could say that we have got two professional and well-executed raster graphics editing software from all the comparisons and details. Both software performs really well and competing with each other to give better experiences to users. As we know, Photoshop always retains its position as an industry standard and all other software fighting hard to reach the position attained by Photoshop. Among those fighting software, we can choose Affinity Photo as the number one alternative to Photoshop. Due to its cheaper price and excellent features, Affinity got an important position in the editing field and many people already considered it as an alternative to Photoshop. Availability of free subscription is another factor which made Affinity more popular and selective. But if you do advanced stuff like photo stacking, you might want to stick to Photoshop itself.
In the end, we may choose affinity photo, but still, it stands as a younger brother to Photoshop. But with the timely revisions and technology updates, Affinity has the power to stand beside or sometimes ahead to Photoshop in the future.
Recommended Articles
This has been a guide to the top difference between Photoshop vs Affinity Photo. Here we also discuss the key differences with infographics and comparison table. You may also have a look at the following articles to learn more –