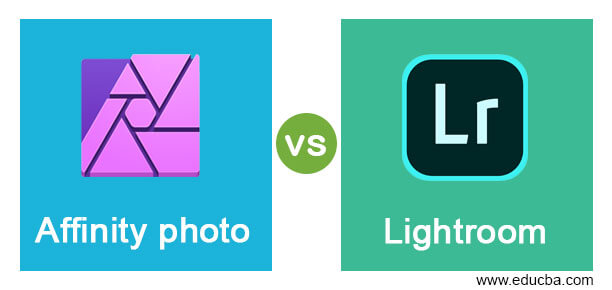 Difference between Affinity Photo vs Lightroom
Affinity Photo is raster graphics editing software and is a part of Affinity trinity same as Affinity Designer and Affinity Publisher. In this software we can do raw processing of raster images, there is a color space option, we can see a live preview of effective after applying it, Image stitching features, black point compensation, and many more things can also do by this software. Lightroom is a part of the adobe family and is used for the creative organization as well as manipulation of raster images with the help of its image manipulation features. We can have it in the Creative Cloud subscription. So let us discuss some points about both software.
To understanding both software thoroughly we must have knowledge about the fundamental requirements and capability of this software so let us have a look at some of the basic features of both software.
Head to Head Comparison Between Affinity photo vs Lightroom (Infographics)
Below are the top differences between Affinity photo vs Lightroom:

Key difference between Affinity Photo and Lightroom
Although both software works as raster graphics editors they use different types of techniques for giving rest results in their work so let us have look at some of their special features.
Before we go through any other points you first know about the price of both software so for having Affinity Photo you have to pay $55.99 one-time if you want it for Microsoft Windows or Mac. If you want it for an iPad then you have to pay $21.99. There is a plus point with this software that is it offers a free trail to its users for a limited time period so that we can understand its working methodology as well as the user interface. If we talk about Lightroom then there are two ways for having this software, first one is that you can have it in the Photography plan of Adobe Creative Cloud and the second one is that you can purchase it separately. The plans of both ways start from $9.99 per month. If you looking for annual plan then you have to pay $125.87. So according to your suitability, you can go with any of the subscription plans of both software.
Affinity Photo has a number of image editing features such as it works on non-destructive editing, it supports unlimited layers with healthy workspace for the development of Raw photos, RGB, LAB, CMYK, Greyscale color spaces with ICC color management which makes color correction processing of image smoother. Affinity is purely a raster image editor we cannot understand it as an image organizer like other image organizer software. While Lightroom is also a non-destructive image editor same as Photoshop which means it keeps the original image as it is. Lightroom is like a library and development software that can store and organize photos once those photos are imported into its database platform. Lightroom CC version of this software stores photos and raw files on a cloud server of adobe.
Affinity supports almost all the standard file formats and these formats are jpeg, tiff, bmp, epf, gif, tga, heif, hevc, 12 and 16 bit CMYK tiff, adobe psd as well as psb file format also supported by it. So we can open many vectors as well as raster file formats in this software. Lightroom has its compatibility with a number of file formats such as Tiff, Jpeg, Png, Psd, and some other raw image formats. Initially, it was only supporting desktop operating systems but currently, it has its compatibility with the operating system of mobile with the release of Lightroom mobile software.
Above all discussed points are some main facts of this software by which you can get an idea about what type of professional work can done by this software.
Comparison Table of Affinity Photo and Lightroom
There are a number of points about which you must know. So let us discuss them.
| | | |
| --- | --- | --- |
| | Affinity Photo | Lightroom |
| Definition | Affinity Photo is raster graphics editing software and do editing of raster image with its advance editing features. | Lightroom is also a raster graphics editor and uses for the organization as well as manipulation of raster images. |
| Developer and Initially released On | It was developed by Serif on July 9, 2015, as a raster image editor. | As we know that it is part of the adobe family so it was developed by Adobe Systems on September 19, 2017. |
| Latest Release or Currently stable version | 1.10 is its latest version and was released on August 5, 2021, with lots of new features. | Lightroom 4.1.1 is its current stable version and was released on December 15, 2020. |
| Operating system | It can run on many operating systems such as Mac OS, iOS, Microsoft Windows. | It has its compatibility with number of operating systems such as Microsoft Windows 10 and its later versions, Mac OS 10.14 Mojave and its later version, Android, iOS, and tvOS. |
| Supported Languages | It supports several languages and these languages are English, French, German, Spanish, Portuguese, Japanese, Chinese, Italian, and Russian. | It also supports a number of languages and you can visit on the official website of adobe for having knowledge about supported languages. |
| Type | We can categorize this software under Raster graphics editor. | We can categorize it under Image Organizer and Image manipulation software. |
| License | It has a Proprietary, Commercial and Trailware type of license. | It has SaaS license type. |
| Availability | You can visit its official website which is www.affinity.serif.com/photo for having more detailed information of this software. | You can have more information about this software by visiting on www.adobe.com/products/photoshop-lightroom.html link. You can also download it from some website links. |
Now I am sure you have gathered enough basic information about these two software and you understand what are the basic needs of this software and how you can work with them? Now I would like to tell you some other points so that we can differentiate both software on the basis of some other important facts of them.
Conclusion
Now after going through this article you are free to choose your favorite raster image editing software and start practicing on them for having more and more understanding about their several features. You can try any of the above-discussed software because both have their different working techniques which you can learn very easily.
Recommended Articles
This is a guide to Affinity photo vs Lightroom. Here we discuss the Affinity photo vs Lightroom key differences with infographics and a comparison table. You may also have a look at the following articles to learn more –