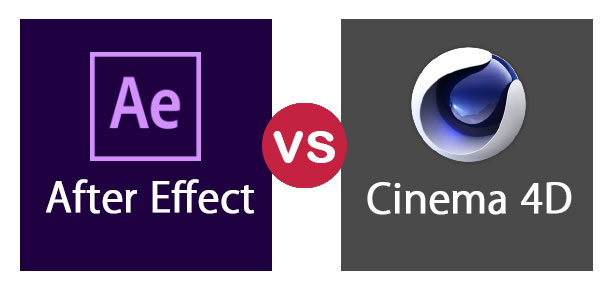 Difference between After Effect and Cinema 4D
Adobe After Effect is software which is used for creating motion graphics, special effect, visual effects, and compositing application and computer animation. Adobe Systems develop this in the year 1993. After Effect support both platform Windows as well as Mac Os. Cinema 4D is software that is used for 3D modeling, rendering, animation, motion graphics painting, etc. This software is developed by Maxon computers in the year 1990, its German-based company. Initially, it was developed for Amiga computers only and up to three successive versions works on this particular platform. Maxcon start to develop it for Mac and Windows platforms from its version four (V4.0).
Applications of Adobe After Effect
The application of this software in the film industry for the post-production of filmmaking and television production. It's used for keying, tracking. Compositing, animator, nonlinear editor, audio editor, and media transcoding. This software most widely used by artists, filmmakers, video producers. Graphic designer, animator, social media and digital media designer.
Version
The Company of science and art launches the first two versions of this software in 1993, version 1.0 and 1.1. Aldus launches its version 3.0 in the year 1994. Adobe launches its version starting from version 3.0.In 1997. The first-time window supporting version was released in 1997 with version 3.1 after version 4.0 first time launch for Mac and Windows in 1999. Version 5.5 was released in the year 2002 with the first OS X support. From July 2007 they start to launch its new series CS came with CS3.0 and continue with this series up to CS6.0 (2012). Later on, Adobe starts its new series with the CC (12.0) in the year 2013 and continue till the latest release CC(16.0) in Oct 2018.
Plugins
After Effect has various plugins support, these plugins create an extra effect, such as a particle system for realistic effects for rain, snow, fire, etc. With the help of these plugins, we perform the following effects
Workflow improvement and visual effects
Adding high-end color correction
Translating timelines from FCP or Avoid
Eliminating flicker, noise or rigging
Calculating 3D movement of the camera in a 2D video shot
Creating animated charts, graphs, and other data visualization
A particle system, slow motion
Simulating fire, smoke or water
Applications of Cinema4D
Cinema 4D is flexible and robust software which provide a superb result to 3D artist. The main area of application is the procedure and polygonal modeling, animating, Movies/VFX, lighting, texturing, rendering, architectural design, games, broadcast, visualization etc. These are the few popular movies in which lots of seen molded and rendered with Cinema 4D for e.g. Furious 7, Iron Man 3, Where the dead go to die, Inception, War of the worlds and many more.
Cinema 4D comes with four variants.
Cinema 4D Studios:-This module optimizes the capability of a 3D artist. It offers advanced 3D graphics.
Cinema 4D Broadcast:-This module helping to create dynamic broadcast graphics easy approach. It's basically a 3D motion graphics-rich module.
Cinema 4D Visualize:-This module add a better visualization effect and add realism to your imagination.
Cinema 4D prime:-This module is a fully professional module and a perfect selection for a graphics designer and 3D artist.
Versions
The first version launched in 1990; later on, they launched successively newer version year by year.
In 1996 first time launch the multiprocessor version for Cinema 4D. Body paint 3D is made available as integrated with cinema 4D from its version V6.0 by the year 2000. Cinema 4D became the first 3D professional 3D graphics application from its version R 10 by the year 2010. Cinema 4D R11.5 is fully compactable with Mac Ox and Windows 7. The last version of Cinema 4D is R20, launched in September 2018.
Rendering Plugins
Redshirt
Final Render stage 2.0 sp4
Furry Ball GPU render
Fry and indigo render
Maxwell Render
Mental and V ray ray
Krakatoa from Thickbox
Mental ray & Iry
Octane Render
Head To Head Comparison Between After Effect and Cinema 4D (Infographics)
Below are the top 13 differences between After Effect Vs Cinema 4D

Key differences between After Effect and Cinema 4D
Both are popular choices in the market; let us discuss some of the major differences:
After Effect Feature
Advanced puppet tools for mesh sculpting
Native 3D depth passes
Easier and faster expression
Responsive design time
Selective color grading with lumetri color
Display color management
Improved motion graphics templates files exchange with premiere pro
Native Mocha AE plugins for after effect
Create in VR 180, preview in the headset
Performance and GPU optimization
Master properties refinements
Learn Panel
Tighter integration with Animate and XD
Group invite for team projects
Format support improvements
Creative cloud improvements
Selective color grading with lumetri color
Display color management
Create in VR 180, preview them in the headset
Performance and GPU optimization
Master properties refinements
Learn Panel
Tighter integration with Animate and XD
Group invite for team projects
Format support improvements
Creative cloud improvements
Cinema 4D Feature
Enhanced modeling Kernal
Faster picture viewer playback
Speed and memory optimization
Installer command-line interface mode
Node base material
One node multiple connections
A material overview
Custom interface
Reusable assets and versioning
Mograph falloffs
Fields and deformations modifiers
Filed as VDB source and filters
Modify selections and maps
Field object
Radial field
Sound field
Random field
Filed Layer
Spline object
Variable Tag
Point object
Field modifiers
Decay
Quantize
Freeze
Cad data import
Easy, Flexible and reliable import
Volume Modeling
Subsurface Scattering
Motion Blurr
Multipass rendering
Motion tracking
Multi instances
Comparison Table between After Effect vs Cinema 4D
Below are the Topmost Comparisons:
| | | |
| --- | --- | --- |
| The Basis Of Comparison  | Adobe After Effect | Cinema 4D |
| Definition | Its 2D animation software with some 3D plugins | Its 3D modeling and animation software |
| Rendering | Adobe after effect used for creating post rendering effect | It is not used for post-rendering |
| Time Consumption | More | Less |
| Ease of use | Comparatively tough | Easy |
| 3D Editing | Yes | No |
| Learnability | Hard | Easy |
| Compositing abilities | Better than Cinema 4D | Not Good as After Effect |
| Compatibility | Good | Comparatively not Good |
| Cost | Costly | Cheaper |
| Visual effect | Good | Not Good as After Effect |
| Modeling | Not Good as Cinema4D | Good |
| Strength | Good for visual effects and compositing videos | It's good for 3Dmodelling and animation |
| Integration | Better than C4D | Not Good |
Conclusion
Adobe After Effect software is good for some Application like compositing videos, adding visual effects, rerendering whereas cinema4D is good in modeling and animation so After Effect Vs Cinema 4D software are good enough for some specific fields. The use of After Effect Vs Cinema 4D depends on you for which type of application you want to use; after Effect Vs Cinema 4D software has mutual integration with one another. Adobe After Effect initially developed by the company of science and art in Ireland. This company launched its first two versions, 1.0 (Jan 1993) and 1.1., After that, Aldus Corporation acquired this software in July 1993, which is adobe further acquired in 1994. So Adobe's first version launch of this software was Adobe After Effect version 3.0.
Recommended Articles
This has been a guide to the top differences between After Effect Vs Cinema 4D. Here we also discuss the key differences with infographics and comparison table. You may also have a look at the following articles to learn more –