Updated September 14, 2023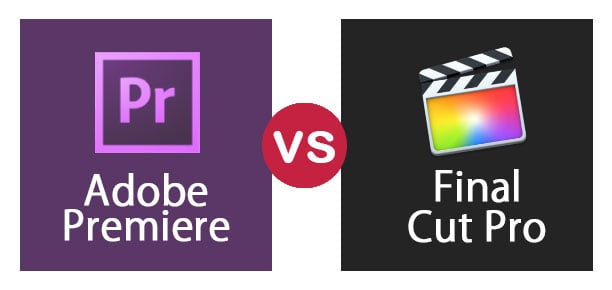 Difference Between Adobe Premiere and Final Cut Pro
Final Cut Pro is a sequence of a non-destructive video editing software program. It was first invented by Macromedia Inc. and later by Apple Inc. Final Cut Pro allows the user to edit, process and give results of transferred videos in various formats. This software is generally used for small-scale businesses and supports offline editing. Final Cut Pro is a Mac software, and users of Windows must search for an alternative for video editing. It is a stable software with one-time payment pricing.
Final Cut Pro is a demanding software commonly used by filmmakers and hobbyists. A timeline-based video editing software created by Adobe Systems is Adobe Premier. It was first launched in 1991. Adobe Premiere can use Adobe Premiere on both Windows and the Mac Operating system. Adobe Creative Cloud licensing program publishes the latest version of Premiere. It works with supporting applications like Adobe After Effects. Adobe Premiere has the best color grading options. The target audience is more professional-focused.
Head To Head Comparison Between Adobe Premiere and Final Cut Pro (Infographics)
Below are the top 4 differences between Adobe Premiere vs Final Cut Pro

Key Differences Between Adobe Premiere and Final Cut Pro
Both are popular choices in the market; let us discuss some of the major differences:
More experienced video editors target Adobe Premiere since it isn't quite intuitive compared to Final Cut Pro, which has the most amazing, adaptable, and attractive interface for a fresher.
Final Cut Pro offers low rendering and exporting times for videos, even at a 4K quality, without using too much energy. Whereas Adobe Premiere is much slower in exporting and rendering.
Exporting and rendering in Final Cut Pro is a very smooth task. Once the user begins to export the videos to a specific place – say Facebook- it happens in real-time. There is no time wasted in exporting the file, saving it onto the computer, and then again waiting for it to upload on Facebook.
Adobe Premiere has a more traditional and flexible timeline. It allows the user to work on different video, audio, image, and text layers. That is, it works accurately on individual elements. Whereas Final Cut Pro may sometimes be inflexible and restricted.
Final Cut Pro can simply be intensified with plug-ins. It provides plugins that help users create 3D visual effects, remap time to create slow-motion scenes and many more. In Premiere, the user needs to go to After Effects for the same.
Adobe Premiere vs Final Cut Pro Comparison Table
Let's look at the top comparison: –
Basis of Comparison  

Adobe Premiere

Final Cut Pro

Definition
A desktop video editing program that allows the user not just to do basic editing but has much more in store, like adjusting the color, fine-tuning audio, and more.
A smooth and speedy video editor for Mac OS professional users. This software helps the user to expand their knowledge and create stunning videos.
Usage
It is used to turn raw footage into amazing cinematic products. Generally used by professionals and filmmakers.
Specifically, it is used for its speed. It also makes use of well-designed databases for tracking important information on time.
Merits

It supports both platforms: OS Mac and Windows
It facilitates advanced tracking for identifying objects.
Consistent with famous production applications like the sound booth, photoshop, speed grade, etc.
It comes with a multi-camera editing feature
It can perform rendering of GPU forms on Mac
Since the coming if it's a cloud-based model, it has given the user frequent updates with more advanced features.
It has the best color grading options compared to any video editing software.
Adobe Premiere is a team alliance software. That means any team member can access any of his member's files on the network because the user can share and edit across a network.

Popularly used for fast rendering.
It comes with VFX Effects.
The utilization of GPU is commendable.
It allows the user to edit videos using multiple cameras.
Final Cut Pro is independent of the resolution type of the videos
It works on Real-time effects and graphics
It is a more economical option since it costs a one-time purchase.
Final Cut Pro is the fastest video editing tool in the world.
An organized software that is easy to use and understand for a first-time user.

Demerits

It doesn't support VFX effects
It suffers from slow rendering
If the users need to work on high-resolution platforms like 4K, it disappoints the user with slow performance.
It is powerful software, but sometimes it is not understandable and easy on the ground level.
Premier offers details over title text, with many fonts and adjustments like the shadow, tracking, stroking, leading, and kerning. But for 3D arrangements, the user needs to shift to Adobe After Effects.

It supports Mac OS only.
It does not work on a network and usually lacks regular updates.
Final cut pro suffers from a few basic compatibilities and format issues.
It is used by people who want to shoot, edit and share their films from start to finish on one computer and one software.
Conclusion
Adobe Premiere vs Final Cut Pro offer almost the same kind of video editing, but they differ in many ways. The most common difference between Adobe Premiere vs Final Cut Pro is that Final Cut Pro is only made for Apple Mac users, whereas both Windows and Mac users can use Adobe Premier.
Final Cut Pro is the expert when the user deals with exporting, rendering, and stabilization. The results obtained are very clear in it as compared to Adobe Premiere. Although neither software would be considered cheap, Final Cut Pro is a more reasonable option since it costs a one-time purchase.
So, it all depends on the user and their nature of work. If the user is fresher and still wants a simple tool with fast learning and high-quality products, he must use Final Cut Pro. If the user wants a more advanced tool with a wide range of editing options, he should go for Adobe Premiere.
Recommended Articles
This has been a guide to the top difference between Adobe Premiere vs Final Cut Pro. Here we also discuss the key differences with infographics and comparison table. You may also have a look at the following articles to learn more –