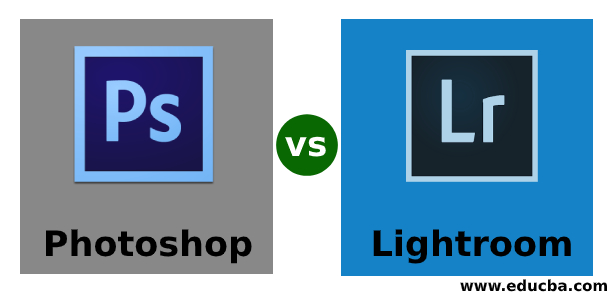 Difference Between Photoshop and Lightroom
Photoshop, which is also commonly known as Adobe Photoshop, is a software that is used to edit and create customizable graphics inputs, texturing for 3D Models using 3D software's like Maya or 3D Max, edit photos, create flyers, banners, and images for print media as well as for the web media. Lightroom, also officially known as Adobe Photoshop Lightroom, was originated by Adobe for Windows and macOS. It's a software package for viewing, editing, organizing, manipulating larger numbers of various images that are similar to Photoshop. In spite of which it has shared its name with Adobe Photoshop, it has its drawbacks such as adding, modifying the appearance of an image, etc.
Photoshop
Photoshop is also called a Raster Image Editor and can be saved in file formats such as JPEG, PNG, GIF, and TIFF. It has been recognized as an industry-standard image rendering software.
Photoshop uses and supports multiple layers for its output in masking, alpha compositing, and adjusting other color modes such as RGB, CMYK, CIELAB, spot color, and duotone. While its uses are amazing, this makes Photoshop an expert and more valuable as a commodity in the workplace specializing in various aspects.
The Photoshop program was designed in 1988 by Thomas and John Knoll. To the present, neither Thomas nor John Knoll knew for sure as to how or who gave the name "Photoshop". In its first pre-process stage, the alphabet 'S' for the shop was capitalized initially, and thereafter, the inter cap was changed.
During that time around April 1989 and when it had its official release date in the early 1990s, its development continued bringing in suggestions into account for various purposes. In February 1990, Photoshop 1.0 was finally shipped over, making it an ultimate and resourceful source of industry-proven software.
Lightroom
It has the option to use a dynamic link to connect one or two photos into Photoshop, i.e. to add differences that can later be synced back into Lightroom. Importing an entire photo session while simultaneously selecting all the images can let you apply an equal amount of settings and void others without any problems.
Lightroom has an added advantage for its users, i.e., automatically auto-saving the previous programming language data, including its edits history. During its time in 1999, its Photoshop developer Mark Hamburg an ex-member began working on a new project, which was code-named Shadowland.
It had its beta version in development on January 9, 2006, which was previously known as the only Lightroom. The developers, who have added their efforts to it, comprised the team that had already created the program Adobe ImageReady. Its release date was on February 2007.
Head to Head Comparison Between Photoshop and Lightroom (Infographics)
Below are the top 9 comparisons between Photoshop vs Lightroom :

Key Differences Between Photoshop and Lightroom
Both are popular choices in the market. Let us discuss some of the major Differences:
Photoshop, in its way, is regarded best in the market is because of its simplicity and usability that has gained popularity day by day in the workplace. Its main features have helped lots of artists such as graphic designers, photographers, animators, visual fx artists, architects, and publishers around the globe. For Lightroom to differentiate, all its users call it an advanced version of Photoshop, also called the  'Adobe Photoshop Lightroom'. It's been said that the main reason for its set-up is to handle several photos, such as hundreds of images, without any issues.
Photoshop can save the images that are edited in PSD files format, and it mentions those files to scan the changes from the original, which is helpful. On the other hand, Lightroom can save edited images or photos in the catalogue file, which is the same as a database that you could save the edited images or photos in a single catalogue file.
In Photoshop, the users would have to use the import option to import the images to the system before they work on its interface. It doesn't have an easy feature to categorize the images as compared to Lightroom. With Lightroom using the memory card or storage access, it allows you to import the photos and thereafter work on the edits for its changes. Also, it helps to categorize the images with their built-in features.
In Photoshop, we need several PSD files format just to save the changes made in each image format alone, leading to occupying excessive space usage in the Hard disk drive. Whereas in Lightroom, a single catalogue saves the edited changes of numerous image files. Therefore, in terms of the space usage in the Hard disk drive, Lightroom is recommended.
Photoshop vs Lightroom Comparison Table
Below are the 9 topmost comparison
                      Photoshop  

             Lightroom

Photoshop is software for editing, painting and creating industry-standard raster graphics for its users.
Lightroom is a family pack of image management networks and image manipulation software.

Photoshop has the option of keeping track of the last 20 actions which were done. It resets its history when you exit the program.

Lightroom, on the other hand, lets you keep a full amount of history of all its actions even if you exit the program before modifying it.

 

Nowadays, Photoshop, which is used on mobile devices, can be used as a standalone application.

For Lightroom, the edits made need the software on the computer and also, you can share with the mobile app the files you choose.

In Photoshop, the editing process isn't automatic as it is all manual which gives you an idea to select and deselect the options.
In Lightroom, the work done here is automated for its users. In this manner, the manual work done here to find the correct features and tools isn't required.
The best use of Photoshop is that it has many amazing features and settings for its users to advertise their work.
The best use of Lightroom is that it is flexible and much faster than using Photoshop.

If a compositor has a job of compositing various artistic compositions, Photoshop is the important software.

On the other side, Lightroom is an important software for any user or photographer.

Photoshop for its users is a pricey program to purchase.

Lightroom for its users is an affordable program to purchase.

Photoshop operates in both systems like Windows and OS X.

Similar to Photoshop, Lightroom operates in both systems like Windows and OS X.

Photoshop was released in the year 1990.

Lightroom was released in the year 2007.
Conclusion
To our conclusion for Photoshop vs Lightroom, we have learned that both ( Photoshop vs Lightroom ) is resourceful in many areas known to us. With the uses of Photoshop, the user has the ultimate control right down to its individual pixels for better visuals and imaging. With the uses of Lightroom, the program, which is systematic, is designed to work efficiently through a large set of images.
Photoshop exceeds most of our expectations in areas such as blemishes removal, wire removal for sequence paint during post-production, hair correction in colour and intensity, reduce dark circles around the eyes or pimple removal and a de-age process of a character done in movies or tv shows, change the background and create a matte paint for a day to night scene, colour correction in the images, etc. So for all of these things, Photoshop makes it happen.
Lightroom also exceeds expectations for our needs in areas such as it makes easy alterations to use its settings like exposure, contrast, and saturation, sharpening, noise reduction, add vignettes, crop, add split toning and options like creative dodging and burning effects with the adjustment brush.
This does confirm it all that even though Photoshop vs Lightroom can be two separate programs for our workflow overall. It does make it faithful, appealing, and very useful to a lot of artists and photo editors in the industry.
Recommended Articles
This has been a guide to the top peculiarities between Photoshop vs Lightroom. Here we also discuss the key differences with infographics and comparison tables. You may also have a look at the following articles to learn more.