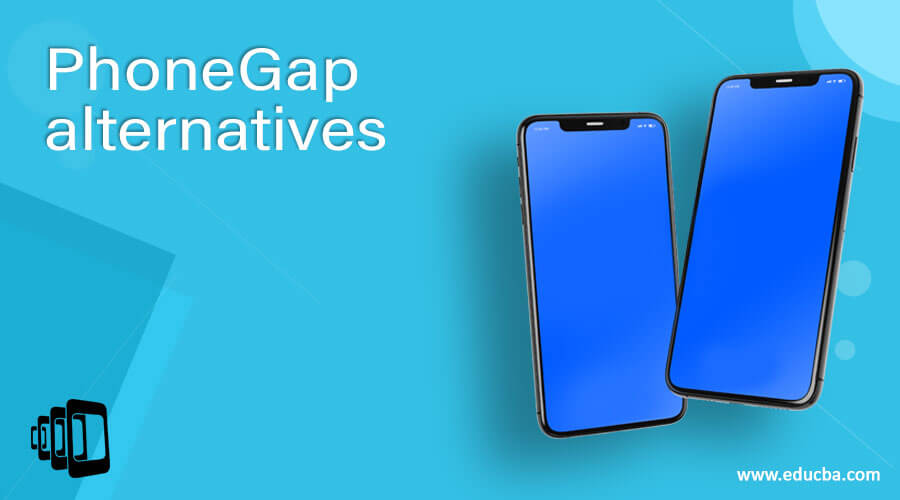 Introduction to Phonegap alternatives
PhoneGap is an open-source and free, but not actively developed, would be available. Ultimately the newest versions of OS will continue to be incompatible. Create PhoneGap is totally out of funding since it is not open source. PhoneGap Build files are removed after the above date. All relevant information must also be obtained beforehand. In this topic, we are going to learn about PhoneGap alternatives.
Top Alternatives to PhoneGap
Here are the following alternatives mention below
1. React Native
React Native was one of the best open-source deals on Facebook. It is a robust and inexpensive technology to build smartphone and web applications, and the ReactJS library is completely available. Thanks to the majority of smartphone and web applications that it creates, it is considered an ideal JavaScript library. React Native has an open-source platform with a cost-effective approach that provides the best speed, user experience, and knowledge. It utilizes an aggressive mix of Java, objective-c, and swift components to exploit the same UI block in iOS/Android applications. It is easy to develop part of an application in React Native and some more with native code with this revolutionary technology.
2. Ionic
Ionic is a common hybrid cross-platform technology, which can be used with a single codebase on multiple platforms. With Ionic, developers will build hybrid platform apps for native and online platforms such as iOS and Android. Ionic makes the best use of CSS, HTML, and JavaScript code, and it requires a Cordova plug-in to bundle the programs in native containers. It has great support from the group with fast solutions and constant updates. The web and smartphone app developers like it because of its quick to go learning curved. It shows great results.
3. Kotlin
Kotlin is Google's favorite language for programming Android. It was developed and gained great popularity among developers by JetBrains. It's aimed at making it easier to create mobile and web apps, particularly in Android apps. It has the skill to develop new, stable, and sophisticated applications. Incompetence, coding structure, speed, and execution are solved with Kotlin. It provides extension capability to allow the underlying part to incorporate additional functions.
4. Sencha Touch
Web developers have used Sencha Touch to construct a user interface and create mobile web applications that are a common library of JavaScript UI, particularly for the mobile Internet. It facilitates the simple and smooth development of HTML5-based mobile applications that work with several devices easily. Sencha Touch merged with Sencha Ext JS is a JavaScript frame for robust cross-platform apps that is one of the most powerful. The software supports various functionalities, such as shapes, trees, lists, pivoting grids, etc.
5. Apache Cordova
Apache Cordova is a very popular replacement to the already active and running PhoneGap, although PhoneGap is outdated. It's an open-source framework that is used to build HTML, CSS, and JavaScript web applications. The software is open source and is entirely endorsed by the industry. When designing and deploying hybrid mobile applications, it's a common alternative. The codebase app is supported by the HTML5 and JavaScript formats and then runs over several smartphone devices such as iOS, Linux, etc. The JavaScript/ HTML script has been bundled in native containers with JS APIs that can allow the use of application features.
6. Xamarin
Xamarin is a popular free, open-source, Microsoft.NET platform-driven application. It has good interest from the group and is funded by NET. Xamarin apps can be installed on macOS or Windows and run on several Oss, iOS, etc. Xamarin provides a deep alignment with other libraries such as Facebook, Google Play, Google API, etc. A cross-platforms and third parties. The platform-detailed acceleration of Xamarin applications shows.
7. Android Studio
Considered a fitting Android devices programming environment, Android Studio is the Google-based integrated production environment built on IntelliJ Concept software from JetBrains. It's in Kotlin, Java, and C++, respectively. Since Google and Jet Brains are established, there is strong support from the group. It has a range of built-in features that help to quickly and rapidly build Android designs and modules.
8. jQuery Mobile
JQuery Mobile, based on the JavaScript and JQuery core programming standard, is a common UI platform. It has a simple theme and simplified API, being lightweight. This API allows building smartphone applications and successful websites with high responsiveness. The JQuery Mobile programming standard is a popular UI framework based on JavaScript and JQuery core programming standards. The topic and API are simple, lightweight. It was streamlined. This API helps you to develop effective websites and mobile apps with high reactivity.
9. Flutter
Flutter is a Google-driven open-source mobile software development project designed to create multi-platform applications for the web, mobile, and desktop-like native, adaptable, and graphically advanced. Its ability to produce lively, scalable, and native output on iOS and Android platforms is increasingly recognized.
Recommended Articles
This is a guide to PhoneGap alternatives. Here we discuss the article; we have seen various alternatives to PhoneGap. You can choose any of them based on your requirements. You may also look at the following articles to learn more –