Pharma Companies in India 2023/2024
The pharmaceutical industry in India is a crucial pillar of the nation's economy and healthcare infrastructure. With a robust regulatory framework, the sector has experienced significant growth and innovation. Let's explore India's top 10 pharmaceutical companies, their contributions, achievements, and the dynamic landscape in which they operate. These companies are vital in advancing healthcare solutions and driving the nation's pharmaceutical prowess.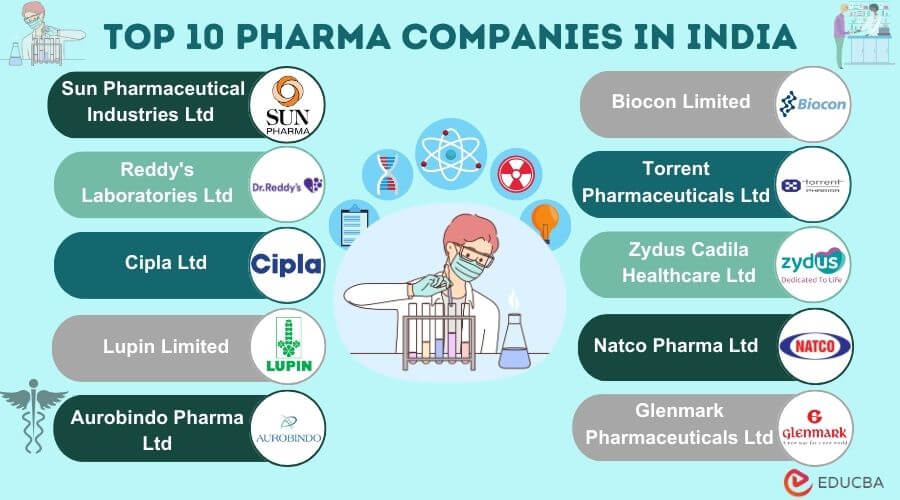 Criteria for Selection
The selection of the top pharmaceutical companies in India is based on a multifaceted evaluation encompassing several key criteria:
Revenue and Market Share: Experts assess companies by considering their annual revenue and market share within the pharmaceutical industry in India.
Research and Development (R&D) Initiatives: The emphasis is placed on companies investing significantly in R&D, fostering innovation, and developing new drugs, formulations, or medical solutions.
Global Presence and Expansion: Favorable considerations go to companies with a strong international presence and those who expand their global reach through exports, collaborations, or acquisitions.
Product Portfolio and Diversity: Evaluation of the breadth and depth of their product range, covering diverse therapeutic segments and addressing various health concerns.
Regulatory Compliance and Quality Standards: Adherence to stringent regulatory norms, certifications, and commitment to maintaining high-quality standards in manufacturing processes.
Market Reputation and Leadership: Companies demonstrate leadership in the industry, gaining recognition for excellence and fostering trust among healthcare professionals and consumers.
Top 10 Pharmaceutical Companies in India
Here's a detailed introduction to each of the top 10 pharma companies in India, along with their revenue income
1. Sun Pharmaceutical Industries Ltd
2. Reddy's Laboratories Ltd
3. Cipla Ltd
4. Lupin Limited
5. Aurobindo Pharma Ltd.
6. Biocon Limited
7. Torrent Pharmaceuticals Ltd
Torrent Pharma has made notable strides in specialty segments, including oncology and dermatology. Its focus on these specialized areas showcases a commitment to addressing critical healthcare needs and improving patient outcomes.
8. Zydus Cadila (Zydus Cadila Healthcare Ltd.)
9. Natco Pharma Ltd
10. Glenmark Pharmaceuticals Ltd
Conclusion
India's top 10 pharmaceutical companies encompass diverse entities committed to pioneering research, developing innovative therapies, and ensuring global access to healthcare solutions. Their extensive portfolios across various therapeutic areas demonstrate their commitment to advancing medicine. These companies prioritize quality, affordability, and global reach and play a significant role in shaping the pharmaceutical landscape, setting standards for growth and innovation in the industry.
Recommended Articles
We hope that this EDUCBA information on "Pharma Companies in India" was beneficial to you. You can view EDUCBA's recommended articles for more information.