Updated July 28, 2023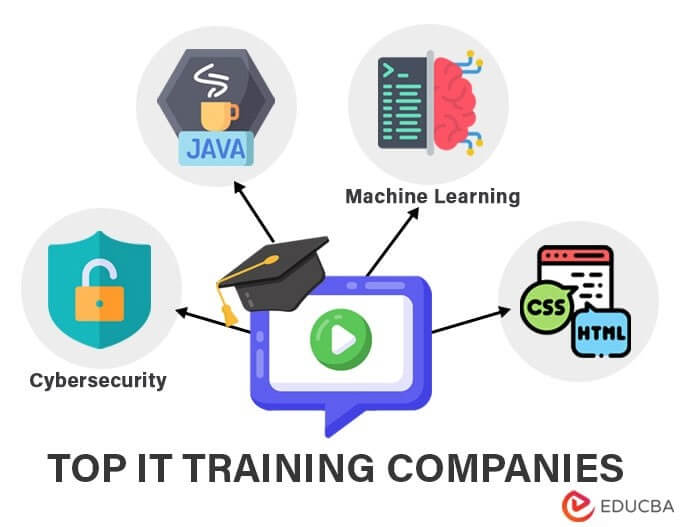 Table of Contents
List of Top IT Training Companies in India
We know that IT training companies specialize in providing the most detailed and refined training programs. In this rapidly growing IT sector, such training companies can be the key to becoming a master in this domain. They offer various courses, certifications, and learning resources to help individuals acquire in-demand IT skills and stay up-to-date with the latest technologies. Also, these training and learning sessions are available for both beginners and experienced professionals.
However, with so many options in hand, It is confusing to choose one. But worry not. After intense research, we are here with a list of India's top Ten IT training companies. We have mentioned various details of these companies, including services, price structure, training methods, etc.
1. NIIT
Company Overview
Founded
1981
Founders
Rajendra S. Pawar and Vijay k. Thadani
Location
Gurugram, Haryana, India
Average Price
Rs. 70,000 to Rs. 1,20,000
Website
www.niit.com
About:
NIIT offers training programs for different groups of people, including freshers and experienced professionals. These programs cover various topics, from programming languages like C++ to specialized fields like Ethical Hacking and Excel. With its comprehensive IT and software development courses, NIIT aims to equip individuals with the necessary knowledge and skills to thrive in today's technology-driven world.
Programs:
NIIT offers top-notch IT training in various fields and domains. They have courses for beginners and experienced people in areas like:
Software Engineering
Data Science
Cloud Computing
Cyber Security
Emerging Technologies
FinTech
Training Method:
NIIT focuses on interactive and engaging experiences by offering practice materials, assignments, personalized progress reviews, etc. It also provides easy access to resources through a single platform. They use mentor-led learning programs and the integration of learning technologies to make the learning practical.
Highlights:
Free career counseling for beginners
Availability of free courses in selected domains
Up-to-date learning resources and training
92% guaranteed placement in 30 days
2. eduCBA
Company Overview
Founded
2008
Founders
Premananda Suna and Mohit Tyagi
Location
Mumbai, Maharashtra, India
Average Price
IT bundle (600+ courses) for Rs. 12,449 ($149)
Individual courses start at Rs. 1,499 ($19).
Website
www.educba.com
About:
eduCBA is a renowned IT training company that takes pride in being Asia's largest learning platform. If you are looking for an IT training company that provides top-notch training at a very affordable price, look no further than eduCBA. eduCBA offers IT training for a diverse range of learners, from beginners to experienced professionals. They cover a wide range of subjects for all types of users.
The platform is the ultimate destination for learning popular programming languages such as Swift (for iOS app development), Android app development, PHP, C, C++, Java, and more.
They also provide the best training in web development, software testing, database administration, and digital electronics and conduct online corporate training for corporations worldwide.
Programs:
eduCBA offers over 1,700 courses in fields of study, so individuals can easily find programs that align with their goals and interests. The course catalog includes many IT courses, including the following:
Javascript
Python
App development
Cyber Security & Ethical Hacking
HTML & CSS
XML Certification Course
Training Method:
eduCBA provides training sessions via online self-paced video lectures with interactive activities and assignments. They provide knowledge with real-world examples and practical training that prepares for every challenge in the field. By combining theoretical knowledge with practical applications, eduCBA bridges the gap between academic concepts and practical industry skills, preparing learners for success in their chosen IT domain.
Highlights:
Affordable bundle courses
1400+ courses with many free options
No subscription fee. Just buy it once and use it forever
All-in-One Universal Bundle with 3700+ Online Courses for Rs. 30,000 ($366)
3. Jetking Infotrain Ltd.
Company Overview
Founded
1947
Founders
Late. Shri. Gordhandas P. Bharwani
Location
Mumbai, India
Average Price
Short-Term and Certificate Course
Rs.15,000 to Rs.40,000
Career Course Fees
Rs.50,000 to Rs.1,30,000
Website
www.jetking.com
About:
Jetking is a renowned IT institution offering various online courses and certifications. They are one of the most experienced IT training firms with  76 years of experience. Their 100+ study centers provide aspiring IT professionals with the necessary expertise to succeed in technology. Through its holistic curriculum, experienced instructors, and personalized career guidance, Jetking empowers individuals to thrive in the IT industry.
Programs:
Jetking provides various IT courses like
Blockchain
Cloud management
Big data
Metaverse
Training Method:
Jetking provides online courses with unlimited access and Hybrid models. Students can also have 1-on-1 interaction with their course manager about their progress. It keeps students attentive during the classes and also helps track their progress.
Highlights:
Industry Recognition
Personalized Career Support
Flexible Learning Options
Lifetime Access and Placement Support
4. IIHT
Company Overview
Founded
1993
Founders
Keshav Raju
Location
Bengaluru, India
Average Price
Rs. 5,000 ($61) to Rs. 35,000 ($427).
Website
www.iiht.net
About:
IIHT (Indian Institute of Hardware Technology) is a company with over 25 years of experience in corporate training. IIHT focuses on enhancing the qualities that prepare students for employment, increasing their chances of flourishing in the real world. Their expert professionals create highly engaging and immersive learning experiences, ensuring the students learn new things.
Programs:
IIHT offers a wide range of IT programs covering various technologies and domains. Their extensive course catalog includes:
Cybersecurity
Data Center
Data Storage
Databases
Mobile App Development
Networking and Wireless
Virtualization
Web Design
Training Method:
IIHT offers live virtual sessions known as Virtual Instructor-Led Training (VILT). They also provide self-paced online learning modules and a hybrid learning model combining online and offline methods. With the help of all these three methods, students can study according to their comfort.
Highlights:
Over 25 years of experience in corporate training
Provide customized training solutions
Vast course catalog with over 3000+ courses
Emphasis on hands-on and practical learning experience
5. Cybrary
Company Overview
Founded
2015
Founders
Ralph Sita and Ryan Corey
Location
Riverdale Park, Maryland, United States
Average Price
Basic Access – free
Insider Pro – Rs. 1,143 ($29)
Cybrary For Teams – Rs. 4,836 ($59)
Website
https://www.cybrary.it/
About:
Cybrary is known for offering cybersecurity and IT training to individuals who want to make a career in this field. Their main focus is to provide users with world-class training and career development study materials in cybersecurity and IT. It also offers a variety of training programs, curated career paths, certification preparation, and more to help professionals develop their skills.
Programs:
Some of the courses at Cybrary include:
AZ-104 Microsoft Azure Administrator
Certified Information Systems Auditor (CISA)
CRISC
AWS Certified Solutions Architect Associate
CompTIA Network+ (N10-008)
AWS Certified Cloud Practitioner
HCISPP
Training Method:
Cybrary uses live and recorded lectures and a task menu so students can practice learning through real-world scenarios and implement them later in training.
Highlights:
Wide range of cybersecurity training
Resources for individuals at all levels
Accessible and affordable
It utilizes a crowd-sourced model
Offers video tutorials, practice exams, and hands-on labs
6. Digital Vidya
Company Overview
Founded
2009
Founders
Pradeep chopra and Kapil Nakra
Location
New Delhi, India
Average Price
Rs. 10,000 and Rs. 50,000
Website
https://www.digitalvidya.com/
About:
Digital Vidya is an online training firm specializing in digital marketing. They offer a wide range of courses catering to different skill levels. Their programs are instructor-led and conducted online, allowing learners to learn independently. Digital Vidya is known for its partnerships with Google, Microsoft India, Facebook, LinkedIn, NASSCOM, and Vskills, which add credibility to their training programs.
Programs:
Digital Vidya focuses on the digital marketing aspect of IT and has various training programs related to digital marketing. They provide expert insight in:
Digital marketing courses
Certified Social Media Marketing Expert
Certified Shopify Expert
SEO Course
PPC Skills Course
Analytics Course
Facebook Marketing Course
Inbound Marketing Course
Social Media Marketing Course
Email Marketing Course
App Marketing Course
Training Method:
Digital Vidya uses an online model and test series for individuals looking to upskill themselves or pursue freelancing opportunities. The courses typically range from four to seven months and cover a comprehensive range of digital marketing techniques.
Highlights:
Training with giants like Google and Microsoft India
Workshops in leveraging digital marketing
Guaranteed job placements
Interactive classes and Q&A sessions
7. ICA Edu Skills
Company Overview
Founded
1999
Founders
Dr. Narendra Kumar Shyamsukha
Location
Kolkata, West Bengal, India
Average Price
Individual courses – Rs.5,500 to Rs.10,000
Combo and Job assured courses – Rs.11,000 to Rs.72,000
Website
www.icajobguarantee.com
About:
ICA Edu Skills is a reputable institute that provides classroom training and e-learning courses related to accounting, taxation, and various IT-related topics. They focus on developing skills, offering career counseling, and providing job placements in the IT and finance industries. They aim to prepare their students for better employment and reduce unemployment in India.
Programs:
ICA Edu Skills focuses on accounts-centric IT courses like:
Certified Industrial Accountant
SAP FICO Course
Tally
GST & TDS in Tally
MS Excel
Microsoft Office
Business Accounting Course
Training Method:
ICA Edu Skills offers an In-depth approach to online and offline learning in India. Their teaching method includes practical experience with real projects, engaging videos, assessments, and dedicated support from mentors. Students can test their knowledge with assignments and quizzes, and the training ends with final exams.
Highlights:
Recognized as India's Best Vocational Training Institute
Contributes to India's skill-building initiatives
Job-Oriented Curriculum
Affordable Fees
8. S-Tek IT Education
Company Overview
Founded
2006
Founders
Aslam Moosa and Mahesh Joshi
Location
Mumbai, India
Average Price 
Rs. 5,000 – Rs. 45,000
Website
www.stekinstitute.com
About:
S-Tek Education is a reputed training institute that strongly emphasizes practical learning. They equip students with the necessary skills to get successful career opportunities in the industry. With the belief that hands-on experience is almost important, S-Tek has developed a unique training methodology centered around the three Ps – Practical Learning, Project Work, and Placement Assistance.
Programs:
S-Tek offers various programs, along with Q&A tests for each. Some of the prominent courses include the following:
MS – Office
Advance Excel
Tally ERP 9
Graphic Designing
Web Designing
Diploma in Advanced Excel & MIS
Hardware & Networking
Mobile App Development
Full Stack Developer
Software Engineering Course
Job-oriented courses
Training Method:
S-Tek Education's training approach emphasizes interactive studies, practical examples, and real-life applications of theoretical knowledge through Practical Learning and Project Work. Students can choose between live and recorded classes based on their convenience.
Highlights:
Government-recognized institute
Highly-Qualified trainers
Placement assistance
Dedicated staff and mentors
9. Excelsoft
Company Overview
Founded
2000
Founders
Prof. M H Dhananjaya, D. Sudhanva
Location
Mysore, Karnataka, India
Average Price
There is no official pricing, but you can request a demo.
Website
www.excelsoftcorp.com
About:
Excelsoft is an e-learning company offering creative learning, assessment, and training management solutions. Their goal is to revolutionize the way people learn by creating top-notch e-learning solutions. They serve educational publishers, universities, schools, government, defense, and corporate sectors, catering to their learning and assessment requirements.
Programs:
Excelsoft provides various services in the learning field, which include:
eLearning Consultancy
Instructional Design
Multimedia Services
Testing Training
Training Method:
Excelsoft doesn't provide training directly, but they create software and tools for other institutions to facilitate management and training.
Highlights:
Over 23 years of experience
Centers in multiple countries
Vision to develop world-class eLearning solutions
Offering competitive products and services
10. Fast Lane
Company Overview
Founded
2003
Founders
Torsten Poels
Location
Bangalore, India
Average Price
Many courses are free, while the pricing for other courses differ.
Website
https://www.fastlane.asia/
About:
Fast Lane is a renowned global company focusing on technology, business, and sales training programs. They provide high-quality training that meets industry standards through classroom sessions, online courses, e-learning, and blended learning. They also offer consultancy services in various areas of the IT field.
Programs:
Fastlane offers a wide range of IT training programs from leading giants in this field. Some of the renowned partners are:
Amazon Web Services
Aruba
Barracuda
Cisco
CWNP
EC-Council
Fast Lane
Gigamon
Google Cloud
Microsoft
NetApp
Palo Alto
Red Hat
Scaled Agile
Splunk
SUSE
Training Method:
Fast Lane provides online training programs led by instructors in a virtual classroom environment using specialized e-learning products on their own digital learning platform. It enables individuals to access IT training from their workplace or home conveniently. They also provide direct communication with the instructors and hands-on labs for practical learning.
Highlights:
Fastlane operates globally in 60+ countries
Provides top-notch training sessions
Helps individuals achieve career goals
Training sessions with companies like Google and Microsoft
Note: The prices mentioned above can change over time. So, we recommend you to please check the official site for the most up-to-date information.
Frequently Asked Questions
Q1. What is training in the IT Industry?
Answer: Training in the IT industry refers to the process of developing knowledge and skills related to various aspects of information technology. It involves structured learning programs and practical hands-on experience to develop expertise in areas such as software development, networking, cybersecurity, database management, and more.
Q2. Which city is best for IT training in India?
Answer: Hyderabad is considered one of the best cities in India for IT training companies. With a thriving IT industry, it offers a wide range of training institutes, experienced trainers, and excellent infrastructure. However, nowadays, anyone can learn IT courses through online self-paced lessons. There are a lot of companies that offer such courses. We have listed ten such companies in our article.
Q3. Which IT course is most demanding in India?
Answer: India's most demanding IT course is currently "Data Science." It offers promising career prospects and opportunities in various industries, including finance, healthcare, e-commerce, and more. By acquiring skills in data science, individuals can enhance their job prospects and contribute to the digital transformation of businesses in India.
Recommended Articles
This article provides a collection of the Top IT training companies that India has to offer. We have provided all the necessary information to find the perfect IT training firm. You can check out our other articles for more information: