What is Penetration Pricing Strategy?
Penetration pricing strategy is a marketing strategy wherein a new product or service is introduced at a relatively low price to attract new customers. 
For example, Reliance JIO entered the Indian telecom industry with a penetration price approach. With its financial capabilities, Reliance JIO was able to acquire the essential facilities and offer the services for three months without charge. However, after three months, the prices steadily rose.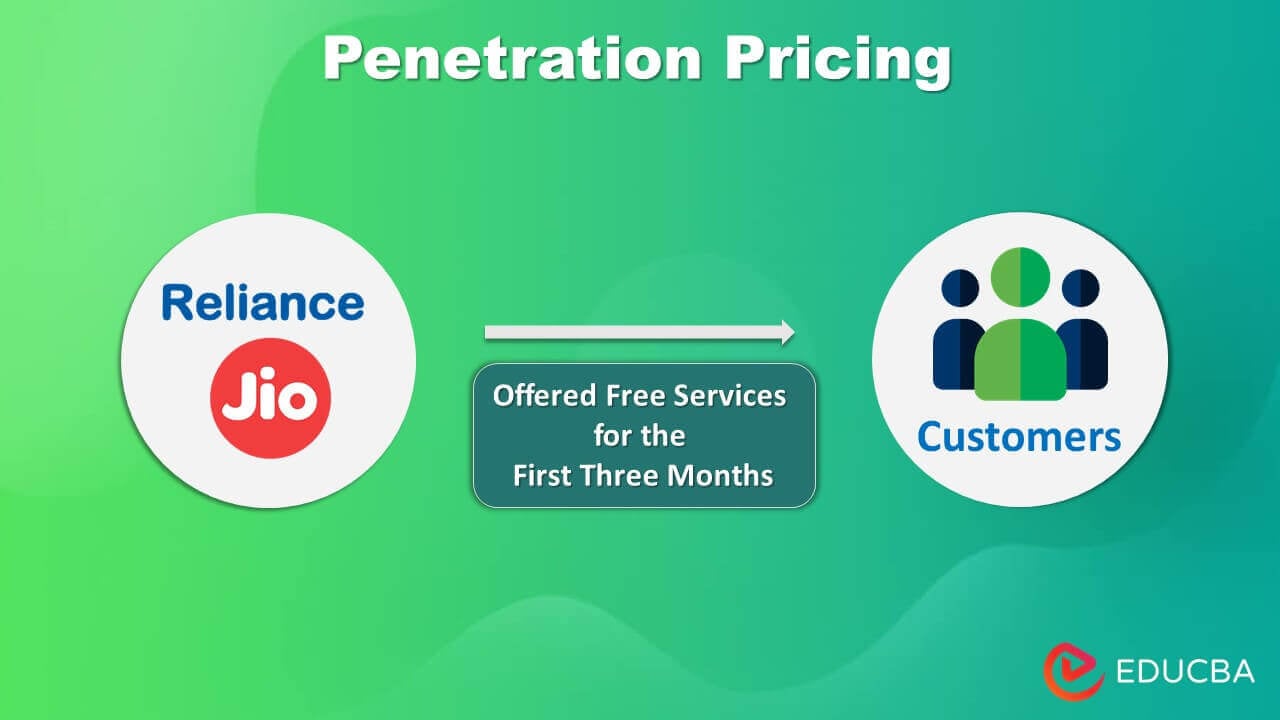 Low prices attract consumers in any market where competitors have already captured the share. It focuses on making the consumers aware of the product. A price penetration strategy aims to persuade customers to try a new product and gain market share, hoping to retain new clients after prices return to their previous rates.
Key Highlights
This strategy is implemented to penetrate the market at a low price.
The lower price of the product introduces the product in the market where existing competitors have already captured their share.
It attracts a wide number of customers due to low prices.
One of the challenges is retaining the customer that the low price has attracted.
The risk is that consumers might switch once the price increases.
How does a penetration pricing strategy work?
It prioritizes market share over profitability for a specific time period. The objective is to quickly create demand, expand a consumer base, and maximize brand loyalty.
The corporation first lowers the price to encourage people to try a new product or service. The corporation sets an affordable price for its value while remaining less expensive than the standard alternatives.
Competitors are compelled to match the deal or immediately implement alternative techniques since the first price undercuts it. Competitors' clients may move to the less expensive offer, and new customers may sign up.
After a time of expansion, the company usually raises prices to boost profits and account for the increasing value of its product.
Penetration pricing is typically employed when a company anticipates high demand for a new good or service. They hope that the sales volume will offset the lower-than-usual cost.
Real-World Examples
Example #1: Netflix
Netflix entered the market by offering free access to a larger movie library in exchange for waiting one or two days for a DVD to arrive. There was no due date, and four movies could be rented at once for $15.95 a month.
Even though Netflix subscription costs frequently increased, people were happy to pay them in exchange for a steady stream of high-quality media content.
Netflix currently holds 51% of streaming subscriptions in the United States, making it the market leader.
Netflix reduced prices on all plans in India by 18–60% in 2021 in order to expand its customer base and what is widely regarded as a premium service in the country.
Example #2: Starbucks
Starbucks, a high-end coffee chain, frequently offers discounted versions of innovative and seasonal beverages and coffees to attract customers to try them.
After customers become accustomed to these items on the menu and demonstrate a favorable response, Starbucks withdraws the penetration pricing offers and resumes selling them at regular, non-discounted prices.
Example #3: Costco and Kroger
Costco and Kroger, two major grocery store chains, use market penetration pricing to sell organic foods. They offer lower prices on organic food and have successfully used penetration pricing to grow their wallet share.
These companies can afford to charge less because they buy large quantities at a bulk discount. They can maintain their profit margins while beating their competitors' prices due to lower expenses.
Penetration Pricing vs. Skimming Price Strategy
To launch any product into the market, penetration pricing and skimming price are the most common strategies. Companies implement them for a shorter duration.
Skimming Price Strategy
Companies implement a skimming price strategy on an already acquired customer base or an untouched territory. This strategy works well in industries that are dependent upon innovation. Apple, for example, continues to use the skimming pricing method.
Apple's approach before launching each generation of new products is to arouse customer expectations and curiosity.
Despite its relatively high price, Apple's sales have not decreased. On the contrary, due to a large number of loyal customers, it has outstanding market sales. Furthermore, as newer products are introduced, Apple lowers the prices of its older products.
Moreover, Apple has a loyal customer base and is an innovative company. Even though the competition between Apple and Samsung is fierce, Apple's operating system gives it a competitive advantage. This allows Apple to implement the skimming price strategy.
Penetration Pricing Strategy
Companies use this pricing strategy when launching a product in a highly competitive market. The idea is to attract customers by offering lower prices, such as Reliance JIO.
Reliance JIO entered the Indian telecommunications market using a penetration pricing strategy.
Reliance JIO had the resources to acquire the necessary infrastructure and provide free services for three months.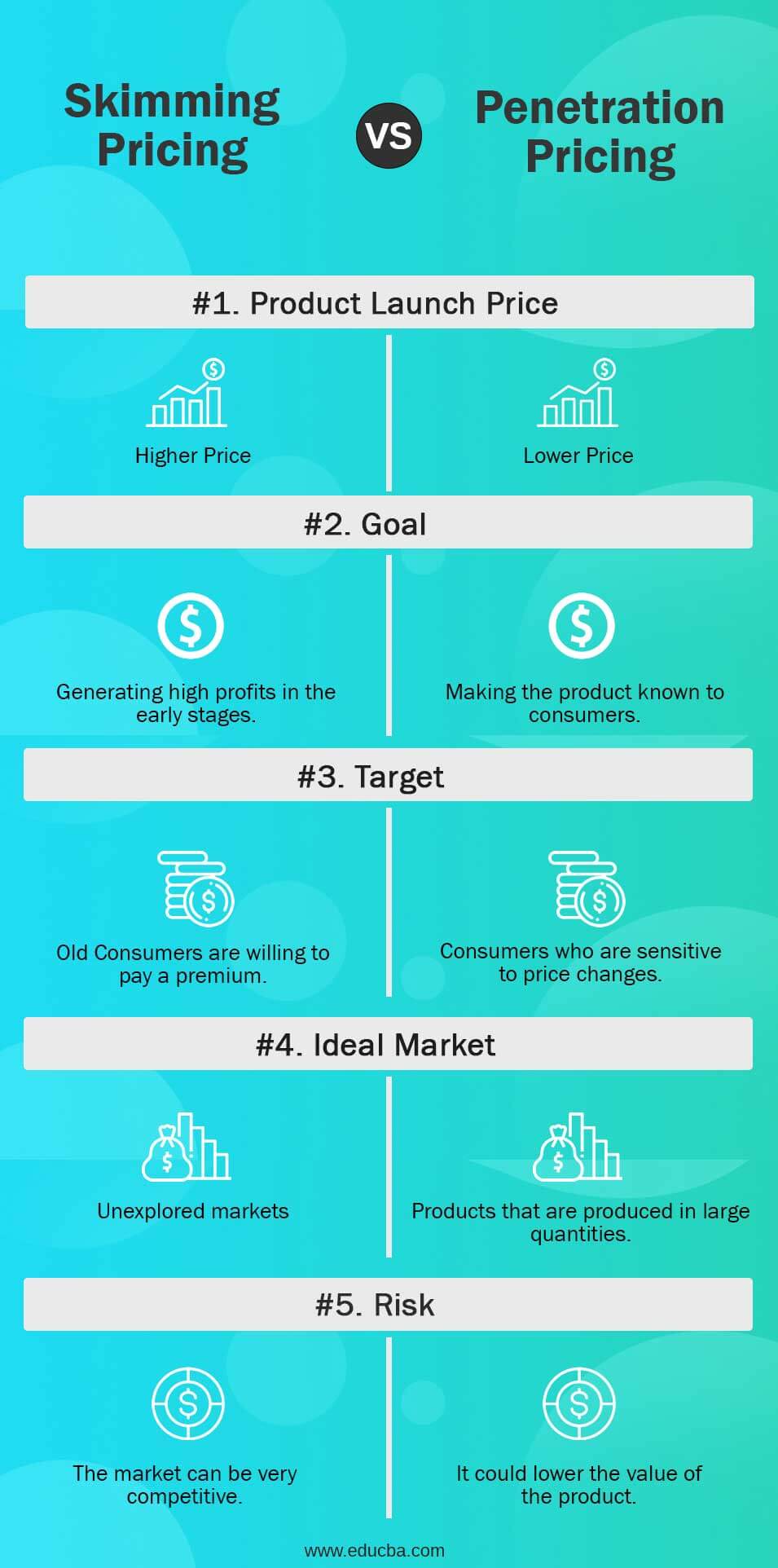 Advantages and Disadvantages of Penetration Pricing Strategy
| | |
| --- | --- |
| Advantages  | Disadvantages |
| Acquiring more customers: A good high-quality product launched at comparatively low prices attracts a large number of customers. | Upfront resources: The resources required to produce a large number of goods will also be substantial. |
| Lower production cost: By increasing sales, there would be an increase in production. Consequently, the cost of production will become lower. | Poor brand image: A lowered-price product is not necessarily always seen as good. A product that has a low price could be perceived as cheap or of low quality. |
| Less competition: By lowering the prices, the product will become affordable to the existing customers, which will lower the competition. | Low customer loyalty: When the prices increase, customers might return to competitors' brands, as they get the same product at a lower price. |
Final Thoughts
Penetration pricing is a good strategy to be used in highly competitive markets to introduce the product. The lower product cost would help the brand reach out to a huge number of customers that might become loyal to the brand afterward.
This strategy works best in industries that have huge demand. It gives a competitive edge, lowers production costs, and helps acquire a substantial customer base.
FAQs
Q1. What are penetration prices and skimming prices?
Answer: In order to maximize immediate earnings, price skimming raises prices to attract clients most interested in the good or service. In contrast,  penetration pricing uses lower prices to create a consumer base for new products or services.
Q2. Could penetration pricing work if the quality of the product is lower than the existing products?
Answer: It is fair to assume that the quality of the product is to be maintained at par with the competitors, if not better. The consumer may only want to purchase the product if the quality is equal to the competitors.
Q3. Should we opt for a penetration pricing strategy to penetrate any market?
Answer: Like every strategy, it depends on the situation and the resources available to answer whether a brand should opt for a such strategy. Industries use it where there is huge demand and the product offered by every participant is almost similar.
Q4. What factors should be considered while opting for a penetration pricing strategy?
Answer: There are several factors, namely, the industry size, the nature of the product, the price offered by competitors, available resources, and most importantly, the motive.
Q5. How are the prices raised after the implementation of the penetration pricing strategy?
Answer: Companies should raise high costs after some time. Prices increase gradually. For example, streaming service offering companies may offer the services at $40 per year instead of their actual price of $100. Now, the company would wait to raise the price to $100. Instead, the company might raise the price to $60 from $40, then to $75, then finally, to $100.
Recommended Articles
This article explains everything about Penetration Pricing Strategy. To know more, visit the following articles: