Definition
Consumer goods are products that people buy for day-to-day use. In other words, they are items that people consume in their daily lives. It includes things like food, water, clothing, shelter, etc. The term is often used to refer to a category of products that includes food, clothing, furniture, and other items. 
They can be classified into two categories: durable and nondurable. Durable consumer goods last longer than three years, such as furniture, cars, and appliances. Nondurable consumer goods are those that do not last long enough to be considered durable, such as food and clothing.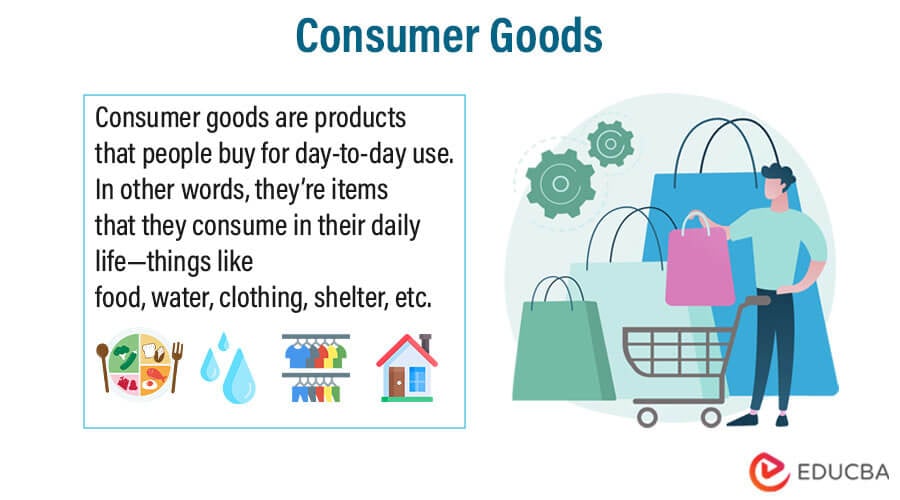 Key Highlights
Consumer goods

are all the things that consumers buy for their own consumption. It includes both durable and non-durable goods. Durable goods are those which can be used for a long period of time like cars, furniture, and appliances. Non-durable goods are those which can be consumed quickly like food, clothes, and cosmetics

In economics, consumption refers to the economic process by which people's needs or desires are met, and it is thus the final stage of the production chain

A consumer good is an item that has been purchased and does not require any productive transformation because it will not be used to produce other items

Any economy has a variety of goods that vary depending on the purpose they serve. The assets that are used to produce other goods are known as capital goods. Intermediate goods are inputs that are used to create the final product, and consumer goods are those that are sold to end users.
What Are Consumer Goods?
Consumer goods

, as the name implies, are products that are typically at the end of the production chain, that is, goods that the consumer purchases in order to make subsequent or direct use of the good

A consumer good is the final product of a manufacturing process. As a result, it directly meets people's needs

Consumer goods

are products that people buy for day-to-day use. In other words, they're items that they consume in their daily life—things like food, water, clothing, shelter, etc. These are often (but not always) essentials—that is to say if you don't have these things you may find yourself lacking in other areas of life as well

.
Characteristics of Consumer Goods
A consumer good is any item or product that can be bought by an individual

The value of these goods is determined in part by their use but is also affected by external factors such as marketing, convenience, brand name, and other sociological factors

An important characteristic of a consumer good is that it must be purchased through some sort of market exchange process

This means that a consumer good cannot be produced directly by its user

For example, if you grow your own food, then you are producing your own food; however, if you purchase apples from a grocery store (or even from another person), then you are buying apples rather than producing them yourself

This does not mean that all consumer goods are manufactured items; many services fall into this category as well

For instance, most people would consider medical care to be a service rather than a physical good

However, since consumers pay for medical care with money instead of bartering or exchanging labor, they are still purchasing something which has been created specifically to meet their needs. In addition to being purchased through markets, consumer goods also tend to have relatively low production costs compared with capital goods and intermediate goods.
How Does It Work?
1. Consumer goods are the products that people buy and use daily. These products include clothes, food, cars, and televisions. They are often considered to be a part of the economy's consumer spending. The way they work is through production, distribution, and consumption. 
2. There are four steps in this process: 
Producers create goods

Distributors take them to marketplaces

Consumers purchase them and make use of them

Then, after some time, they discard what they don't need. 
3. First, there must be an idea for a new good or service
4. Someone has to come up with an idea for something that will satisfy people's needs or wants
5. After someone decides on a new product or service, it goes into production
6. If it takes months or years for it to go from idea to actual product, it will have gone through stages like research and development as well as testing before release onto the market. 
Types of Consumer Goods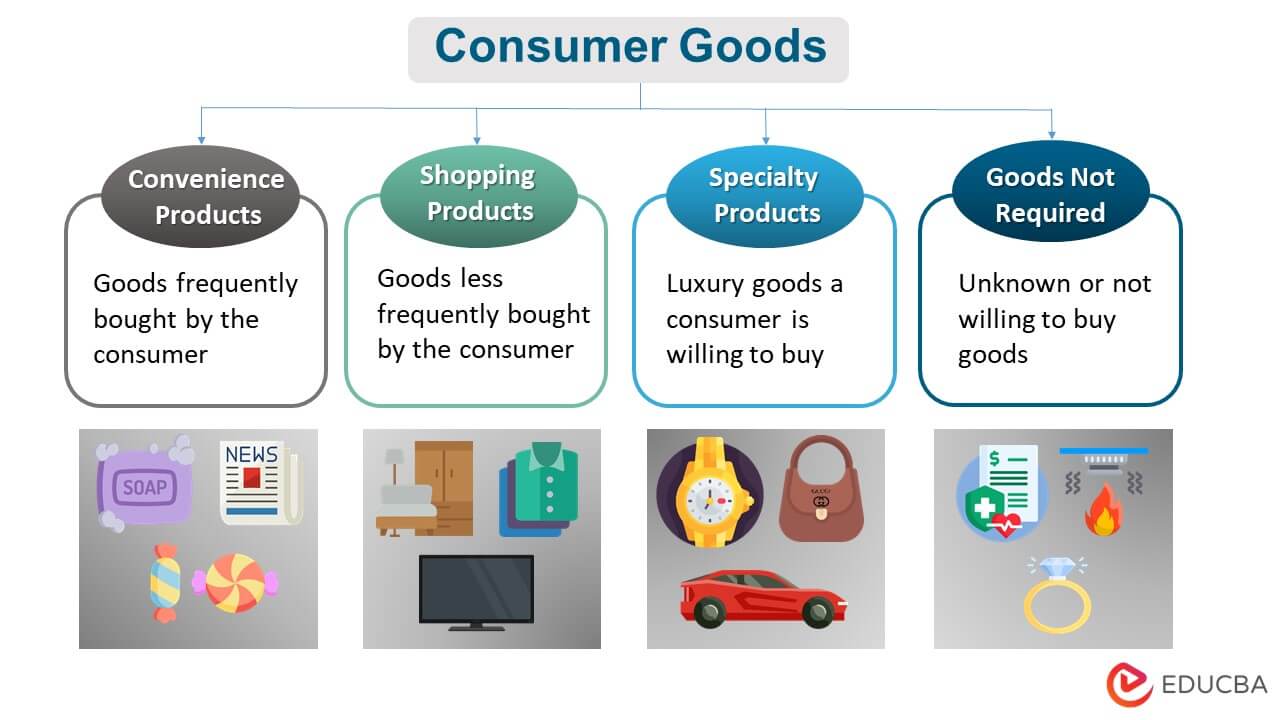 Based on how people purchase products, a useful system for categorizing consumer goods has been developed. It makes sense to classify products based on their behavior since the goal of the marketing process is to satisfy the needs of final consumers.
1. Convenience goods: can be divided into 4 categories using this method:
Emergency supplies, everyday consumer goods, and impulse buys are all categories of convenience goods.
Current consumption items

are those that are frequently used in each home. They are typically bought frequently and automatically, without giving them more thought than is necessary at first

Goods bought by impulse

are those that were not planned. When making this kind of purchase, customers frequently don't compare the item to others' offerings and instead buy it right away, giving in to their immediate desire

Emergency supplies:

They are only bought when a pressing need arises. The price is not particularly important because the customer needs them right away.
2. Comparison goods are products that, in the eyes of the customer, are worth the time and effort needed for a thorough analysis and comparison with rivals. Depending on the kind of product that customers are looking for, these products can be divided into two categories:
Homogeneous items:

Products that the consumer views as being essentially similar and that he wants to purchase at the lowest price are considered homogeneous items. The consumer views these products as having comparable quality but being priced sufficiently differently to allow for convenience comparisons

Heterogeneous items:

Items that the customer perceives as heterogeneous prompt him to check their quality, durability, convenience, and style.
3. Specialties are products with distinctive qualities and/or high-prestige brands that a significant group of buyers is willing to pursue with extra care. A branded product that successfully attracts a sizable clientele may ascend to the hierarchy in its field. 
Because prospective customers are willing to insist on the item, the demand for specialties will be relatively inelastic, at least on a reasonable price scale.
4. Goods not required: The term "goods not required" refers to items that people ignore or, despite being aware of their existence, rarely consider purchasing even though they eventually do so. 
Unneeded products, or those that aren't frequently sought after, require a significant marketing effort, including advertising and personal selling.
Examples of Consumer Goods
Here are some examples of consumer goods:
Everyday items:

Items that are regularly purchased and used in households, such as food and medications, are known as "everyday items." Buying items like rice, butter, biscuits, toothpaste, and analgesics is one of them

Impulse-acquired:

Items bought on a whim include magazines, candies, and chocolates that are displayed next to checkout counters in supermarkets

Emergency goods:

An umbrella is a necessity during a storm

Homogeneous items:

Items that are homogeneous include buying bread, toiletries, soft drinks, or a comb

Heterogeneous items:

When purchasing clothing, furniture, or tableware, the characteristics of the product are typically more significant to the consumer than the price

Specialties:

Examples are a

Rolex

watch or a

Mercedes-Benz automobile

Goods not required:

Life insurance, cemetery lots, and tombstones are not necessary goods.
Benefits of Consumer Goods
Accessible to all:

We can emphasize the rise in accessibility when purchasing a good or a product because of the variety of products available generally. Currently, you can order it online and have it delivered right to your front door

Quantity:

You can easily be sold to and given the quantity you need or want thanks to society and businesses

Quality:

We can select the best product or service after considering the variations in their various offerings. This relates to the values of those who have been able to purchase particular goods.
Conclusion
The consumer goods industry is a very competitive one. It is not easy to stay on top of the game in this industry. Consumers are always demanding more for less and companies need to constantly keep up with their demands by innovating and creating new products.
As a result, the consumer goods industry has been growing rapidly over the last few decades due to all these innovations and new products that have been created. The growth in this industry has become even faster as more people enter the global market, which means there are more consumers who want these products.
FAQs
Q1. What are consumer goods?
Answer: The final products of an economy's production chain are consumer goods. They directly meet people's needs, unlike capital goods, which are used by consumers instead of being used to produce other goods and services.
Q2. What are Fast Moving Consumer Goods?
Answer: Fast-moving consumer goods, or FMCGs, are products that are typically low in cost and high in volume. They are usually purchased by impulse buyers or people who buy on a whim.
Q3. What is the difference between Consumer Goods and Capital Goods?
Answer: Consumer goods and capital goods are two terms that are often used interchangeably when actually they refer to two very different things. Many people confuse the terms consumer goods and capital goods. The difference between consumer goods and capital goods is that consumer goods are products you buy to consume, while capital goods are products that businesses use in production. This means that consumer items such as food, clothes, electronics, furniture, etc. are all considered consumer goods.
Q4. What are some examples of Consumer Goods?
Answer: Consumer goods are a general term for products that are used by the end-consumer. They can be bought at a grocery store, convenience store, or online. Examples include food, clothing, and electronics.
Q5. What impact has E-Commerce had on Consumer Goods Demand?
Answer: In the last decade, E-Commerce has had a significant impact on consumer goods demand. The internet has become a popular place to buy new and used items, including clothes, furniture, and even cars. 
Many people who would not have previously considered buying these items online are now doing so as a result of the convenience and savings offered by E-Commerce. In fact, this is one reason why many traditional retailers have struggled to remain profitable in recent years.
Recommended Articles
This was a guide to Consumer Goods. To learn more, please read the following articles: