Investing in Stocks
Investing in stocks means owning a stake in a public firm, which can yield significant returns when the company grows. Therefore, understanding how to invest in stocks intelligently and carefully may result in high returns. The process of trading or investing in stocks includes purchasing and selling shares on the stock market.
Companies generally issue stocks to raise money at the start-up stage. For example, Google went public through its IPO in 2004. They raised a total of $1.7 billion and had a market capitalization of $23 billion.
Shares help companies expand and increase earnings to become financially successful. These shares represent a portion of ownership in a company that, in the event of success, may provide income for investors. Therefore, the stock market serves as the entry point for stock investments.
Key Highlights
Stock trading or investing is a lucrative means of making passive income
Traders buy, sell, or hold stocks on the stock market to earn/grow their value
The first crucial steps are to evaluate one's finances and set financial goals
Understanding your risk tolerance is necessary and then invest gradually with a reliable broker.
Steps for How to Invest in Stocks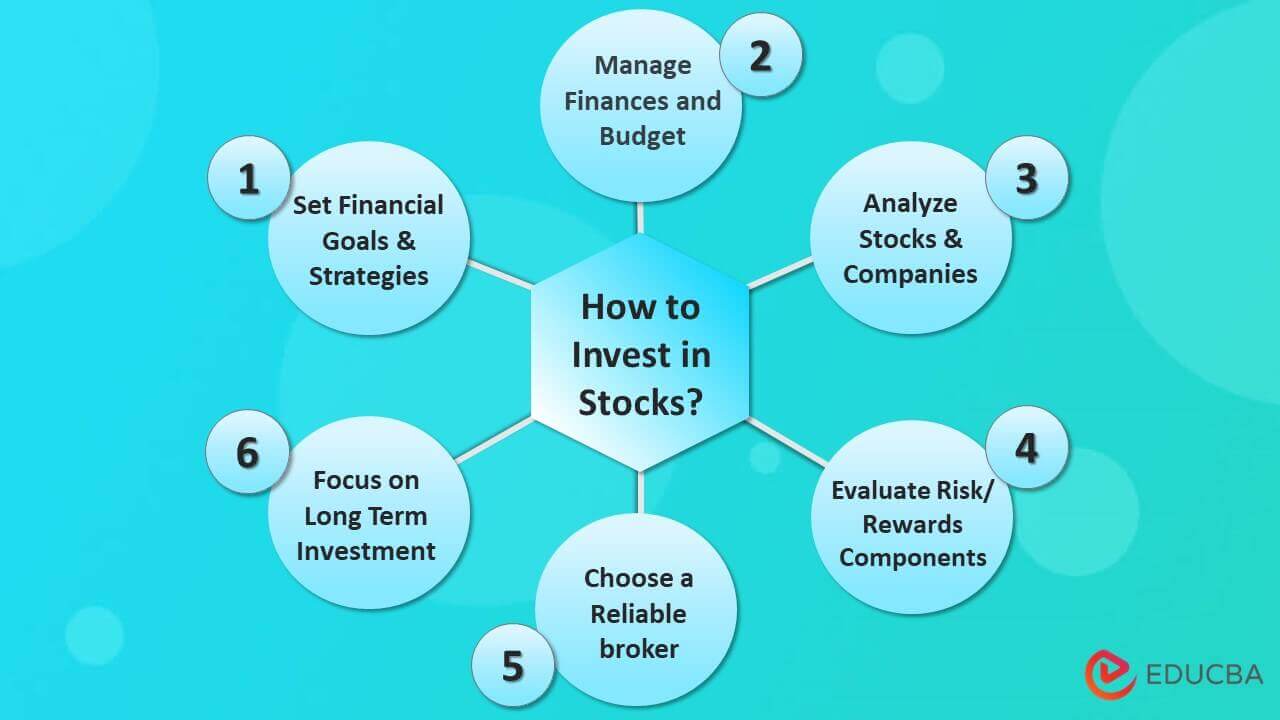 #1 Set investment goals and choose your approach:
As the financial approach depends on financial goals, financial objectives should be the primary focus of your investing strategy
For instance, you could make long-term investments to safeguard your financial situation for retirement. On the other hand, you could have a specific future purchase in mind, or you may wish to outpace inflation
Understanding your goals in stock trading is crucial because it helps lay the groundwork for sound investments.
#2 Examine your finances and budget:
After deciding on your investment strategy and objectives, review your finances and spending plan
Setting your budget will allow you to know the number of stocks you want to buy or invest in
To determine your stock trading ability, consider your everyday expenses, cost of living, overall debt, time horizon, and other financial factors.
#3 Analyze the company:
To know the fair value of shares, research the firm that owns the equities you are considering investing in thoroughly and view all the relevant aspects
It includes everything that potentially affects a business, including potentially positive and negative influences.
For example, you could look at the company's financial records, management, reputation, and policies that apply to the whole sector.
#4 Identify its components:
Understanding that stock trading or investment has a high risk/reward potential trade-off is crucial
Take into account that risk tolerance is a highly psychological part of investing, and your emotions primarily influence that
Analyze your strengths by skimming through hypothetical investing situations. For instance, evaluate your options if the portfolio drops by $2,000 today compared to yesterday.
#5 Selecting an excellent online broker:
To choose a suitable online broker, consider user-friendliness, fees & commissions, account minimums, and other relevant elements
Some brokerages charge a monthly fee for using the platform and a fixed transaction cost for carrying out each trade
Essentially, read over all the information the platform provides. Also, as per your convenience, ensure that the platform you select enables mobile trading.
#6 Focus on long-term investment:
While it's highly feasible to profit from a stock's price movement in the short term, buying stocks over the long run is the best option
It entails low pressure and risks and provides you with the flexibility to concentrate on other areas of your life
In addition, you can pick a reliable and promising company and wait a few years for your investment to grow.
How to Purchase Stocks?
Open a Demat Account:
Select a suitable investment brokerage platform and open a digital trading account
You may have to provide necessary details like PAN card, photograph, identity, address, income proof, etc.
Deposit Balance:
After successfully creating a Demat account, you may have to deposit a certain amount to start trading
Various platforms require a minimum amount in the account besides the funds you wish to use for trading.
Choose Suitable Stock & Trade:
Once your finances are set, focus on your current financial goal and select stock/s accordingly
Open a buy or sell position for the stock as per the requirement and your analysis. You can continue trading and investing as per your funds and goals.
Final Thoughts
Investment in stocks begins with flexible investing strategies. It allows you to adjust your methods if they don't work with your risk tolerance or other considerations. Hence, master how to invest in stocks by following various techniques and grow your money using calculated methods.
FAQs
Q1. What are some good stocks for beginners to invest in?
Answer: Investing in well-established companies like Apple, Microsoft, Amazon, etc., can be less risky. However, they may yield low returns in the short run. If you want to invest in stocks to earn quick returns, consider investing in Disney, Meta, Pinterest, and Netflix.
Q2. What are the types of investments?
Answer: In the stock market, one can pursue long-term or short-term trading. Apart from stocks, the various other investments are bonds, mutual funds, ETFs, etc. You can also invest in real estate, government securities, retirement accounts, or depositories, like fixed deposits, provident funds, etc.
Q3. What are some investing tips for beginners?
Answer: The best trading practice is diversifying your portfolio by investing in various investments. Avoiding short-term trading and focusing on long-term investments can be beneficial. Beginners investing in the stock market should also prepare themselves for losses. Finally, always begin stock investments through a demo account and imaginary funds.
Q4. How much should beginners invest?
Answer: Before investing with real money, use a demo account to understand how the stock market works. After you are comfortable with the trading platform, you can start investing 5% of your income or $50 per month. However, experts recommend investing 15% of your earnings in building a successful portfolio.
Recommended Articles
This article guides you on how to invest in stocks. It begins with understanding how the stock market operates, knowing your financial objectives, and determining risk tolerance. Read the following article to learn more,