Updated April 6, 2023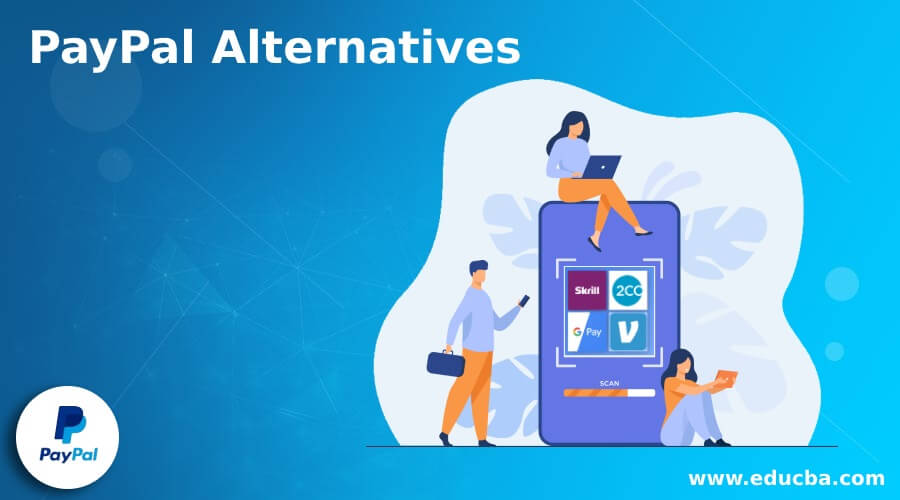 Introduction to PayPal
The following article provides an outline for PayPal Alternatives. We have been a PayPal customer for almost three years, and we love it to the heart. We had no idea how to collect money from people in our own country when we started out online, and PayPal made it too easy to receive money from these purchases from foreign countries. Because of PayPal and RBI conflicts in my homeland (India), we can no longer use PayPal the same as other people from countries like the U.K., the U.S.A and Australia. There are also places with more or fewer features that are identical to PayPal. We will list some of the best places for money transfer that we discovered when looking for an alternate way of collecting payments.
Alternatives of PayPal
Given below are the alternatives of PayPal:
1. Skrill
Skrill is a well-known PayPal alternative for an online payment scheme. It is often referred to as MoneyBookers. It is a basic online payment portal that is used both for personal and business use. It enables us to connect accounts, store card information, use our email address and password to send and receive money. More than 40+ currencies with two hundred plus countries with use it.
2. 2Checkout
2Checkout is considered an outstanding alternative to PayPal. It is used internationally to collect fees. High transaction and transfer fees are expected. It supports sending and accepting payments in 8 payment forms, 200 nations, and 30 languages. Compared to other options, it offers more convenience, which is why most users choose the payment method of 2Checkout for online purchases.
3. Dwolla
Dwolla is a fast-growing payment solution for organizations that is entirely adjustable. It is one of PayPal's easy, cost-effective, and popular online payment services. It enables us to use an internet connection to transfer cash to our friends and family online. It offers different ways for making payments to the bank, bank to the seller, consumer to the seller, and seller to buyer payments using the internet, wallet and bank. In a single API order, Dwolla enables up to 5,000 payments to be sent to us.
4. Google Pay
Google Pay is an online payment transfer mode that is simple, fast, more accessible, and most commonly used only in the USA and India. It's one of PayPal's best rivals. For iPhones as well as Android, it is available. It also works inside the Google account as a virtual wallet, stores credit and debit card information to make it readily usable via an Internet connection everywhere. It offers different payment processing solutions and connects seamlessly with website shops for e-commerce, CMS pages, applications and more.
5. Braintree
Braintree is the perfect alternative to PayPal. It is a worldwide payment network that supports all kinds of payments. It is a developer-friendly application and is used in more than 45 countries with more than 130 currencies to support online payments. Large companies such as Uber, DropBox, GitHub and more, use this payment solution. It helps us to collect recurring bills and to store credit cards as well. Braintree provides libraries for Python, iOS, Java, PHP, and Android.
6. Venmo
Venmo is a popular mobile payment app commonly used for individual online payments and bank transfers. It is a fast, secure payment platform that enables us to send money to our contacts in a safe way. This encourages us to connect a bank account as well as debit card numbers. About 60 million individuals now use the Venmo app for online purchases.
7. Stripe
Stripe is the perfect choice if you search for a PayPal solution to accept payment in your online store. It's a corporation based in the USA & welcomes the proposal from several nations around the world. If you are from a country that is not on Stripe's operating list, you can take advantage of the Stripe Atlas service that helps you to enter a US business and open a bank account for you as well. For nearly all online sites, e-commerce stores, Stripe has convergence, but you are more likely to find a plugin or a way to incorporate Stripe into your web store or e-commerce platform. To accept one-time payments and also to accept annual payments, you will use Stripe.
8. Instamojo
Instamojo is the Indian users PayPal counterpart. Payment can be submitted easily with @username or email address to another Instamojo consumer. Similarly, by providing your username to someone, you will obtain the payment. If you like to sell items like digital goods or utilities, you can also build a webshop. For almost two years, we have been using Instamojo, and it grows every day.
9. Remitly
Another famous service to India and the Philippines is Remitly. They give fantastic discounts, and one of them does not cost transfers of more than $1000. The payment will take effect immediately at the flat rate of $3.99 as the money is transferred by credit or debit card.
Recommended Articles
This is a guide to PayPal Alternatives. Here we discuss the introduction and alternatives of PayPal for better understanding. You may also have a look at the following articles to learn more –