Updated April 4, 2023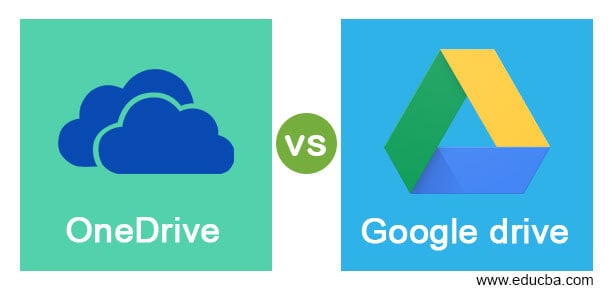 Introduction to OneDrive vs Google drive
OneDrive vs Google drive is the two most popular cloud storage services provided by Microsoft and Google respectively. OneDrive from Microsoft is a hosting service for files and synchronization that is operated by Microsoft. Google drive is also file storage and provides a synchronization service developed by Google. It allows storing files in the cloud, synchronize across devices and share files. Both of them offer almost the same services but the approach is different. These days' cloud storage has become important in recent years due to the advancements in computing. Many companies have now gained access to Cloud storage for processing that enables to handle huge amounts of data. Here we shall see the comparison of OneDrive with Google drive and discuss some of the key points and get to know which one is the better option based on developers need.
Head to Head Comparison Between OneDrive vs Google drive (Infographics)
Below are the top 12 differences between OneDrive vs Google drive:

Comparison Table of OneDrive vs Google drive
| | |
| --- | --- |
| OneDrive | Google drive |
| OneDrive's consumer base is mainly focused at the enterprise level. | Google drive's consumer base is focused on a consumer-first approach |
| OneDrive offers free storage of 5 GB and paid plans include 100 GB storage for $1.99 every month, 1 TB storage for $6.99 every month, and 6 TB storage for $9.99 every month. | Comparatively, Google drive offers highly complicated charges. Google Drive offers free storage of 15 GB. Paid plans start with an $8 subscription cost, and then an additional $1 per month for every 25 GB usage. |
| Based on File storage, OneDrive users can right-click on the file, click on "Share" and there is a window popup that asks for an email address to whom the file has to be shared, then click on "Get shareable link" that creates a shared link. | File storage is a similar process as in OneDrive, not only used for storing but also syncing, retrieving, etc. |
| OneDrive can be beneficial and worth money based on the free and personalized versions of cloud storage. | Google Drive offers an online suite of browser-based applications for productivity and collaboration, such as Google Slides, Google Note, Google Docs, and Sheets. |
| OneDrive does not have access to scan through user files for any sort of discrepancy and does not have the opportunity to bombard users with advertisements. | Google drive data mines its user's private information for any non-malicious practices. |
| OneDrive from Microsoft is known for data security. As Microsoft is not associated with any such kind of events, OneDrive is considered to be a safer choice considering data security. | Google drive had suffered a lot of data breach in 2014 multiple times when Russian hackers had 4,93 million accounts and in 2016, hacked 24 million Gmail accounts were hacked. Hence google drive is considered the second choice comparatively. |
| OneDrive offers AES 256 bit encryption for in-transit files and files at rest have no encryption unless it is a OneDrive Business subscription. | Google drive protects in-motion files with AES 128 bit encryption while the files at rest are protected by AES 256 bit encryption. Here, encryption ciphers work only when data is protected. |
| OneDrive mobile application helps businesses to upload, edit, and sharing of files without any chaining to a desktop. This real-time collaboration provides productivity without any expense overheads. | Google drive helps real-time editing and sharing of files taking to the next level of personal and professional collaboration. Document sharing, spreadsheets with family and friends, and colleagues is made easier. |
| OneDrive allows the hosting of Microsoft Office applications like PowerPoint, Word, etc. It has a web version and desktop version that enables offline and online work. | Google Drive has an efficient built-in search engine with an intuitive User interface. It allows users to search files by type and owner. |
| OneDrive for Business does not support 3rd party application integrations. Users here can not sync their business accounts with any non-Microsoft applications, etc. | Google drive has limited collaboration, real-time editing, and shareability do not go well if the recipient holds any non-google account. The recipient will require access permissions to view content. |
| Microsoft offers infrastructure protection against threats, power outages, and natural disasters. Does not protect any data at the user end due to human error, program errors, malware, and ransomware, etc. | Google provides best-in-class infrastructure against threats but offers no data protection from human errors, etc. |
| OneDrive has the same speed and accuracy as Google drive.  If a Microsoft file supports block-level copying and the file is broken into smaller pieces, only applied changes are uploaded to the cloud and hence data transfer takes less time. | In Google drive, using Google productivity applications and block-level copying has no real benefit. |
Key Differences of OneDrive and Google drive
Google Drive offers huge free plans and the cheapest cloud storage compared to OneDrive.• OneDrive offers a secure folder locked with an extra level of two-factor authentication.
Key differences for both Google Drive and OneDrive appear in Pricing, Speed and accuracy, Mobile backup and synchronization, File management, File sharing, and recovery history.
Investing in Cloud storage is purely based on individual or business requirements. If the user is more into Google application, use Google drive else if the user is in Microsoft camp, mostly uses OneDrive.
Most of the time, Google drive is most suitable as it has unlimited storage and has good collaboration with other applications such as Google sheets, Docs, Excel, Slides, etc., i.e., integrates easily with other Google services.
In both OneDrive and Google Drive, spanning is the one that enables timely backups and restoration that keeps the data safe from all attacks and hence reducing business continuity.
Conclusion
With this, we shall conclude the topic "OneDrive vs Google drive". We have seen what OneDrive means and what Google drive means. Also have seen a lot of similarities and differences in the comparison table above. Both of the cloud storages have their own advantages and disadvantages, and hence it is difficult to decide which storage service provider is the best among the two. We have also listed out a few of the key differences which will help to know better the applications and give an overview to decide which one to choose for customer's use.
Recommended Articles
This is a guide to OneDrive vs Google drive. Here we discuss OneDrive vs Google drive key differences with infographics and comparison table, respectively. You may also have a look at the following articles to learn more –