Updated April 17, 2023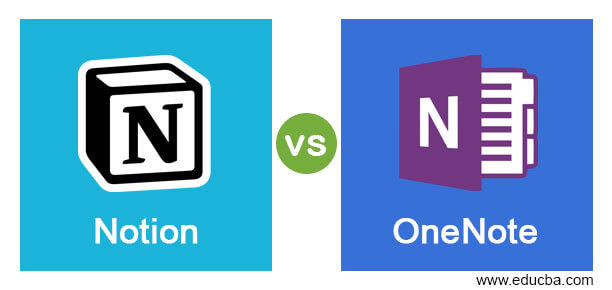 Difference between Notion vs OneNote
Notion vs OneNote will give out the differences between Notion and OneNote based on various criteria. Both are note-taking applications but are used for various purposes. OneNote by Microsoft has been there for almost 15 years and is considered the most powerful note-taking application. The notion is also filled up with features and is preferrable by users in the Microsoft ecosystem and using Office 365. OneNote is mostly for individuals whereas Notion is not only used for note-taking but also for project management.
Head to Head Comparison Between Notion vs OneNote (Infographics)
Below are the top 13 differences between Notion vs OneNote:

Key Difference Between Notion vs OneNote
Let us discuss some of the major key differences between Notion vs OneNote:
Notion is easy to learn, users can set emojis and covers for pages. On a positive note, block system and markdown support are the best features in Notion.
OneNote is available in Cloud, and hence is a good alternative to the physical notebook.
A notion can be useful for endless customizations, templates can be modified and organized according to customer needs.
OneNote is much effective in taking notes and is easier in accessing notes.
OneNote has only one forum to reach out for Support and Training purposes, i.e., Email or Help Desk.
The notion has a lot of ways to reach out for Support and Training, Knowledge Base, Forums, Help Desk, Email, 24/7 Live Chat, Phone Support, etc.
Notion vs OneNote Comparison Table
Let's discuss the top comparison between Notion vs OneNote:
Notion
OneNote
Notion is one of the best that offers a new block-based layout that is usable as a note-taking application.
OneNote is the best note-taking application that has popularized the concept of note-taking.
Notion is a collaborative application that helps users to take notes, write and plan, organize, and collaborate.
OneNote allows users to organize thoughts, ideas, plans, and discoveries in notebook form.
Notion has 30+ types of content, hence the user has the freedom of creating notes with different templates.
It is a multi-user collaboration tool which gives a lot of content for free, and hence users can perform

reading, writing and Arithmetic.

Based on the interface, the notion has a great UI/ UX that helps users in note-taking and is easily accessible.
OneNote's UI feels like a scrapbook. Menu has large icons with purple color. It has more freedom than any other note-taking app.
In Notion, pages can be accessed through the sidebar, and go down to different sections and slide from notes to pages back and forth.
In OneNote, users have text boxes beside tables, audio and images.
Notion provides a ridiculous amount of information.
Users can combine all different elements of the page to create a document, i.e., OneNote is much more than a word processing document.
Notion uses block form for taking notes. The user starts by creating a block to create notes.
OneNote is one of the highly intuitive and versatile note-taking applications allowing users to take notes via audio, images, or text.
Notion has a wide range of templates that allow users to take notes for various purposes. Most of them are free, editable and useful templates.
OneNote with 20+ templates are used during meetings, class, project management, events, etc. These templates can be downloaded from Gem Website.
Notion supports all the platforms in web browsers, such as macOS, iOS, Windows, Android.
OneNote also supports all such browsers, Windows, macOS, iOS, Windows.
Freemium plan of Notion has a storage capacity of one thousand blocks. This is enough as users have an option to delete a block that is unnecessary to free up the storage space.
OneNote uses OneDrive by default and hence usage limitations are based on the OneDrive account. It offers free storage of 5GB for personal use and to use pay, users have to pay for it. The largest file that can be uploaded to OneNote is 2GB that will be synced to OneDrive automatically.
Notion can be integrated with 100+ applications to create tasks and manage projects. Some of them are Slack, Gmail, Timesheet, Google Calendar, Trello, Asana, ToDoist.
OneNote connects with applications like Trello, Salesforce, Wufoo, Twitter via Zapier, and Basecamp. It allows users to integrate with a lot of applications and services allowing users to save notes, images, and other such apps.
Notion has 3 plans, Basic being free with unlimited members and 1000 storage blocks with a 5MB upload limit. Personal plan with Unlimited block storage and no upload limit for files, with 4$ per month. The business plan costs around 8$ per month and has unlimited members and block storage with priority and version support.
OneNote has 5GB of free storage, 50GB storage varies with 1 month or 1-year plan, same with Office 365 Personal plan has 1000GB of storage with 1 month and 1-year plan. Office 365 Home plan comes with 5000GB storage with 1 month and 1-year plan.
Notion application is encrypted at rest and transit but not end to end. There is no option to encrypt pages or blocks at the moment.
OneNote is password protected and encrypted. If user loses his/ her password, Microsoft support cannot access your notes or even recover the password, as Microsoft uses AES 128 bit encryption.
Conclusion
With this, we shall conclude the topic "Notion vs OneNote". We have seen what Notion vs OneNote is and listed out the similarities and differences in the comparison table above. We have also seen some of the key features of both Notion and OneNote. Each application serves a different purpose and has different properties, emphases. If the user wants to create notes from scratch, and then have them properly organized manner, we need OneNote. Whereas if user needs an all-around application that serves a lot more purpose other than taking notes, Notion is preferable.
Recommended Articles
This is a guide to Notion vs OneNote. Here we discuss Notion vs OneNote key differences with infographics and comparison table respectively. You may also have a look at the following articles to learn more –