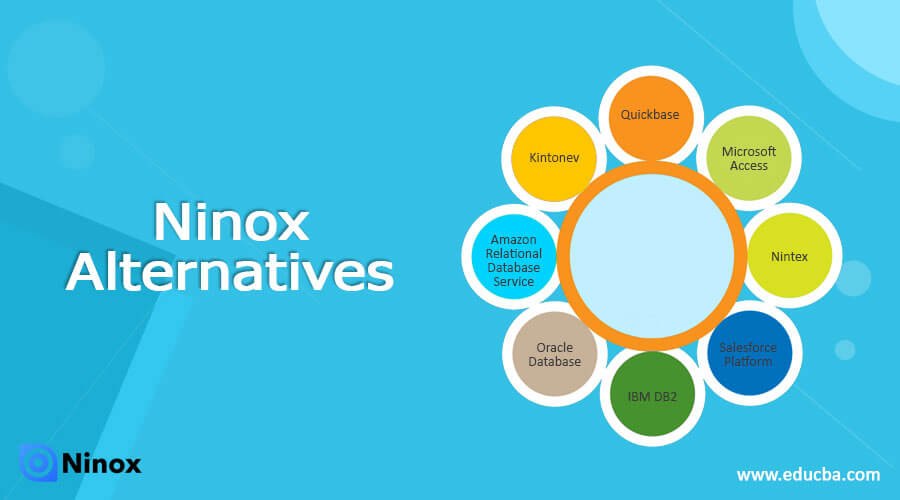 Introduction to Ninox
Ninox is a cloud-based data entry solution. It arranges your data in a central and smart workplace. Ninox handles a vast amount of data effortlessly. Choose from different views like Kanban, Gantt, Cards, and Diagrams to visualize your results. It organizes the data in your own way and provides functionality like store, filter, group, sort, to visualize and access the data easily. With just a few clicks, you can create forms, views, and graphs without any limitations. These are some alternatives are available. Quickbase, Microsoft Access, Nintex, Salesforce platform, IBM DB2, Oracle database, Amazon Relational Database Service, and Kintone are some of these alternatives that we will be going to discuss in this article.
Ninox Alternatives
Below is the list of Ninox alternatives.
1. Quickbase:
Quickbase is the best alternative for Ninox that provides a low-code application development platform. It enables non-technical developers to create, configure, and link scalable, secure cloud apps that are tailored to specific business problems without jeopardizing IT governance and control. Through its customized application platform, which includes workflow and process automation, forms, and bespoke charts and reports powered by customizing, the platform addresses a wide range of business use cases.
2. Microsoft Access:
Microsoft Access is a relational database tool included in the Microsoft Office Suite that allows users to enter, manage, and run reports on a bigger scale. It's best for people who need to swiftly arrange a lot of data. With the help of Microsoft, Access users can effectively manage important information by storing it conveniently for future reference, reporting, and analysis. As the name suggests, users will have access to organized information in their database with minimal effort.
3. Nintex:
Another alternative for Ninox is Nintex. On the Nintex Process Platform, you can quickly and effectively standardize your workflows and automate business processes to save time, money, and improve the customer and employee experience. It provides software solutions for every major industry and business sector, including visual process mapping, workflow automation, digital forms, and robotic process automation.
4. Salesforce platform:
Salesforce is a cloud computing service that specializes in Customer Relationship Management. Software as a Service (SaaS) is the cloud platform utilized in salesforce technology (Saas). This makes it easier to connect with current and potential customers and business partners. This technology allows for the maintenance of client relationships as well as the acquisition of new customers. It integrates all the domains such as marketing, sales, customer service, supply chain, data analysis, and many others so that customers can have an integrated view of the business.
5. IBM DB2:
Another best alternative for Ninox is DB2. DB2 is one of IBM's relational data management products, which was launched and promoted in the market. This IBM product provides relational database servers that are packaged for users so that database servers are no longer a bottleneck. DB2 employs cutting-edge architecture to deliver best-in-class system performance combined with AI approaches. DB2 is able to manage and plan workload execution using workload management. With the latest version of DB2, it tries to walk hand in hand with the way of working of Data scientists.
6. Oracle database:
Oracle database is the best alternative for Ninox. Oracle database, which is owned by Oracle Corporation, is a collection of data stored in a structured format consisting of rows and columns in a tabular format/structure for the user to edit, retrieve, or delete data as needed for their business or personal needs, by allowing them to create their own tables, insert data into those tables, and modify those tables both at the same time. It is also referred to as Oracle Relational Database Management System (RDBMS) or simply Oracle. It is developed in assembly languages, C and C++. Oracle also has come up with something called the 'Oracle Autonomous Database' which eliminates the manual labor
7. Amazon Relational Database Service:
Amazon Relational Database Service is distributed relational database service by Amazon Web Services. It's a cloud-based web service that makes it easier to set up, operate, and scale a relational database for use in applications. Patching database software, backing up databases, and enabling point-in-time recovery are all automated administration tasks. Scaling storage and compute resources can be performed by a single API call to the AWS control plane on-demand.
8. Kintone:
Kintone is a no-code business application platform that lets non-technical users build powerful apps, workflows, and databases for their teams and businesses. Kintone users may create apps that automate business processes, collaborate on projects/tasks, and swiftly report on complex data using clicks rather than coding. It includes hundreds of pre-built apps for a wide range of use cases, including CRM, project management, inventory management, and many others.
Conclusion
Here in this article, we have discussed Ninox alternatives like Quickbase, Microsoft Access, Nintex, Salesforce platform, IBM DB2, Oracle database, Amazon Relational Database Service, Kintone. Each has its own features and limitations. Based on your requirements and ease you can choose one of them.
Recommended Articles
This is a guide to Ninox Alternatives. Here we discuss the Introduction, list of Ninox alternatives respectively. You may also have a look at the following articles to learn more –