Updated April 8, 2023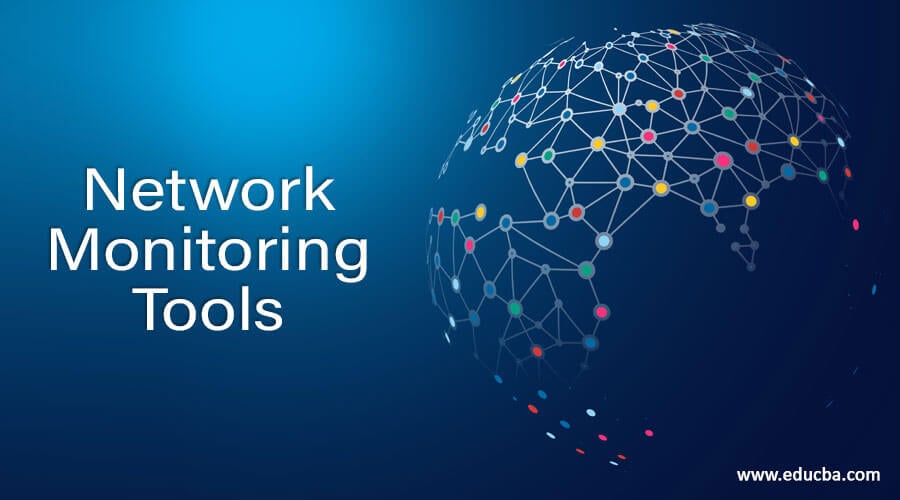 Introduction to Network Monitoring Tools
Networks are an important part of communications. It plays a major role in administrative purposes and connecting clients across the world. The networks keep data in a centralized location which can be accessible by authorized systems anytime and anywhere. So it is important to make sure the availability, performance, and health of networks over time. This can be done by network monitoring tools.
With the help of the Network Monitoring Tool, users get complete visibility of the IT infrastructure all the time. These tools keep track of the network's state in real-time, Identifies, and troubleshoots problems before affecting the end-users.
There are some factors while choosing Network Monitoring Tools,
Real-time and Comprehensive monitoring
Scalability
Automation
User Management
Networking Monitoring Tools
Here are some Networking Monitoring Tools which are given below.
1. SolarWinds Network Performance Monitor
It is a widely used comprehensive network monitoring tool that monitors devices with Simple Network Management Protocol (SNMP). It automatically detects network devices connected to the network. All devices, services, or applications detected can also be viewed on a network topology map on which users can check how network infrastructure links together. It offers the NetPath feature which traces packet transfers hop-by-hop which is helpful to diagnose the origin of network issues more effectively. It has a custom alert system by which users can set trigger conditions for alerts. It notifies network faults via trouble tickets, emails, SMS, Slack channels, etc.
Features of SolarWinds Network Performance Monitor
SNMP monitoring
It can create Wifi heat maps
Alerts system
Reports system
Network packet analysis
2. Datadog Network Monitoring Tool
It is one of the popular cloud-based SaaS infrastructure network monitoring tools for all networks and topologies. As it is based on the cloud, there is no need for server maintenance. It also has storage space for network monitoring statistics. It can monitor cloud resources, single-site LANs as well as multi-site WANs, etc. It uses SNMP for live statistics. It provides multiple tools like Ping, Proxy Ping, Traceroute, SNMP Ping, WMI Query Tool, CLI Query Tool for troubleshooting network issues.
Features of Datadog
It is Scalable
It provides an auto-discovery feature
It is AI-based machine learning which offers capacity predictions
Easy to use interface
3. ManageEngine OpManager
It is a network monitoring which monitors the performance of network devices, routers, servers, switches, as well as virtual machines in real-time. It has Customizable dashboards which offer more than 200 widgets for a unique monitoring experience.
SNMP monitoring helps you keep track of the reliability of devices within your network. It has a network mapping function to discover and map new devices automatically for improved visibility. To find new devices after they are added to the network, the user can schedule network discovery.
The system of alerts lets you respond quickly to changes in results. ManageEngine OpManager compares network events and provides the consumer with only appropriate notifications thus eliminating false positives.
Features of ManageEngine OpManager
Automatic discovery of devices, servers, routers, etc.
Customizable dashboards
SNMP monitoring
Network mapping
Email and SMS alerts
4. Nagios Core
It is an open-source network monitoring tool which has a web interface for network monitoring. The GUI is color-coded, so features that are inaccessible or corrupted can easily be seen. It Monitors performance events via the alerts system, which sends email and SMS updates. To see what alerts were generated and when users can check the Alerts History section. The alert list is also color-coded, making it easier for important warnings to be prioritized. User can use APIs to integrate them with other network services.
Features of Nagios Core
Performance dashboard
Alerts system
Availability reports
Capacity planning
Easy to use and simple GUI
5. Nmap
Nmap is one of the widely used network monitoring tools which offers network discovery as well as security auditing. User can perform various networking based functions like network inventory, service maintenance upgrades, etc. It offers numerous advanced techniques for mapping networks with firewalls, IP filters, routers, etc.
Features of NMap
It can scan large networks of thousands of machines.
It is easy to use
It is a great tool for penetration testing
6. Splunk
It is a popular network monitoring tool which helps in simplifying and modernizing IT operations. It seamlessly monitors the network and troubleshoots issues related to networking with the help of Real-time and Predictive Insights
Features of Splunk
SNMP monitoring
It Scans network devices by IP segment
Threshold-based alerts system
Bandwidth monitoring
It provides Custom dashboards and Reports system
Customizable network maps
7. Zabbix
It is an open-source network monitoring software that combines server, network, application, cloud, and services monitoring into a single unified solution. It uses IPMP and SNMP to monitor network. It automatically discovers network devices and adds those devices to get monitored. It detects configuration changes automatically if there are any changes in the network device.
Features of Zabbix
Auto- discovery feature
SNMP and IPMP monitoring
Application monitoring
Server monitoring
Network monitoring templates
Alerts system
Conclusion
In this article, we have seen what are Network Monitoring Tools along with a list of various tools. You can choose any of them based on your requirements. We hope you will find this article helpful.
Recommended Articles
This is a guide to Network Monitoring Tools. Here we discuss the Introduction, list of Network Monitoring Tools along with its features. You may also have a look at the following articles to learn more –