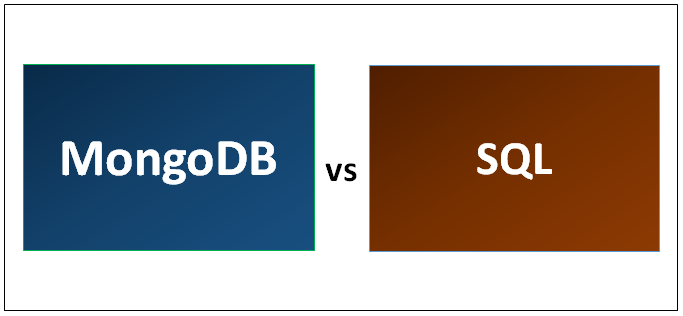 Differences Between MongoDB vs SQL
In today's world driven by modern enterprises, businesses are constantly finding ways to manage or store their data. This could be to gain customer insights, to gain an understanding of the changing user expectations or to beat competitors with new applications and models. This resulted in changes in the earlier assumptions of relational databases. The main drivers being
Demands for higher developer productivity and faster time to market.
The need to manage a massive increase in new and rapidly changing data types.
The wholesale shift to distributed systems and cloud computing.
This gave rise to non-tabular databases like MongoDB. MongoDB is a free and open-source cross-platform document-oriented database program. Classified as a NoSQL database program, MongoDB uses JSON-like documents with schemas. A NoSQL database provides a mechanism for storage and retrieval of data that is modeled in means other than the tabular relations used in relational databases.
1. Interest on DB Engines over time and Movement of Ranking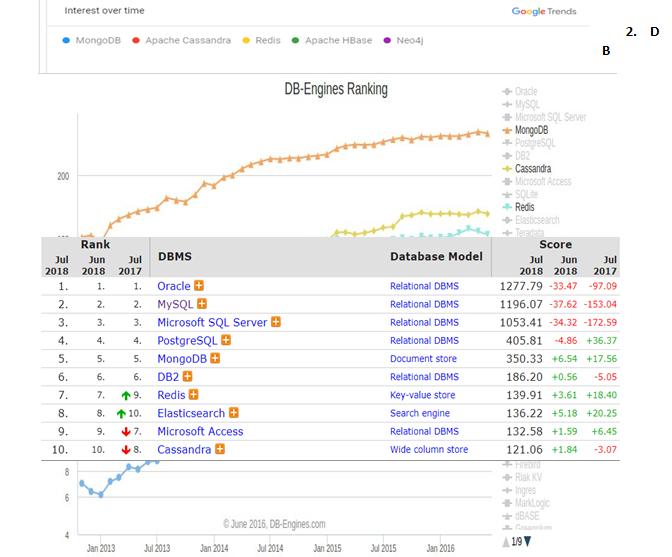 2.MongoDB usage over weeks from Jan 2013 to Jul 2018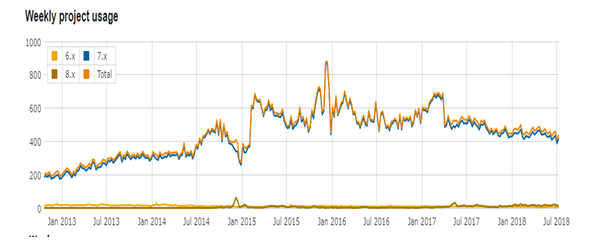 Head to Head Comparison Between MongoDB and SQL
Below is the top 7 difference between MongoDB and SQL:

Key Differences Between MongoDB and SQL
Let us discuss some of the major Difference Between MongoDB and SQL:
In MongoDB data is represented as a collection of JSON documents while in MySQL, data is in tables and rows.
When it comes to querying, we have to put a string in the query language that the DB system parses. The query language is called Structured Query Language. On the other hand, MongoDB's querying is object-oriented, which means you pass MongoDB a document explaining what you are querying and there is no parsing.
One big benefit of SQL is the Join statement which allows querying across several tables. MongoDB, on the other hand, does not support JOINS but instead supports multi-dimensional data types like documents and arrays.
In SQL we can have one document inside another. In MongoDB, we have one array of comments and one collection of posts within a post.
SQL supports atomic transactions. You can have several operations within a transaction and you can roll back as if you have a single operation. There is no support for transactions in MongoDB and the single operation is atomic.
In MongoDB, we need not define the schema. We can just drop in the documents. In the case of SQL, we need to define the tables and columns before storage.
There are no reporting tools with MongoDB i.e. performance testing and analysis is not always possible. In SQL we get several reporting tools.
MongoDB and SQL Comparison Table
The primary comparison between MongoDB and SQL are discussed below.
Basis of Comparison Between MongoDB vs SQL

SQL

MongoDB

Definition
SQL or structured query language is a domain specific language used in programming and designed for managing data held in a Relational Database Management System (RDBMS). It is particularly useful in handling structured data where there are relations between different entities/variables of the data.
MongoDB is a free and open-source cross-platform document-oriented database program. Classified as a NoSQL database program, MongoDB uses JSON-like documents with schemas.
About
Designed by Donald.D.Chamberlin and Raymond Boyce and first appeared in 1974.
Developed by MongoDB Inc. and first released in the year 2009, MongoDB is primarily written in C++, C and Java Script.
Terminology and Concepts Comparison

Database
Table
Row
Column
Index
Table Joins
Primary Key-Specify any unique column or column combination as a primary key.
Aggregation(Group by)
Transactions

Database
Collection
Document or BSON document
Field
Index
$lookup, embedded documents
Primary key-In MongoDB the primary key is automatically set to the id field.
Aggregation Pipeline
Transactions

Features

High Performance
High Availability
Scalability and Flexibility
Robust Transactional support.
High Security
Comprehensive Application Development
Management Ease
 Open Source

Support ad hoc queries
Indexing
Replication
Duplication of Data
Load balancing
Supports map-reduce and aggregation tools
Uses JavaScript instead of procedures
It is a schema-less database written in C++
Provides high performance
Stores files of any size easily without complicating your stack
Easy to administer in the case of failures
It also supports JSON data model, Auto-Sharding and built-in replication.

Best Used for

Data Structure fits for tables and rows.
Strong dependence on multi-row transactions.
Frequent updates and modifications of large volumes of records
Relatively small datasets.

High write loads
Unstable schema
When the database is set to grow big
Data is location-based
High availability in an unstable environment is required
When there are no database administrators.

Latest Version
8.0.11
4.0.0
Domains Used In
Aerospace and defence, Government, Media and entertainment, Technology and hardware, Telecom, Web games, Education, Healthcare and pharma, Retail, Technology: Open source projects, Travel and hospitality, Web: SAAS, Hosting, Financial services, Manufacturing, Small and medium business, Technology: Software, Web: Ecommerce, Web: Social Networks.
Financial Services, Government, Retail, High Tech, Media and Entertainment, Healthcare, Telecommunications1
Conclusion
When in a dilemma as to whether to opt for MongoDB or SQL, companies need to keep in mind their data volume and needs. SQL is more apt for smaller datasets whereas MongoDB is capable of handling large unstructured datasets. SQL is recognized for its high performance, flexibility, reliable data protection, high availability, and management ease. MongoDB is, on the other hand, is a go-to solution because of its open and simple philosophy and collaborative and helpful community. In the event that your data is unstructured, complex, there is no pre-determined schema and you need to handle large amounts of data and store it as documents, MongoDB can be preferred over SQL.
Recommended Articles
This has been a guide to the top difference between MongoDB and SQL. Here we also discuss the MongoDB vs SQL head to head differences, key differences along with infographics, and comparison table. You may also have a look at the following MongoDB vs SQL articles to learn more –