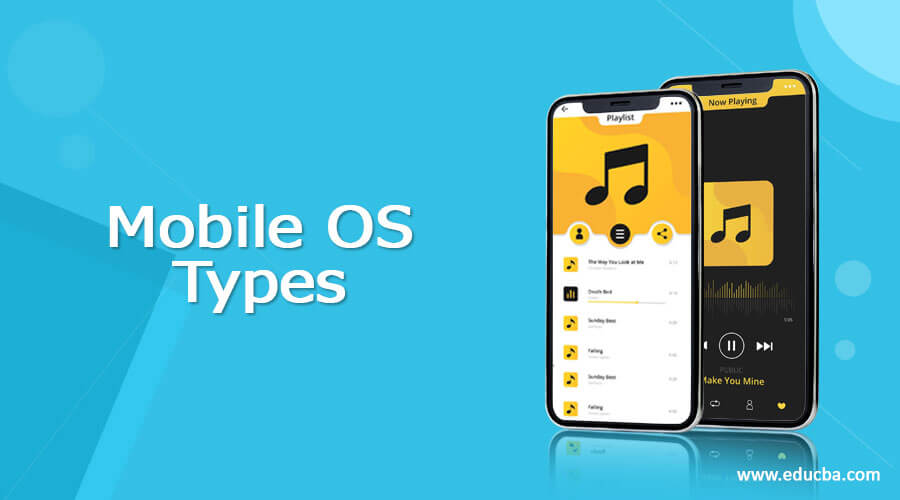 Introduction to Mobile OS Types
Mobile OS Types is the type of Operating system present in Mobiles. Operating System is a software interface that is responsible for managing and operating hardware units. In previous days, mobile phones were just a device used for calling and texting. Nowadays, mobile phones are close to handheld computers which enable them to send emails, watch news, and make video calls, play games, and so on. OS, also known as Operating System, are software running on desktops and laptops that manage memory and resources when used for multitasking. Most of the mobile operating systems work on specific hardware such as Motorola runs on Android whereas iPhone runs on iOS. When you buy a mobile, the manufacturer would have already designed it with a particular operating system. Before purchasing a mobile, it is good to learn about all the Operating System types to ensure device compatibility and support for applications to be used.
Types of Mobile OS
We shall go through the most popular Operating system platforms,
1. Symbian Operating System:
It is the operating system that provides high-level integration along with communication. It is developed by Symbian Ltd. in 1998 and is based on the Java programming language. Nokia Manufacturer was the first to use this Symbian Operating System. It is a combination of wireless communication and personal information management i.e., PIM, which consists of agenda and contacts. Nokia has made this available as an open and direct model to work with other OEMs. It consists of multiple layers such as application engines, MKV, OS libraries, Base Kernel, servers, and hardware interface layers. It was mostly used by Japanese manufacturers for mobiles sold in Japan, this OS can also be found on some of Sony Ericsson mobiles.
2. BlackBerry Operating System:
It is the operating system developed by Research in Motion i.e., RIM to be used on popular BlackBerry's handheld devices. It is known for native support for corporate mail via MIDP, thereby allowing wireless activation and synchronization with Lotus Domino and Microsoft Exchange. Based on research, 45% of mobile developers approximately were using BlackBerry OS at the time of publication. BlackBerry provides API classes for developers to code applications. It runs only on BlackBerry phones such as Curve, Perl, BlackBerry bold, and Storm. All applications under BlackBerry are written on Java and applications can be installed only from BlackBerry app world through BlackBerry Desktop Manager.
3. Android Operating System:
It is the most common operating system developed by Google in 2008. It is a free and open-source operating system, based on Linux Kernel. Android has a large base of developers coding applications and extending the functionality of devices. Android OS names keep changing with every version such as Donut, Éclair, Oreo, etc. Android is dominant from other Operating Systems based on a wide spectrum of users. Users have the ability to customize multiple screens with useful widgets and give quick, easy access to functions and content users care of. It had the ability to multi-task and has an Android Market place which is equivalent to iOS Apple Store.
4. Apple iOS:
It is an operating system developed by Apple Inc. to be developed for iPhone. Then, it was expanded for iPad, iPad Touch, Apple Touch, etc. It is a secure operating system and is only available for Apple products as the company does not license it for third-party hardware. iOS respond to users' touch by a tap on a screen to open the program, pinch fingers together to enlarge or minimize image, and swipe fingers across the screen to change pages. Users can download millions of applications on Apple App Store directly to any device which is running on iOS. Apple iOS is the second top-most selling Operating system for mobiles. iOS user interface was not changed since 2007 when the first iOS mobile was developed. The main difference between Android and iOS is that iOS runs only on Apple products.
5. Windows Operating System:
It is an operating system developed by Microsoft and is mainly designed for pocket Personal computers and mobile phones. It has computer-based Windows OS features and some additional features for smartphones. The Mobile Operating system is based on Windows CE Kernel 5.2 and comes with a mobile-optimized version of IE for exploring the web, supporting corporate mail accounts. In 2010, Windows release a revamped version of its Windows platform when its software fell behind iOS and Android. It is recognizable easily with a tile-based interface whose features are removable and exchangeable sections on the home screen serving its own purpose. It has a separate corner for kids so that they do not reach any personal data and misuse.
Conclusion
With this, we shall conclude the topic "Mobile OS Types". We have seen what Mobile OS Types mean and how are they classified. We have seen OS Types from Android to iOS, Windows, BlackBerry, and Symbian. Each operating system has its own purpose to serve for smartphones and each has its own features, specifications, etc. There are still more Operating systems to be listed out such as Harmony OS, Palm OS, Bada, Web OS (HP), MeeGo OS, Kai OS, Plasma OS, Sailfish OS, etc., and many more. Hope this topic has given a clear view of what are the various operating systems on which smartphones are built. Thanks! Happy Learning!!
Recommended Articles
This is a guide to Mobile OS Types. Here we discuss the Introduction, list of popular mobile OS types. You may also have a look at the following articles to learn more –