Updated March 31, 2023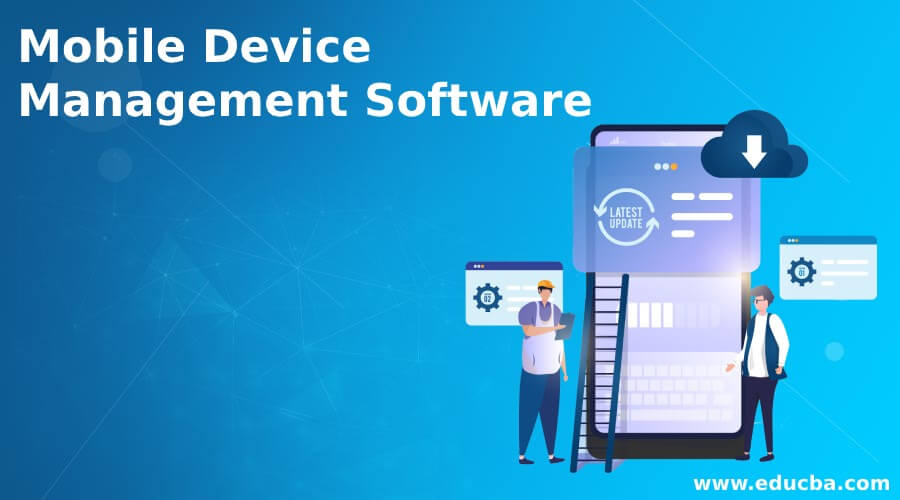 Introduction to Mobile Device Management Software
The following article provides an outline for Mobile Device Management Software. Mobile Device Management tools are based on cloud security tools which are built to protect mobile devices as they provide a wide range of security capabilities hence, they can be useful for business also. Mobile Device Management tools protect mobile devices from attacks like malware, viruses, worms, etc., and secure data stored on mobile devices as well as specific applications. Organizations use Mobile Device Management tools to protect employees' devices, hence they can store business applications and data.
Features of Mobile Device Management
Application and Data protection.
It provides Device Provisioning and Anti-fraud protection.
It also helps in identity management.
It limits the risk of data loss.
It also has Malware and Anti-virus protection.
It stops software installs that are unapproved by users.
It also provides security from unauthorized access.
1. AirWatch
AirWatch MDM is built by VMware which is one of the most popular and widely used technology solutions providers. AirWatch is a mobile device management tool that lets users manage, configure, and support mobile devices on-premise and remotely. With the AirWatch, the waiting time required for configuration decreased because of its easy onboarding and fast configuration of settings.
Features:
It has easy-to-use architecture as well as a scalable system.
It provides data encryption, device-level encryption as well as hardware security policies.
Automatic upgrades and support.
It prevents data loss with copy/paste restrictions, app sharing permissions, geofencing policies, etc.
It allows Real-time Mobile Device Management deployment and Flexible integration.
2. IBM MaaS360
IBM MaaS360 is one of the most used mobile device management tools for business. It is Powered by the Watson engine. It allows to get visibility and control of Android, macOS, iOS, and Windows devices with easy to use and interactive user interface to avoid complexity. It allows over-the-air (OTA) device enrollment so users can manage devices easily and quickly and without hardware installation. It provides support for multiple OSs from one console which covers endpoints productively and securely independent of the device platform.
Features:
MaaS360 provides Multiple OS and platform security.
It provides Support to IoT devices as well as ruggedized Android devices and applications.
It has a secure container that allows storing corporate data safely.
3. Cisco Meraki
Cisco Meraki is also a popular MDM software that has unified management for mobile devices, PCs, Macs, as well as the entire network with a centralized dashboard. It lets users set device security policies, perform remote and live troubleshooting, deploy apps and softwares on numerous managed devices. It has OTA centralized monitoring, diagnostics, and management for mobile devices. It Analyses network activity using automatic reporting.
It has a Systems Manager which monitors each of the organization's devices and displays important metrics like recent location, client hardware, or software information. It offers robust security by enforcing security policies for mobile devices, and protects devices along with the data, controls their usage using strong passcode policies, and restricts access to sensitive data, app store, and gaming.
Features:
It provides a Scalable endpoint configuration.
It provides support for BYOD (Bring Your Own Device) initiatives.
It has an Automatic device classification function.
It Automatically applies network policies based on device type.
It provides On-device as well as remote data management.
4. ManageEngine Mobile Device Manager Plus
ManageEngine Mobile Device Manager Plus is a leading MDM tool that helps in managing multiple mobile platforms with an intuitive dashboard. It ensures all the devices are compliant with the required policies and offers real-time troubleshooting of devices.
Features:
It provides automatic device enrollment.
It offers app, email, as well as profile management.
It manages asset and data security with multiple policies.
It provides timely audits and reports.
5. Intune
Intune is developed by Microsoft so it is coupled with different Microsoft Azure security and identity management solutions that provide an updated portal experience. It lets users or organizations set mobile management strategies based on their needs. They can also apply controls for flexible mobile device and app management which secures data. Intune supports various platforms like Android, macOS, iOS, Windows, as well as devices from a single and unified mobile solution.
Features:
It provides Advanced Microsoft Office 365 data protection.
It offers integrated PC and on-premises management.
It provides identity and access management and identity-driven security.
Conclusion
In this article, we have seen what is Mobile Device Management Software along with its various features. You can choose any of the softwares based on your requirements.
Recommended Articles
This is a guide to Mobile Device Management Software. Here we discuss the introduction to Mobile Device Management Software and features. You may also have a look at the following articles to learn more –