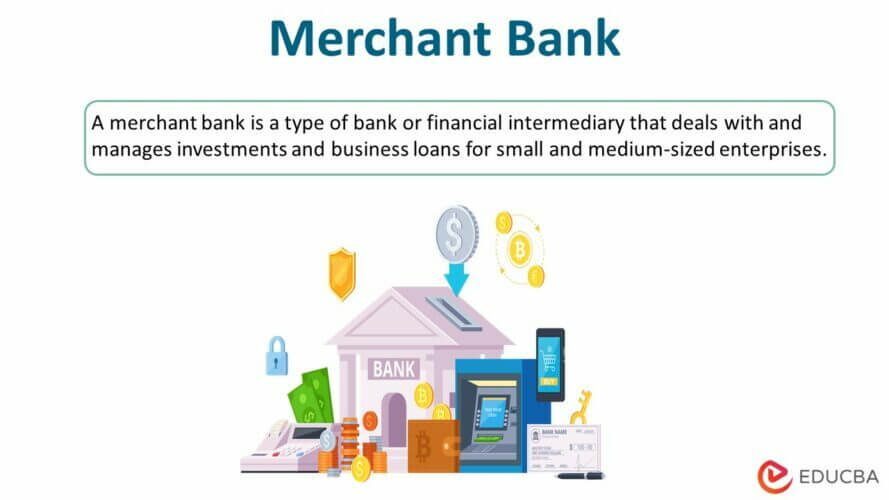 What is Merchant Bank?
A merchant bank can be classified as a type of financial intermediary or bank that deals and handles investments and commercial loans for small and medium-sized businesses. Their existence date back to the medieval period when there had been active trading of commodities.
Explanation
In modern-day scenarios, they are often regarded as investment banks. This bank can be classified as a bank or a company that performs underwriting, as well as provides services on loans, and conducts consultations on critical financial projects and investment matters for small-sized businesses. It additionally helps in fundraising activity for institutional investors and large corporations. They generally don't offer traditional banking services such as the acceptance of that deposit and lending them to a smaller group of borrowers.
Objectives of Merchant Bank
The broad objectives of this bank are offer to credit services and perform underwriting for its institutional clients and corporate clients. Additionally, their main objective is to help businesses in capital formation by providing services of standby credit, and underwriting of securities that are generally backed by guarantees.
They additionally have an objective of creating secondary markets wherein the bills are exchanged or traded and wherein the merchant banks play the role of the central accepting house. They additionally provide dealer services in terms of buy and sell transactions of financial instruments.
Examples of Merchant Bank
The world-renowned underwriters are normally composed of Macquarie, JP Morgan, Citigroup, and Goldman Sachs.  Small companies who wish to acquire finance either through debt or equity can get in touch with any one of the merchant bankers. These bankers may then set up a series of meetings to gather the requirements of the companies.
Once they gather the desired information, they undertake counseling and advisory sessions for the small client. They tell them about the pros and cons of the available methods of finance. They additionally make the business understand the cost structure with respect to the available modes of finance.
Services of Merchant Bank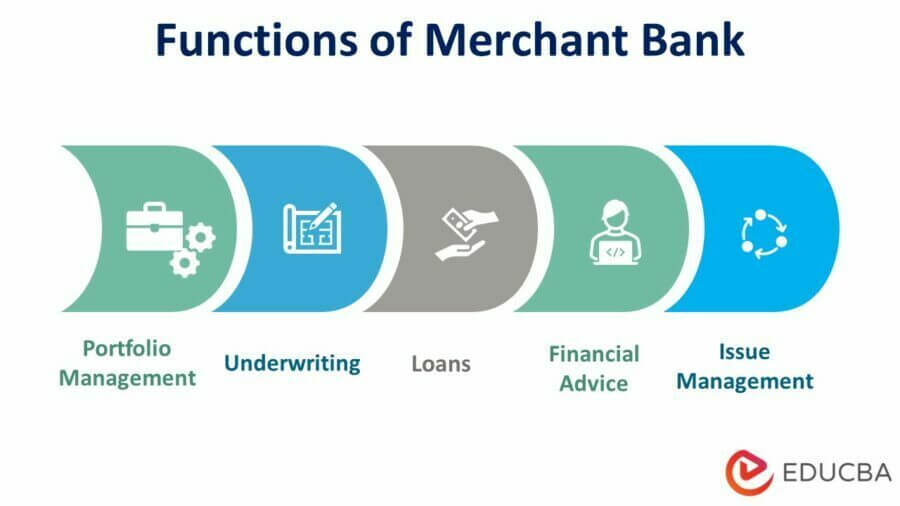 The merchant banks offer their services to medium-scale as well as small scale enterprises that are unable to raise funds from the initial public offering. They provide their services in the form of bridge financing, mezzanine financing, etc. They also help in private placements for corporations who look out for minimum disclosures on regulations and compliances.
They additionally provide advisory and corporate counseling. For project-based financing, they provide prompt project counseling which broadly covers the format of reports for the preparation of projects and how they acquire finance for the project.
Functions of Merchant Bank
The broad function of the merchant bank is to offer portfolio management services to corporate clients, medium-scale businesses, and institutional investors. To enhance the value of underlying instruments, they provide services for the management of financial assets. They facilitate buy and sell transactions of the financial claims to help their clients achieve their investment objectives.
They additionally help in the underwriting for large businesses that wish to acquire capital from the stock markets. They help in the preparation and filing of technical documentation and prospectus on the behalf of the business. They collaborate with the marketing department of the business so that they could market the stock offering of the business.
The bankers additionally help in the acquisition of loans from banks and financial institutions. They formulate financial plans and budgets on the behalf of the business and determine the total costs involved toward the acquisition of loans that are of bigger ticket size. They liaison with the lenders to acquire bridge finance for the business with the intent of meeting up towards the working capital requirements.
Importance of Merchant Bank
The bankers help small size and medium-sized businesses acquire finance for their businesses that are not big enough to raise finance from venture capitalists and investment bankers. They additionally play a critical role for these companies that cannot afford the high floatation costs of the capital markets and bigger investment banks.
Merchant bankers are always required for corporate counseling as well as for project counseling. They act as a bridge or an intermediary between the savers who wish to have high returns on their invested sums and users of the funds who want to use the funds for better utility purposes.
Merchant Bank vs Investment Bank
There is fundamentally little difference between an investment bank and a merchant bank. The merchant bank deals with medium-size businesses to small size businesses whereas the investment banks deal with large size companies. The bankers offer innovative lending solutions for the small size business as well as help them with equity and bridge financing as well as mezzanine financing.
The investment bankers on the other hand help business of large size to acquire finance and capital from the capital markets through the means of the initial public offering. They additionally provide big companies and clients with strategic advice on mergers and acquisitions with potential companies. They help in the capital restructuring of a large business.
The merchant bankers, on the other hand, focuses on corporate investing, investments in real estate, and activities of trade finance specifically for medium to small size business. Investment banks help companies issue debt securities with guarantees in the debt market and help them in raising additional funds. At times investment banks play the role of the depository as well which is normally not played by the investment bankers.
Advantages and Disadvantages
Below are the advantages and disadvantages listed:
Advantages
They provide regular counseling on projects as well as investments for small clients.
They help small business raise finance easily.
They play a critical role in reviving the weak and sick business.
They help businesses in the distribution of profits to the residual investors.
They help in cash management and leasing operations as well.
Disadvantages
At times, merchant bankers charge hefty fees and commissions for helping small business raise finance and this makes it an expensive affair for the business itself.
The business itself delays in shares allotment process and hence makes it difficult for the bankers to sell such stocks.
Due to compliance and restrictions imposed by the regulatory authority, merchant bankers may have to limit their scope of business.
They may have to separate their business activities and ensure that the activities do not break laws wherein they may have to float a new subsidiary.
Conclusion
Merchant bankers are individuals or entities who help in channeling funds from the market participants who have surplus funds to individuals who need finance for their business. They help small businesses to raise finance either through bridge financing or mezzanine financing.
Recommended Articles
This is a guide to Merchant Bank. Here we discuss what is a merchant bank, its function, objections, examples, and its importance with advantages and disadvantages. You can also go through our other related articles to learn more –