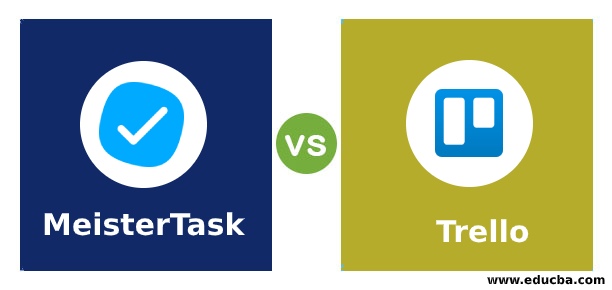 Difference Between MeisterTask vs Trello
The project management tool which is used to align and navigate the task in the correct direction to accomplish it. Such type of project management tool used for the effective purpose can be implemented in the company to achieve high productivity. The MeisterTask vs Trello are the adoptable management tools used within the team to follow agile methodologies to complete the task within the target period. Trello is defined as a collaboration tool that arranges the work into boards. Whereas the meistertask is implemented in Trello boards turns into attractive agile products that adapt the requirement and enhances the productivity of the team by making smart automation.
Head to Head Comparison Between MeisterTask vs Trello (Infographics)
Below are the top comparison between MeisterTask and Trello

Key Differences of MeisterTask vs Trello
Let us see the key difference between MeisterTask and Trello:
The major differences between meistertask and Trello are their features, adaptability, pricing, advantages, and limitations can be discussed below:
Definition
Meistertask makes the task too simple and user friendly. It can be highly customizable according to the requirements. So unless the user specifies it, there will not any update in the dashboards.
Trello is boundless for tracking the status of projects which have a specific deadline which should be accomplished in the correct orders. The flexibility of Trello makes it simple to implement and share the new dashboard with interested clients.
Usability
The usability of Trello is great and powerful which functions well among the team. The dashboard of both the tool is simple which has all its plugins on the left and other access controls aligned on right. The interaction of dropping and dragging in the card is made the inaccessible list and makes it compact and customizable. It includes deadlines, images, color-coding, checklist organized in a graphical bar which enables the user to track the status of tasks easily.
Alternatives
Many users tried many tools for effective project management, but MeisterTask stands alone and beat all of them with its advanced features. But some enterprises use other software for personal management of employees and when it comes to professional management than to prefer MeisterTask is the best option. Trello can be adaptable to a small-sized team according to the requirement of the team. It is used to do fundamental operations such as assigning tasks and to-do lists. It can be implemented in a minimum scalable project the type of workload is consistent.
Advantages
The learning curve of Meistertask is very low when compared to other software and it can manage multiple projects simultaneously by time consumption in the work status. Managing components of the list are very easy and it allows multiple interfaces. Here all the works are arranged in an organized manner according to the priorities. It has many versions that are suitable to enterprise and it offers personal use as it has many advanced features regarding daily activities. In Trello, the categorization of color is based on the cards which are used to represent the task, status of the project, and scheduled jobs. It used to denote overall performance and activities carried by the employee and segregate into columns and it moves according to the work status of the employee. It creates many attractive boards that have wide space to save the task done or to be done. It can be private schedules also. They can share the board with to rest of the team and assign cards to the concerned team member. The card is designed in the format to store files and format text.
Limitations
The attractive MeisterTask has some limitations such as the detailed description of the task which is tough to implement. The traditional projects find MeisterTask as superficial. The additional tools to accomplish the inefficiencies of Kanban where there will be a lack of team performance, time, and plan and it produce only limited analytical reports. The Trello has a swim lane that cannot exist and it is represented as a third-party tool, and then it's motile to be easily transported. The view and integration option provided many collapses in the process and it shows a lack of pop-up option in notifications. So the updates should be checked periodically as there will be no notification shown.
MeisterTask vs Trello Comparison table
Below is the primary comparison:
| | | |
| --- | --- | --- |
| Attributes | MeisterTask | Trello |
| Definition | It is a project management tool based on the web-based process, Kanban boards. It works on Software as a service. The MeisterTask is developed in the year 2015. | It is a web-based collaboration tool and used for project management. It follows software as a service and list are similar to Kanban. Trello is developed in the year 2011. |
| categories | They belong to project and task management. But MeisterTask has a unique categorization of product management and Kanban process. | Trello is similar to MeisterTask and belongs to project and task management but it mainly focuses on project collaboration and planning of the project. |
| Implementation | It can be implemented in both iOS and Android. It supports multiple users and has a reliable API. | Trello can be implemented in mobile technologies such as iOS and Android. It also supports multiple logins and has high-performance API's |
| Authentication | The authentication of MeisterTask has several steps such as password, Facebook sign-on, Microsoft sign-on policies, and Google sign-in and SAML. | Trello has a simple authentication process such as password login and Google sign-on policies. |
| Notifications | The notification in the MeisterTask tool can be received by Email, desktop push, and mobile push. | The notification in Trello can be received via mobile pop-up and email. |
| Pricing | MeisterTask has a higher price when compared to Trello. The user can choose his plan according to his requirement. It offers free trial services but charges maximum from pro services. | Trello has reasonable pricing when it comes to an annual payment. It offers free trials and pro services. |
| Significant features | It has an attractive dashboard with all advanced options like GANTT, project map, planning console. | Trello has important options like project budgeting, issue and critical path tracking, time, and expense sheets. |
| Application | It can be applied in all streams such as advertising, marketing, designing, management consultancy, and higher education. | It is mainly focused on small-scale business, information technology and services, computer software solutions, education management, and other internet services. |
Conclusion
Discussing all the pros and cons of these project management tools, Trello gained more attention among the market because of its constrained reliable features and gained top 5th rank in global survey whereas the MeisterTask stands in the 60th place.
Recommended Articles
This is a guide to MeisterTask vs Trello. Here we discuss the difference between MeisterTask vs Trello with key differences, and comparison table. You can also go through our other related articles to learn more –