Updated July 1, 2023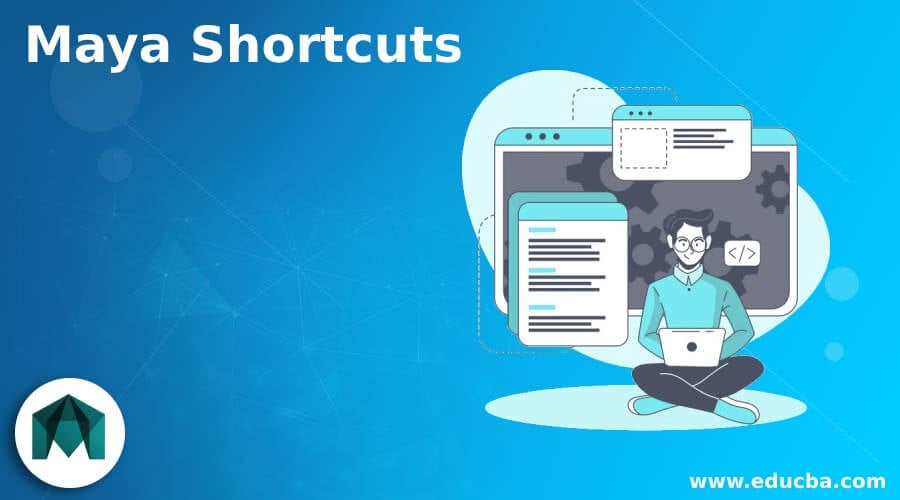 Introduction to Maya Shortcuts
The following Maya shortcuts keys provide an outline of the most commonly used functions in Maya. Autodesk Maya is a 3D computer-graphic app frequently abbreviated to Maya, initially produced by Alias Systems Corporation (formerly Alias) and presently published and created by Autodesk Inc., and operates with Windows, MacOS, and Linux. It is used to produce interactive 3D apps such as video matches, animated movies, TV shows, and graphic impacts.
Autodesk Maya is a 3D modeling program for 3D printing and animated graphics that can be used. Maya provides all necessary instruments for producing competent and qualitative outcomes, even for a beginner, whether you intend to model or change items.
Maya Keyboard Shortcut Keys
In almost everything you do in Maya, navigation orders are essential. Don't be in the pit of believing that it feels nice from all angles just because anything appears nice on the front or the back. You should always orbit your model and view it from every point of view.
Alt + RMB + Drag-Camera rotating (pack).
Alt + Scroll Wheel + LMB Drag + Zoom in / out. In fact, this does not "squeeze" the camera lens but rather pushes the camera in the room (like the stack) forward or inverse.
Alt + MMB + Drag–Track (Down, left / right screen).
Space Bar–Tap the space bar to change the layouts from four to single panels.
Handling Machines
2D Pan/Zoom
\ + Middle mouse button
Pan tool
\ + Right mouse button
Zoom tool
\
Turn 2D Pan on/off/ Zoom on
Animation Activity Operations
I
Add Keys Tool (for Graph Editor) (press and release)
S
Specify Key
Shift + E
Specify key for Rotate
Shift + R
Specify key for Scaling
Shift + W
Specify key for Translate
Alt + J
Feedback from Toggle Multicolor
Shift + S
With left-click keyframe marking menu
Settings for Display
0
Display configuration of a default value
1
Display configuration of rough performance
2
The setting of medium screen performance
3
Displaying smooth performance
4
Wireframe
5
Screen Shaded
6
Display of shadow and textures
7
Use every light
Objects display (Show, Hide)
Ctrl + H
Hide > Choice of hiding
Alt + H
Hide > Unselected Hide Objects
Shift + l
Isolate Select > Selected view (in the panel menus)
Ctrl + Shift + H
Show > Display  Last Hidden
Shift + H
Show > Display Choice
Edit Operations
Ctrl (or Cmd) + C
Copy
Ctrl (or Cmd) + X
Cut
Ctrl + D
Duplicate
Ctrl + Shift + D
Duplicate Special
Shift + D
Transform duplicate
Ctrl + G
Group
P
Parent
Ctrl (or Cmd) + V
Paste
Shift + Z
Redo
G
Repeat
Shift + G
Mouse place Repeat order
Z
Undo (also Ctrl+z/+z)
Shift + P
Unparent
Ctrl + R
Create file reference
Ctrl + Q
Exit
Ctrl + N
New Scene
Ctrl + O
Open Scene
Ctrl + S
Save Scene
Ctrl + Shift + S
Save Scene As
Hotbox Screen
Space
(When pressed down) Show the hotbox
Modeling Operations
2
Cage + soft show of polygon mesh
Ctrl + F10
Transform polygon to edges
Ctrl + F9
Transform polygon to vertices
Ctrl + F11
Transform polygon to faces
Ctrl + F12
Transform polygon to UVs
Page Down
Reduces Smooth Mesh Preview or Subdiv Proxy Division levels
1
Polygon texture (not brushing) default screen
~
The initial (template) and the smooth interface will be displayed
Page Up
Increases Smooth Mesh or Subdiv Proxy division levels
l
Curve locking/unlocking (pressing and holding)
3
Smooth show of polygon mesh
Movement of objects selected
Alt + Down
Move a pixel down
Alt + Left
Move a pixel left
Alt + Right
Move a pixel right
Alt + Up
Move a pixel up
Painting Operations
Ctrl + B
Edit paint configurations for Paint Effects model
Alt + F
Flood of the present value
Shift + B
Change the radius of the lower Brush (press and release)
M
Change continuous shift (Surfaces of sculpting and  Polygons Tool of sculpting)
N
change paint value
B
Change the radius of the upper brush (press and release)
O + Left mouse button
Menu Marking Poly Brush Tool
O + Middle mouse button
Marking bar Poly UV Tool
/
Change to choose the color style (press and release)
Alt + R
Reflecting Toggle on or off
Alt + C
Switch on or off-colour feedback
Alt + A
Turn on or off the wireframe
U
With left-click on the Artisan Paint Operation menu
*Walk to pick *
* On the basis of choice, the arrow keys allow you to move up the hierarchy or wander around the parts of the item (chosen element, including vertices, edge loops, border boxes).*
Down
Go to the present
Left
Go to the bottom
Right
Go straight now
U
Get up to date
Playback Control
Alt+Shift + V
Take Min Frame
.
Just go to the next key.
,
Go to the Previous key.
Alt +,
Move one-shot backward
Alt +.
Advance one setting in time
Alt + V
Switch on or off playback
K + Middle mouse button
Slider setup for Virtual Time (press and hold and scrub timeline)
Rendering
Ctrl + Left
Render next picture perspective
Ctrl + Right
The previous picture render the vision
Selecting Menus
F2
Display Menu of Animation
F5
Display Menu of Dynamics
1.      F4
Display Menu of Modeling
F3
Display Menu of Polygons
F6
Display Menu of Rendering
Ctrl + M
Display/hide Main Menu
Shift + M
Panel Menu bar Show / Hide
Ctrl + Shift + M
Panel Toolbar Show / Hide
Objects and Components Selection
F10
Edge
F11
Face
>
Grow region of polygon choice
F8
Component / Object (Component Editing and Object Switching).
Ctrl + I
Choose the next medium item
<
Polygon Shrink Region of Selection
F12
UV
F9
Vertex
Alt + F9
Vertex Face
Catch-up Operations
Shift + J
Relative Snapping Move, Rotate Tool(Press and Release)
J
Moving, rotating, Scaling, snapping tool (press and release)
C
Curves in a snap (press and release)
X
Grids in a snap (press and release)
V
Points in a snap (press and release)
Conclusion
Users describe a digital workspace that enables a task to execute and edit content. In a number of formats, scenes can be saved with the default. Maya shows the architecture of a node graph. Each node has its own characteristics and customization, and the Scene element is node-based. The graphic depiction of a picture is therefore completely focused on a network of interconnecting nodes, depending on the data of each other. A dependence and a directed acyclic graph are available for ease of watching these networks.
Recommended Articles
This has been a guide to the Maya Shortcuts. Here we discuss some of the different types of Maya shortcuts keys. You can also go through our other suggested articles to learn more –