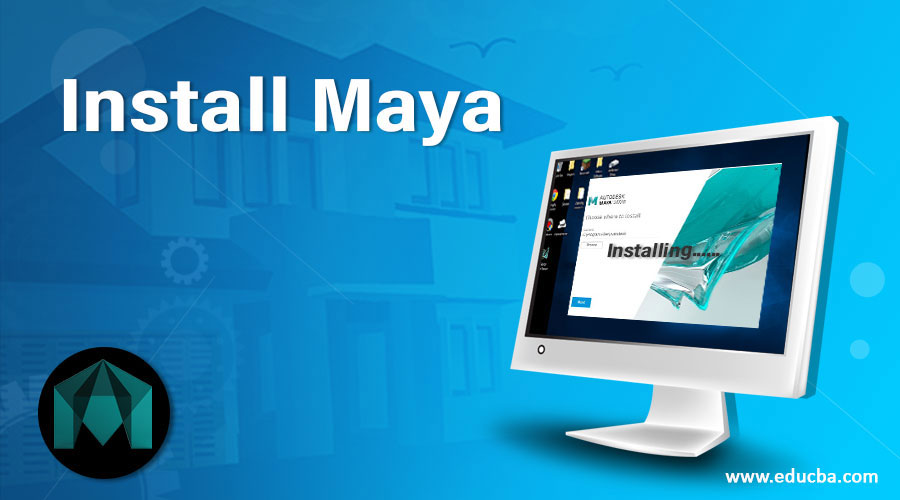 What is Autodesk Maya?
Autodesk Maya, commonly shortened to just Maya, is a 3D computer graphics application that runs on Windows, macOS, and Linux, originally developed by Alias Systems Corporation (formerly Alias|Wavefront) and currently owned and developed by Autodesk. It is used to create assets for interactive 3D applications (including video games), animated films, TV series, and visual effects.
Pre-requisites to Install Maya
1. The installation of Maya can be started by first downloading the setup from their website. Once you download the required version of the product according to the operating system and language, you will get the serial key and product key required for installation.
2. An email will be sent to your registered AutoDesk account id with the required product and license details.
Before installation, also make sure you meet the minimum system requirement as follows.
CPU: Multi-core Interior AMD processor (64 bit).
Graphics Card: Any of the Maya certified or Maya test cards.
RAM: 8 GB of RAM (16 GB or more recommended).
Hard Disk: 4 GB of free disk space to install.
Pointing Device: Three-button mouse.
Please check if there is any previous reboot from any other application install that is not pending. It is pending, then restart the computer.
Types of Installation
Below are the four types of installation:
Single Installation: A standalone license is required for this type of installation, and we will look at this type in this article.
Single Installation Network: The license server model is required for this type of installation to install on multiple computers within a network. In-Network license server model, there is again a single, distributed and redundant license server depending on the number of servers used.
Virtual Installation: Virtual installation allow to use of Maya in the virtual environment depending upon the subscription with single-user access, multi-user access, and network server
Trial Version: The trial version allows us to run the full software version but has a limited-term license, and it is usable for a set number of days. You can have a trial subscription or trial software. For students and educators, free software is available at the Education Community site.
How to Install Maya?
Below we will learn about how to install Maya in a step by step manner: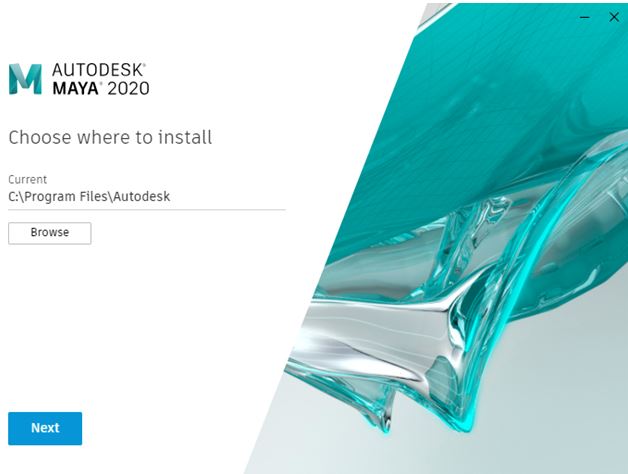 Step 1: Start with the downloaded installer. After preparing for the install dialog, you will get the above "choose where to install" dialog. Here you can set the installation path, which is defaulted to "C:\Program Files\Autodesk". Suppose you have any previous version installed like Maya 2019, then there is no need to uninstall it as you can run multiple versions of Maya side by side. Also, after installation, you have the option to carry forward the configuration and settings of the previous version.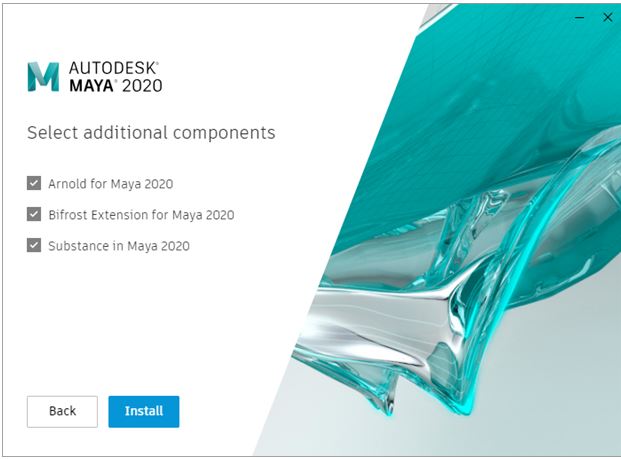 Step 2: Next, you can select additional components, which are Arnold renderer, Bifrost Extension, and substance.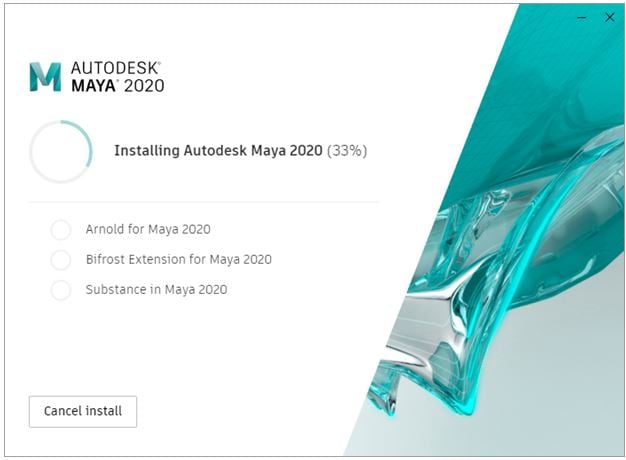 Step 3: After clicking install, the application will be installed along with selected components. It will take 10-20 minutes to install, depending on the system and network speed.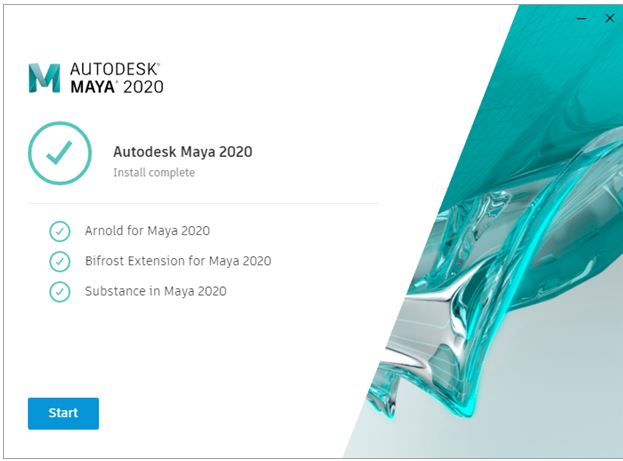 Step 4: After the installation is successful, click start, where there will be an option to select a single-user or multi-user. Depending on the license purchased, you can select accordingly.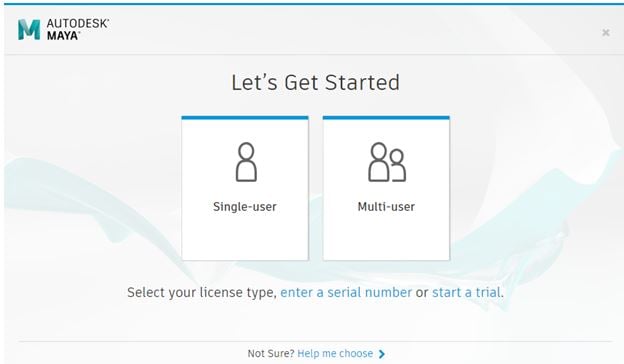 Step 5: Then, you will be required to login with your Autodesk account. So, enter your email id and in the next screen password.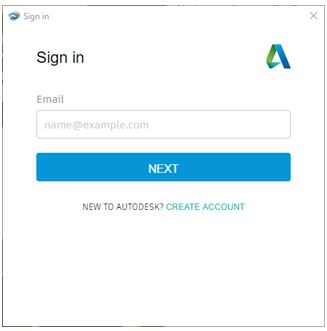 Step 6: At this point, if you have not purchased a license, you could opt to start a trial which will launch the application, but you can use it for 30 days. If you have purchased the license, you can click "Already have a license?"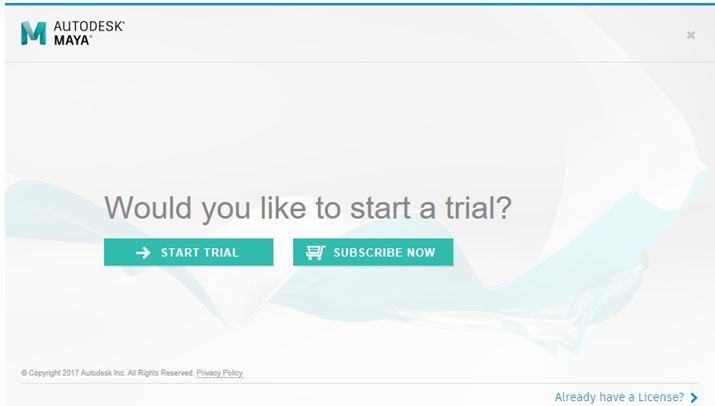 Step 7: Next, you will be greeted with an Autodesk privacy statement that stated its term and condition and how your personal information is used.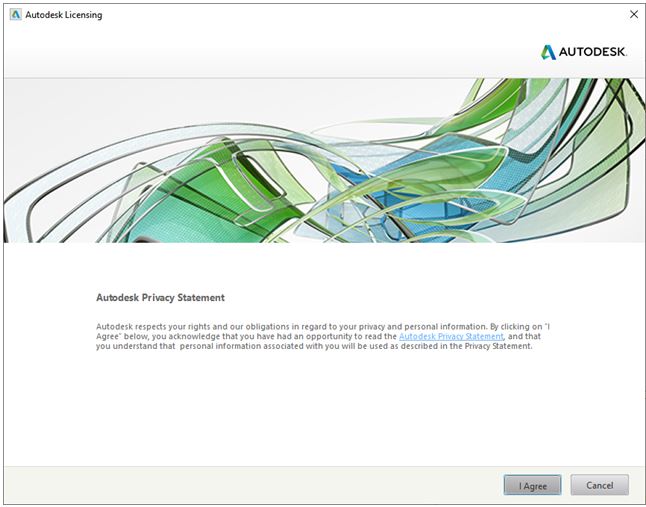 Step 8: After accepting the Autodesk privacy policy, you have 2 options:
Run: In this case, you can use Maya for 30 days, which is the same as the trial version.
Activate: In this case, you will be able to use the full version of the software till your license expires.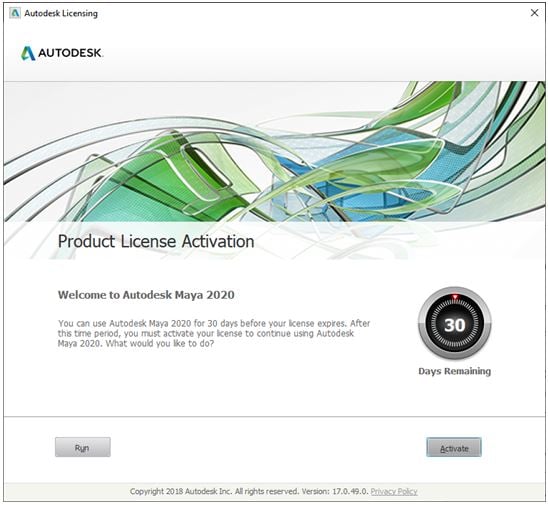 Step 9: Now, you will be prompted to add the serial number and a product key when you activate.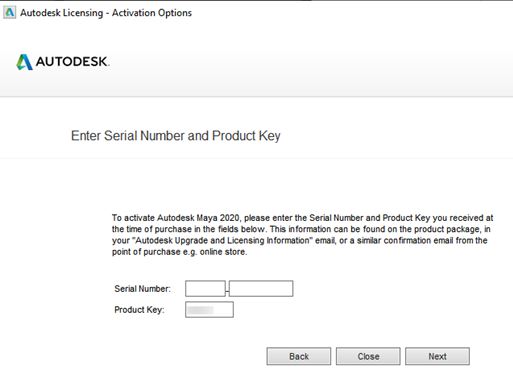 Step 10: Following the format in which you will receive an email from Autodesk in which there will be a product key and serial number.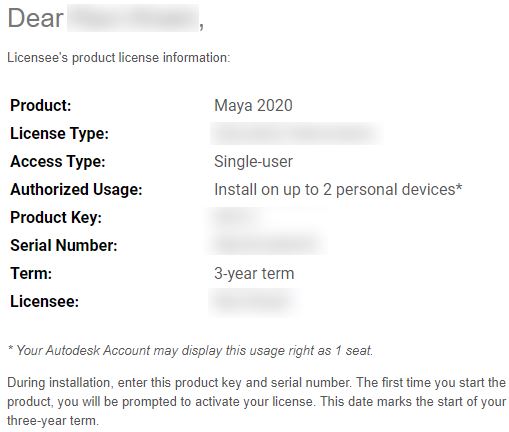 Step 11: After adding the correct information, your activation will be successful.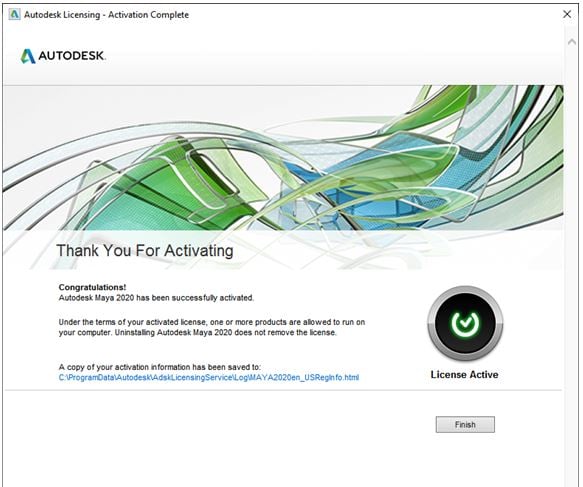 Step 12: After successful activation, a desktop icon will be created, "Maya 2020". Double-clicking it will open the application with the following welcome screen.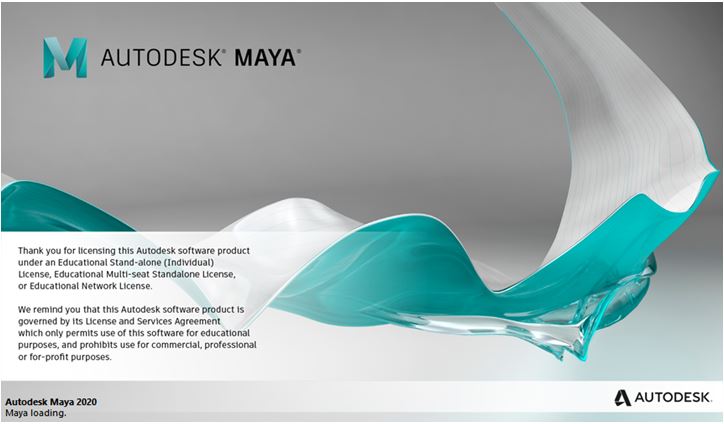 Step 13: Finally, you will get the main interface of your application. Congratulation, you have successfully installed Autodesk Maya 2020.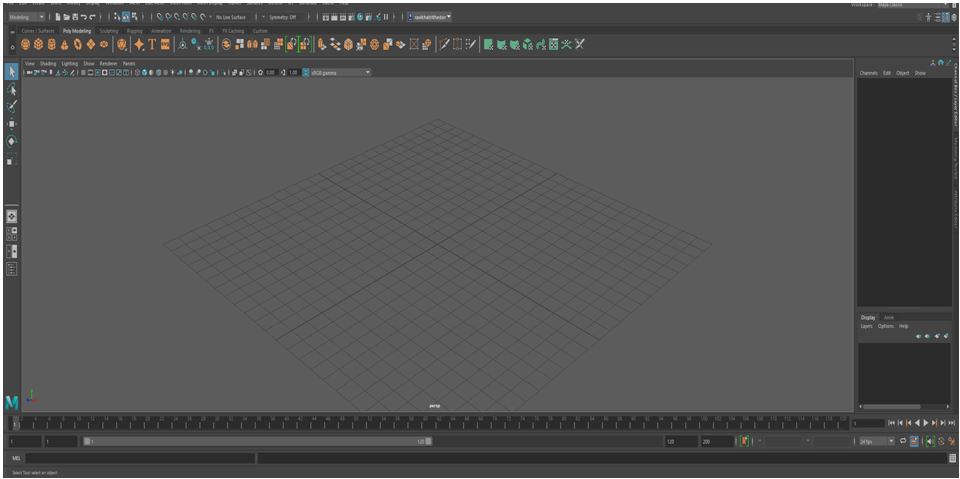 Troubleshoot Installation Problems
AutoCAD for Mac and Mac OS X v10.13.x (High Sierra) compatibility.
Error: ".NET 4.5 is not installed" when attempting to install Autodesk 2016/2015 or older products.
Error 1603 during the installation of Autodesk software.
Error 1606 when installing an Autodesk product.
How to remove and reinstall Microsoft Visual C++ Runtime Libraries.
Revit: Templates and families not installed.
Mac Install SSO error in 2016 or newer program installation.
Communication Failure message during download and installation.
Error: "The system cannot open the device or file specified".
Error: "Product download consists of multiple files…".
Error: Installer encountered an error and could not start the NetSession client.
If any of the above errors occur during installation following are some troubleshooting guidelines:
Check you have a compatible Mac OS X version installed.
Download and install required .Net version from Microsoft site.
Perform a clean uninstall to remove any residual files and folder. And if the previous application fails to uninstall, try using the Microsoft Fixit tool.
Troubleshoot Activation Problems
No Serial Number Needed – Just Sign In (Autodesk ID Licensing).
Activation wizard display error.
Error: "Invalid serial number".
Error 10: Activation Limit Reached.
Unable to activate products due to Error 10.
Register Today (Product Activation Wizard) displays only two radio buttons.
Serial number errors during Activation.
If any of the above errors occur during installation, the following are some troubleshooting guidelines. Enable HTTP (port 80) and https (port 443) access to the following domains:
*.virtualearth.net
*.cloudfront.net
*.google-analytics.com
*.akamaiedge.net
*.amazonaws.com
*.getsatisfaction.com
*.autocadws.com
*.akamaintechnologies.com
*.msecnd.net
*.microsoft.com
*.google.com
*.edgekey.net
*.newrelic.com
*.velasystems.com
*.nr-data.net
*.autodesk.com
There might be a typo in the serial number, or serial number is no longer valid, or else the serial number is not valid for this particular product as Autodesk have multiple products, or you have exceeded the activation limit.
Conclusion – Install Maya
So, to summarize, we have installed Autodesk Maya 2020 along with system requirements, downloading and activation procedure and made everything up and running. So Maya is ready to create some amazing artwork, models and animations.
Recommended Articles
This is a guide to Install Maya. Here we discuss the Downloading and Pre-requisites of Maya and the steps to install the latest version of Maya 2020. You can also go through our other related articles to learn more –