Updated April 18, 2023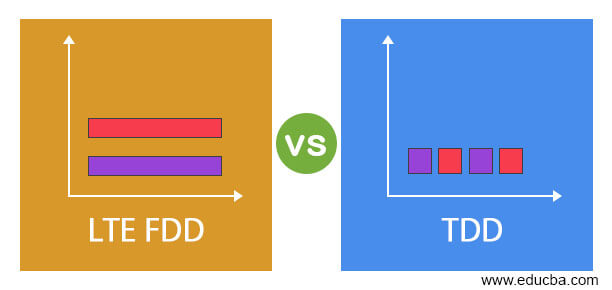 Difference Between LTE FDD vs TDD
The following article provides an outline for LTE FDD vs TDD. LTE is a high-speed fourth-generation 4G communication standard from third-generation partnership project 3gpp. There are two popular ways or standards for LTE 4G communications, and they are LTE FDD and LTE TDD, which basically stands for LTE Frequency Division Duplexing and LTE Time Division Duplexing. Mobile operators started deploying these 4G LTE standards that provide great speed access to the internet and better multimedia services such as voice and video. LTE, when introduced, it was designed to support the paired spectrum that came in from the migration from 3G networks for FDD and the unpaired spectrum for TDD that evolved into TD- SCDMA.
Head to Head Comparison Between LTE FDD vs TDD (Infographics)
Below are the top 8 differences between LTE FDD vs TDD:

Key Difference Between LTE FDD vs TDD
Let us discuss some of the major key differences between LTE FDD vs TDD:
The two standards FDD and TDD, supported by the LTE 4G technology, are responsible for the many advantages of 4G LTE. But there are many key differences between these standards, and below are some of the prominent ones.
FDD uses paired spectrum for its operations that evolved from the migration of 3G networks, whereas TDD uses unpaired spectrum that later evolved as TD-SCDMA for its operation. The paired spectrum is sometimes referred to as '2X15MHz', which implies that 15MHz in the lower band and 15MHz in the upper band, and here the user will be communicating with each other in two different frequencies, and hence we say that the frequencies are paired. In contrast to this, the unpaired spectrum uses a single brand for its uplink and downlink communication; in other words, two users will be communicating using single frequencies, and they are termed as unpaired.
Paired spectrum is not required for TDD- LTE because the same channel has been dedicated for the transmission and reception services. But in the FD-LTE, we require paired spectrum with multiple frequencies and including the guard band.
For FDD-LTE, we need an extra diplexer to isolate the transmissions and reception signals and form a paired spectrum. Thus hardware vise FDD- LTE can be complex and as well as costly. For TDD- LTE, we do not require a diplexer as a dedicated single band will be used for both transmission and reception of the services.
With TDD-LTE, we can dynamically change the uplink and downlink capacity according to the transmission and reception needs of the communication. For FDD-LTE, the regulatory authority will be deciding on the spectrum allocation, and mostly it will be difficult to attain the dynamic change.
In TDD-LTE communication, there is a guard period that effectively maintains the uplink and downlink separation requirements, and this should be considered in the capacity as it directly impacts. In FDD-LTE, we have a guard band to fulfill the above requirement, and this will not effect the capacity of transmission and reception capacity at all.
TDD-LTE is prone to cross slot interference which is basically cell to cell interference, or the UE device – UE device interference. This interference will be having adverse effects on its uplink or downlink connection and hampering the overall quality. This is not existing in FDD LTE as the transmission and reception spectrum are synchronized.
LTE FDD vs TDD Comparison Table
Let's discuss the top comparison between LTE FDD vs TDD:
Feature
LTE

 

FDD

TDD

Communication Channels

 

FDD or Frequency Division Duplexing requires two separate communication channels with each for transmission and reception, respectively. Thus two separate bands are required for this purpose. A guard band is required to separate the two channels or bands. These two channels for uplink and downlink communication need to be symmetrical for stable communication.
TDD or Time Division Duplexing uses a single frequency band for both its transit and reception services. The data that which can be either voice, video, or network data is in serial binary format. TDD can use alternate transmission and reception of the station data over time. This time slots for the uplink and downlink communication can be of variable length.
Guard Band or Guard Period
In FDD LTE guard band is required to isolate the uplink and downlink communication, and here, the larger guard band does not impact the capacity.
For preventing uplink and downlink spectrum from clashes, we need a guard period. If this period is larger, then it can impact the capacity, and if it is too shorter, then it possess the risk of a clash.
Continuous / Discountionous Transmission
FDD LTE supports only continuous transmission.
In TDD LTE, the discontinuous transmission may be required for both uplink and downlink transmissions, and because of this, there can be a degraded in the performance of the RF amplifier.
Uplink and Downlink Symmetry
In FDD LTE, the uplink and downlink capacity is determined by the cap established by the regulating authority, and thus, making dynamic changes is not possible to match the capacity requirements. To change the capacity, the operator may require to shed some expenses to the regulatory to allocate the frequency.
In TDD LTE, we can dynamically change the uplink and downlink capacity to match the requirement or the demand.
Paired Spectrum
FDD LTE requires paired spectrum with sufficient separation between uplink and downlink.
TDD LTE does not require paired spectrum as both uplink and downlink communication happens through the same channel.
Hardware Cost
The diplexer is needed for the filtration of both uplink and downlink communication channels, and hence the hardware cost increases.
In TDD LTE, the cost is marginally lower as the diplexer is not required for the isolation of uplink and downlink.
Cross Slot Interference
Cross Slot Interference is not applicable for FDD LTE.
In TDD LTE, the base station is required to be synchronized with the uplink and downlink communications. If the neighboring base station uses a different frequency for uplink and downlink and it happens that they share the same channel, then there is a high possibility of cross slot interference, and this can hamper the call quality over UE's.
Applications

Terrestrial Microwave.
Terrestrial Millimeter.
Most of the cell phone communication.

Wifi.
Bluetooth.
5GHz P2P and P2MP radio communication.
Conclusion
Thus in this article, we have seen in brief about the duplexing techniques like FDD and TDD that will be used for LTE communication and their key differences along with the comparison. Both these techniques have their own advantages and disadvantages, and their application is purely dependent on the use case. FDD is dominant for mobile phone communication where as TDD can be seen in Wi-Fi communication.
Recommended Articles
This is a guide to LTE FDD vs TDD. Here we discuss the LTE FDD vs TDD key differences with infographics and comparison table, respectively. You may also have a look at the following articles to learn more –