Updated March 8, 2023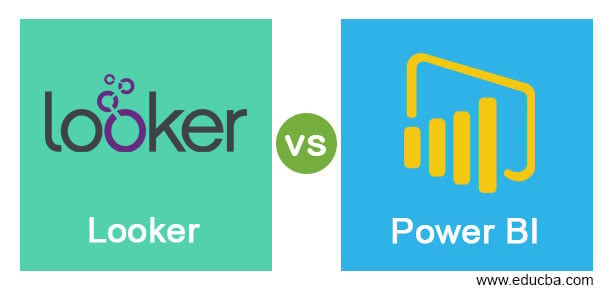 Difference between Looker vs Power BI
The following article provides an outline for Looker vs Power BI. The Looker is a data-discovery application means it is a platform for data that provide data exploration functionalities for large as well as small businesses, it allows anyone to find, navigate, and understand their data, for exploring data it has an analytics interface and for curating data experiences a reusable development paradigm is used, also it has an extensible set of API hence data can exist in other systems, whereas, the Power BI is a suite of business analytics tools which is designed to help businesses systematically, it converts the data into interactive visualization and the tool can share dashboard-based insight across all devices.
Head to Head Comparison Between Looker vs Power BI (Infographics)
Below are the top 10 differences between Looker vs Power BI:

Key Difference between Looker vs Power BI
Let us discuss some of the major key differences between Looker vs Power BI:
Database connectivity: The looker is a business intelligence tool in which it is needful to connect a number of data sources and it has its own powerful data model which is the best feature provided, it uses a LookML language which is used to write SQL queries also this language is looker's own language, whereas, power business intelligence tool is also a tool which supports a lot of data sources, data sources having flat files, databases which are SQL based, and OData, SAP, BW, SAP HANA, Azure cloud platform, etc., in this way they differ from each other.
Data volume: The looker can add, filter, and restrict data for viewing, it might have limitations about resulting dates, customer, location, and so on but there is no need to add dimension or no need to measure our result, it can explore a maximum of 5000 rows and the queries of it can be designed through the explore page, looker is very easy to use and operate as there is no complicated coding, we can merge data from charts and tables, whereas, power BI we can handle from the database directly it can handle a large amount of data by analyzing data that means data to be analyzed first at power BI, also it store and collect data on our premise and access it at anywhere as it required, it can handle maximum 10 GB data per user.
Data platform: The architecture of looker is designed to provide scalability and performance of cloud databases which allow selecting cloud provider as per our need, as per the future purpose it gives data safety because it has the multi-cloud capability, we can easily select the location of deploying looker as per the user's point of view so that user can not be impacted through it, whereas, the customers of Power BI has restriction of taking advantage of the services which are available on the cloud public environment while deploying in Microsoft azure, that will not an immediate issue for the organization it may give complexity in the future when other cloud environments are more attractive.
Visualization: The looker has handy visualization in which while creating visualization it has special data scheme where we can drag and drop the elements and we can assign the roles like administrator, user, developer, and so on, a highly technical visualization can also be prepared by importing or exporting the outside dashboard as it has mapping feature, looker allows to connect data objects with the workflow of the third party to use their functionality with an external application, on the other hand, power business intelligence having very interactive and impressive visualization to share with large viewers as it provides combine the live view of our organization and its performance, it provides an extensive library about interactive visualization, simple report creation, and fast publication, it has free-form canvas for desktop to drag-and-drop the navigations.
Comparison Table of Looker vs Power BI
Let's discuss the top comparisons between Looker vs Power BI:
| | | |
| --- | --- | --- |
| Sr. No | Looker | Power BI |
| 1. | It is a business intelligence and data visualization tool which helps to create real-time reports and the dashboard. | Whereas it is also a business intelligence tool with a simple interface and interactive visualizations and the capabilities of BI allow the user to create their own reports and dashboards. |
| 2. | It is a web-based application so it eliminates the desktop client. | Whereas, it is web-based as well as supported to iPhone and Android applications. |
| 3. | It can connect to a number of data sources and it has its own language that is LookML, which is a better way to write SQL and define queries. | Whereas, it supports flat files, SQL database, Odata, SAP BW, Azure, Cloud platform, Blank query, etc., which are the data sources in Power BI. |
| 4. | The queries in Looker have a maximum limit of 5,000 rows which are created via exploring the page. | Whereas it can handle a maximum of 10 GB of data per user, and a large set of data can access from the database directly. |
| 5. | The API of Looker is integrating the data with many applications like Google docs and Excel. | On the other hand, it integrates with Microsoft tools. |
| 6. | It offers pre-built code, it can be embedded into outside systems more easily. | Whereas, it has API which gives access to the sales force and Google analytics. |
| 7. | LookML language is used to describe the dimensions, calculations, and aggregations. | Whereas, it has a natural language query tool where we can ask questions and will get the answers. |
| 8. | It is user-friendly and easy to understand and operates. | Whereas it can able to import data from multiple sources and is good data analytics and visualization software. |
| 9. | It has an AB testing and activity tracker. | Whereas, it does not have an AB testing and activity tracker. |
| 10. | Its cost is not available publicly as they offer customized pricing depending on our business. | On the other hand, it has cost $4995 USD/month, and also it has an annual subscription. |
Conclusion
In this article, we conclude that Power BI is more suited for stakeholders to build visualization as it has a wide range of features also user familiar with Microsoft which an added advantage for it, on the other hand, looker is used to storing all the business logic data with a lot of capabilities.
Recommended Articles
This is a guide to Looker vs Power BI. Here we discuss key differences with infographics and comparison table respectively. You may also have a look at the following articles to learn more –