Introduction
Location-Based Services (LBS) are a set of technologies and applications that utilize geographic information to offer users location-specific content, services, and experiences. LBS relies on various sources, including GPS, Wi-Fi, and cellular networks, to pinpoint a user's geographical coordinates. This information enables tailored services like navigation, local recommendations, and location-based advertising. LBS have become integral in modern digital experiences, providing personalized and context-aware solutions, from mapping and social media check-ins to real-time traffic updates. These services bridge the digital and physical worlds, enhancing convenience and relevance for users across multiple industries.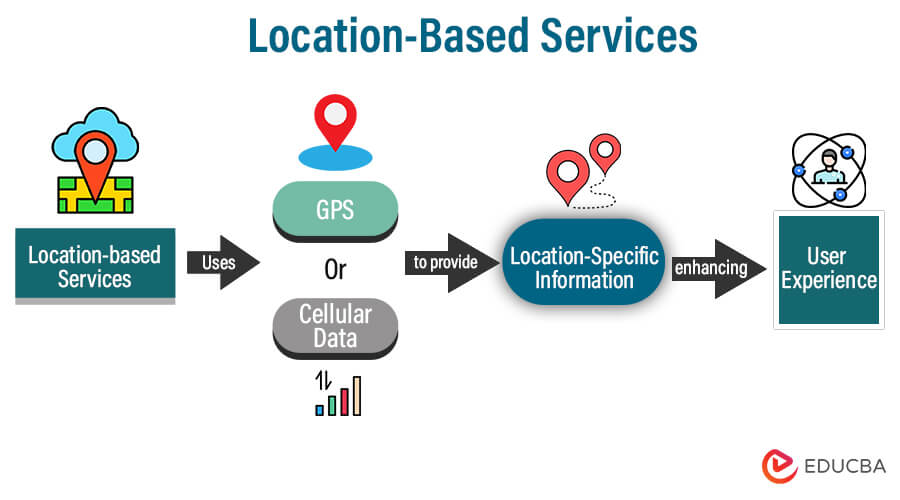 Table of Contents
How Location-Based Services Work?
Location-Based Services (LBS) utilize technologies to determine a user's geographic location. Here's how LBS works:
1. Data Sources: LBS uses various sources to obtain location data. The primary sources include:
Global Positioning System (GPS): GPS satellites triangulate a user's position, providing highly accurate latitude and longitude coordinates.
Wi-Fi Networks: Devices can determine their location based on nearby Wi-Fi access points, utilizing a database of known Wi-Fi network locations.
Cellular Networks: Cell towers can triangulate a user's position based on signal strength and proximity to nearby towers.
Bluetooth and Beacons: Bluetooth technology can be used for proximity-based LBS, often indoors.
2. Data Processing: Once location data is obtained from one or more sources, it is processed to determine the user's precise location. This may involve complex algorithms that consider signal strength, time of arrival, and other factors.
3. User Consent: Users typically grant permission for apps and services to access their location data, ensuring privacy and data protection.
4. Geolocation Services: LBS applications and platforms use geolocation services in the device's operating system to access location data. These services provide a standardized interface for accessing and managing location information.
5. Delivery of Location-Based Content: Based on the user's location, LBS can deliver a wide range of content and services, such as:
Maps and Navigation: Providing directions and real-time traffic updates.
Local Recommendations: Suggesting nearby restaurants, attractions, or businesses.
Geotagging: Adding location metadata to photos, posts, and check-ins on social media.
Location-Based Advertising: Displaying ads relevant to the user's current location.
Emergency Services: Automatically sharing location information during emergency calls.
Location-Based Gaming: Enhancing mobile gaming experiences by incorporating real-world locations.
6. Continuous Updates: LBS often provide real-time location updates to ensure accuracy and relevance, making them useful for dynamic situations like navigation and ride-sharing.
Location-based services are essential for modern mobile and web applications. They enable a wide range of location-specific features, enhancing the user experience.
Types of Location-Based Services
Location-based services (LBS) utilize geographic information to offer location-specific features and content. Here are some common types of Location-Based Services:
1. Navigation and Maps:
GPS navigation applications such as Google Maps and Waze offer real-time directions, traffic updates, and location-based information for drivers and pedestrians.
Indoor maps guide users within large venues like shopping malls and airports.
2. Geotagging and Social Media:
Images, posts, and updates on social media sites may include location information (geotags) such as Instagram, Facebook and Twitter.
Geotagged content allows users to share their experiences and discover local events and trends.
3. Location-Based Advertising:
Advertisers use a user's location to deliver targeted ads, promotions, and discounts for nearby businesses and services.
Geofencing is a technique that triggers ads when a user enters a predefined geographical area.
4. Emergency Services:
LBS enables emergency services to pinpoint the location of 911 calls, allowing faster and more accurate response times.
Services such as Automatic Crash Notification (ACN) transmit accident locations to emergency responders.
5. Location-Based Gaming:
Augmented reality (AR) games like Pokémon GO and Ingress overlay game elements on real-world locations, encouraging players to explore and interact with their surroundings.
Geocaching is a recreational pursuit where participants utilize GPS coordinates to locate concealed containers or "caches.
6. Location-Based Dating and Networking:
Apps like Tinder and Bumble use location data to link users with possible matches in their area.
Professional networking platforms like LinkedIn offer location-based features to help users discover job opportunities and connect with nearby professionals.
7. Location-Based Augmented Reality (AR):
AR apps like Yelp's Monocle feature provide real-time information about businesses, restaurants, and landmarks when users point their smartphone cameras at them.
AR navigation apps overlay directional cues and information on the live view of the user's surroundings.
8. Local Search and Recommendations:
Local search engines like Yelp and TripAdvisor offer reviews, ratings, and recommendations for nearby restaurants, hotels, and services.
Location-based recommendation engines suggest products, events, or content based on a user's location and preferences.
9. Location Tracking and Fleet Management:
Businesses use LBS for tracking assets, vehicles, and employees. This is essential for logistics, delivery services, and field service management.
Geofencing and route optimization are common features for businesses in this category.
10. Health and Fitness:
Fitness apps and wearables use LBS for tracking and mapping outdoor workouts like running and cycling.
LBS can also provide location-specific health information, such as nearby healthcare facilities and emergency services.
Applications of Location-Based Services
Location-based services (LBS) offer various applications in various sectors, improving user experiences and corporate processes. Here are some key applications:
E-commerce and Retail: LBS offers personalized promotions, in-store navigation, and location-based discounts to shoppers, driving foot traffic and sales.
Travel and Tourism: Tourists benefit from LBS for navigation, local recommendations, and the discovery of nearby attractions and services.
Transportation and Ride-Sharing: LBS power ride-sharing and taxi services, offering real-time tracking, pick-up/drop-off location details, and fare estimation.
Healthcare and Fitness: LBS enables fitness apps to track outdoor workouts and assist in finding nearby healthcare facilities or pharmacies.
Real Estate and Property Services: Real estate platforms use LBS to display available properties in the user's desired location, helping buyers and renters.
Emergency Services: LBS assists in locating emergency callers, ensuring rapid response and accurate assistance during crises.
Geotargeted Advertising: Businesses target consumers with location-specific ads, increasing engagement and driving foot traffic.
Agriculture: Precision agriculture relies on LBS for optimizing crop management, resource allocation, and monitoring.
Supply Chain and Logistics: LBS improves route optimization, asset tracking, and inventory management, reducing costs and enhancing efficiency.
Smart Cities: LBS play a crucial role in managing traffic, public transportation, and urban services, leading to more sustainable and efficient cities.
Challenges and Concerns
The utilization of Location-Based Services (LBS) presents a range of challenges and issues.
Privacy and Data Security: LBS often require access to sensitive location data, raising privacy concerns if mishandled or exploited by third parties.
Battery Drain: Continuous use of GPS and location services can significantly drain device batteries, affecting user experience and convenience.
Data Accuracy and Reliability: Location data can sometimes be inaccurate, especially in urban canyons or remote areas, potentially leading to misinformation.
Over-Reliance on Location Data: Over-dependence on LBS can limit user engagement in the physical world and affect decision-making skills.
Regulatory and Legal Considerations: Compliance with location data regulations and privacy laws, such as GDPR, is crucial and can be complex for businesses.
User Consent and Control: Users need to be informed and have control over the collection and use of their location data, requiring transparent consent mechanisms.
Costs and Infrastructure: Building and keeping up with LBS infrastructure can be expensive for startups and small businesses.
Interoperability and Standards: The need for standardized formats and protocols can hinder collaboration and integration among different LBS providers.
Security Risks: LBS may be susceptible to hacking or spoofing, posing potential security risks for users and organizations.
Social and Ethical Concerns: Using LBS can raise ethical questions related to surveillance, location tracking, and potential discrimination in advertising.
Innovations in Location-Based Services
Innovations in Location-Based Services (LBS) are constantly expanding, providing greater opportunities and impact for these technologies. Here are some noteworthy innovations:
Augmented Reality (AR) Integration: AR superimposes digital information onto the user's physical surroundings, enriching LBS with features such as interactive city tours, visual navigation, and virtual store displays.
Indoor Positioning Systems (IPS): IPS technologies enable precise location tracking within indoor spaces, making LBS useful for navigation in malls, airports, and large buildings.
IoT Integration with LBS: Combining LBS with the Internet of Things (IoT) allows for real-time tracking and management of connected devices and assets, from smart appliances to vehicle fleets.
Proximity Marketing: Businesses use Bluetooth beacons to send targeted messages and promotions to nearby customers' smartphones, driving engagement and sales.
Location Analytics: Advanced data analytics provide valuable insights into user behavior and movement patterns, helping businesses optimize their operations and marketing strategies.
Context-Aware LBS: Systems that understand user context (e.g., weather, time of day, user preferences) deliver even more personalized and relevant location-based content.
Blockchain for Location Data: Blockchain technology can enhance the security and transparency of location data, reducing concerns about data privacy and misuse.
Hyper-Precise Location Services: LBS providers are continually improving the accuracy of location data, offering more precise location information for various applications.
Voice-Based LBS: Integration with voice assistants like Siri, Alexa, and Google Assistant enables users to interact with location-based services via natural language voice commands.
5G Technology: The rollout of 5G networks enhances the speed and reliability of LBS, enabling more real-time applications and higher data transfer rates.
Best Practices for Businesses and Developers
The following are best practices for businesses and developers when deploying Location-Based Services (LBS):
Transparency and User Consent: Communicate data usage, seek user consent, and provide easy opt-out options.
Data Security: Safeguard location data through encryption, access controls, and compliance with data protection regulations.
Data Minimization: Collect only the necessary location data and retain it for the shortest time needed.
Privacy by Design: Incorporate privacy features from the outset of LBS development, minimizing risks to user data.
Personalization: Use location data to provide users with genuinely valuable and relevant content or services.
Clear Value Proposition: Ensure LBS delivers clear benefits to users, explaining why they should share their location data.
Continuous Monitoring: Regularly audit and review data practices to ensure they remain compliant and secure.
Consistency: Ensure consistent user experiences across platforms and devices, maintaining data accuracy.
Responsible Advertising: Avoid overloading users with intrusive or irrelevant ads and ensure compliance with advertising standards.
Feedback and Improvement: Listen to user feedback, address concerns, and iteratively improve LBS based on user needs and expectations.
Businesses and developers can maximize the benefits of location-based technology while maintaining user privacy through adherence to best practices.
Conclusion
Location-based services (LBS) have evolved into an integral part of the digital landscape, enriching user experiences across numerous industries. As LBS technology advances and integrates with emerging trends like 5G, AI, and IoT, the potential for personalized, context-aware interactions is bound to grow. However, balancing user privacy and innovative functionality remains a priority. By respecting best practices and fostering responsible use, businesses and developers can harness the power of LBS, creating more convenient, efficient, and secure solutions while maintaining users' trust in this dynamic and ever-evolving field.
FAQ
Q1. Why is user consent essential in LBS?
Answer: User consent is essential to ensure control over location data and maintain compliance with regulations while respecting privacy.
Q2. Are LBS secure, and how are they protected against misuse?
Answer: LBS can be secure through encryption, access control, and data protection compliance. Privacy safeguards are necessary to prevent misuse.
Q3. What are the benefits of Location-Based Services?
Answer: The benefits of LBS include:
Personalized user experiences.
Improved customer engagement.
Enhanced safety and security.
Increased business efficiency and cost savings.
Q4. How can developers build LBS with user trust in mind?
Answer: Developers must prioritize privacy, offer clear data explanations, and obtain explicit user consent when delivering valuable LBS experiences.
Recommended Articles
We hope that this EDUCBA information on "Location-Based Services" was beneficial to you. You can view EDUCBA's recommended articles for more information,