Updated June 21, 2023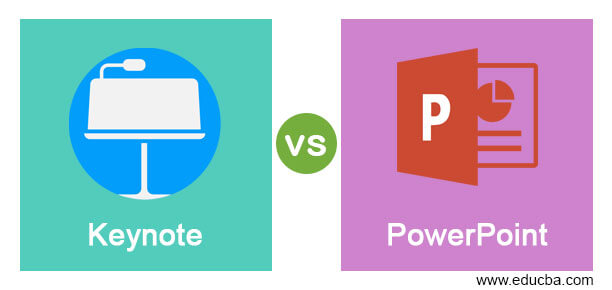 Difference Between Keynote and PowerPoint
Presentations are very much important when you have a business. Whether your business is online or in the "real world," it can help you provide your suppliers, investors, customers, or fans with powerful PowerPoint presentations or keynote presentations. It is not easy to create a presentation, but the company owner who wants a professional outcome for her business has several tools available. We have recently published an informative article on Slideshare and how this tool can be used for your lectures. But if you want an independent solution, Keynote and PowerPoint probably are the best two applications. Keynote and PowerPoint are two of the most popular software presentations. Keynote, the Apple/iOS version, can be compared to PowerPoint, which is a Microsoft Windows product.In this post, we will examine and evaluate the two applications to find out which one could be the best for your projects.
What is Keynote?
Keynote software from Apple is only created for the iOS/apple platform. You can use them on the MS Windows platform but not with your iPhone, iPad, or other iOS devices. The following features are provided for the presentation of this software: The Keynote presentation tool enables you to create a professional, nice, minimal work presentation. You can use the slide browser to skip the performance while you are creating it. Using Mail or an iTunes file-sharing service, you can add new slides, choose from several slide layouts, animations, and fonts, and import and edit MS PowerPoint files. Although users like you must find the benefits and disadvantages of the keynote.
What is PowerPoint?
Microsoft PowerPoint now comes as a Microsoft 360 service, which you can pay on an annual basis if you choose. PowerPoint, unlike Keynote, was specifically created for the Windows OS and is regarded as the Windows counterpart to Keynote. On MS PowerPoint, Microsoft Windows was previously only available for use. Users of Apple can now access the software through Apple's PowerPoint iOS app. The application enables you to download and use the app free of charge but to keep your subscription active, as Windows users do, you must subscribe to Microsoft 365.
Head to Head Comparison between Keynote vs PowerPoint (Infographics)
Below are the top 6 differences between Keynote and PowerPoint:

Key Differences between Keynote vs PowerPoint
Below are some key differences between Keynote and PowerPoint:
Was keynote free one of the aforementioned pros? Yes, and while the software can be downloaded free of charge, you first have to have an Apple device.
The laptops, tablets, and smartphones i.e. iPads, MacBooks, and iPhones. The keynote is free, but only after a pricey bit of technology has been forked out.
Thus, only on Apple devices will the keynote run. For your Windows or Linux PC, you cannot download it. The Android version of the Keynote app is also not available.
Saving your display as a PowerPoint file allows for preservation, but formatting and design may not be ensured. Basically, or nothing, this is the Apple device.
PowerPoint and keynote for your presentations. They are slide-based, for example. By inserting as few or as many items for discussion on your slide, you can control your presentation flow.
The ideal practice is to discuss only one point per slide during a presentation. You can choose from various content types to add to your slides, including graphics and multimedia.
Comparison Table
Below are the comparisons between DaVinci Resolve and Final Cut Pro:
| | |
| --- | --- |
| Keynote | PowerPoint |
| Other Word and Excel Microsoft elements seamlessly integrate them so that documents or tablets can be added to slides. | So that someone who did not build slides can be used user-friendly. |
| Experienced PowerPoint users who control almost any aspect of design have a lot of control over advanced functions. | Superb integration across devices – from your desktop to your tablet and continue to work on the same layout. |
| Intelligent design ideas can help you to create more visually attractive slides if your template is not rigid. | The effects of animation, transparency, and transition are polished and often don't look stupid or feel associated with presentations. |
| Most people use another Microsoft product PowerPoint and understand fundamental uses. | You can download and add many more templates if you don't like one of the included designs. |
| You can choose from thousands of themes, templates, and add-ons by default. | Basic configuration allows you to align and position elements for a smart overall design. |
| It's easy to edit and drag and drop the interface and slides. | The design looks less like a standard slide deck with a finer overall appearance. |
Conclusion
If you work with a team that often performs presentations in a PC and Mac environment, it is probably a good idea to make both software presentations at least comfortable. People don't always provide the option for which software to choose when it comes to Keynote vs PowerPoint.
Recommended Articles
This is a guide to Keynote vs PowerPoint. Here we also discuss the Keynote vs PowerPoint key differences with infographics and a comparison table. You may also have a look at the following articles to learn more –