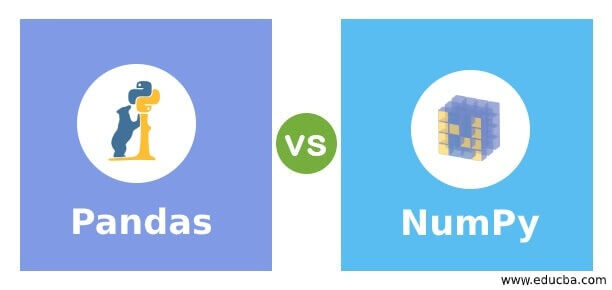 Difference Between Pandas vs NumPy
The following article provides an outline for Pandas vs NumPy. NumPy and Pandas are two of the most popular open source python libraries among data scientists and analysts. NumPy is a python module that is primarily used for performing numerical calculations such as trigonometric calculations, vector calculations, matrix manipulation etc. While pandas is a python module that is most popularly used for data analysis and manipulation.
Head to Head Comparison Between Pandas vs NumPy (Infographics)
Below are the top 7 differences between Pandas vs NumPy:

Key Difference Between Pandas vs NumPy
Let us discuss some of the major key differences between Pandas vs NumPy:
Data objects in NumPy and Pandas:The main data object in NumPy is an array, more particularly ndarray. It is basically an N-dimensional array that supports a wide variety of calculations and computations. These ndarrays are much faster than the python list based arrays as they do not involve any kind of looping. While the main data object in Pandas is a series. A series is basically a one-dimensional indexed array. By combining series objects, you can build another popular data object in pandas called DataFrames. DataFrames are n-dimensional indexed arrays. Very close to ndarrays in numpy but indexed.
Type of data supported in NumPy and Pandas: NumPy library mainly used for performing numerical computations and computations. We can perform complex calculations on arrays fastly and easily with a range of functions provided in this module. Whereas pandas library is primarily used for data analysis, by allowing us to work with CSV, Excel, SQL etc. It even has some inbuilt functions for data plotting and visualization.
Usage in deep learning and machine learning: NumPy is one of the basic modules on top of which most of the other python modules are built. The most popular machine learning tool scikit learn's modules can be fed (accept input as) with numpy arrays only. Same is the case with complex deep learning tools such as tensorflow. It also accepts numpy arrays as input and gives arrays as output. Pandas data objects cannot be directly used as input for machine learning and deep learning tools. We have to run them through several steps of preprocessing before feeding them to a machine learning module.
Performance with complex operations: NumPy performs best when it comes to complex mathematical calculations on multidimensional arrays. It is insanely faster than pandas when it comes to calculations such as solving linear algebra, finding gradient descent, matrix multiplications and vectorization of data etc. It is really tedious and tough to perform these calculations on data frames and series objects in pandas. However, one should note that numpy performs best with 50,000 or less number of rows in the dataset, while pandas perform best with 500,000 rows or more when it comes to data manipulation.
Indexing in Pandas and NumPy: The data rows are not indexed by default in numpy arrays. However, this is not the case with pandas. The data rows are indexed or labelled by default. You can play with the indexes and manipulate it. You can use a column as index or change the name of labels etc. in the indexes. This is quite not possible in NumPy.
Pandas vs NumPy Comparison Table
Let's discuss the top comparison between Pandas vs NumPy:
| | | |
| --- | --- | --- |
| Point of Comparison | Pandas | NumPy |
| Data Object/ Building Block | Main data object in pandas is a series. Series is equivalent to one-dimensional array, whereas other data object Data Frame is equivalent to ndarray. | Main data object in numpy is ndarray (n-dimensional array). |
| Popular Industry Usage | Pandas is popularly used for data analysis and visualization. | NumPy is popularly used for numerical calculations. |
| Type of Data Supported | Pandas provide support for working with tabular data- CSV, Excel etc. | NumPy by default support data in the form of arrays and matrix. |
| Usage in Deep Learning and Machine Learning | Pandas series and dataframes cannot be directly fed as input in these toolkits. | Toolkits for machine/deep learning like Tensorflow,scikit can only be fed using numpy arrays. |
| Performance | Complex operations can make the overall process slow on pandas data objects. Pandas performs best with more amounts of data, say 500,000k or more rows. | Complex operations are faster on ndarrays. NumPy performs best with lesser amounts of data, say 50,000 or less rows. |
| Indexing | Data rows are by default indexed in pandas series and dataframes. | There is no default indexing of data rows in numpy arrays. |
| Core Language | Pandas uses R language as its reference language and hence provide many similar functions. | NumPy is written in the C programming language and hence uses multiple functionalities from it. |
Conclusion
Python libraries such as NumPy and Pandas are often used together. Pandas rely on numpy for implementation of many of its data objects such as series and dataframes. It is built upon numpy. Having said that, pandas kind of puts numpy to usage for data analysis. Without pandas, numpy would not be that useful and without numpy pandas would not have existed. So, they are complementary to each other.
Recommended Articles
This is a guide to Pandas vs NumPy. Here we discuss the Pandas vs NumPy key differences with infographics and comparison table. You may also have a look at the following articles to learn more –