Updated May 30, 2023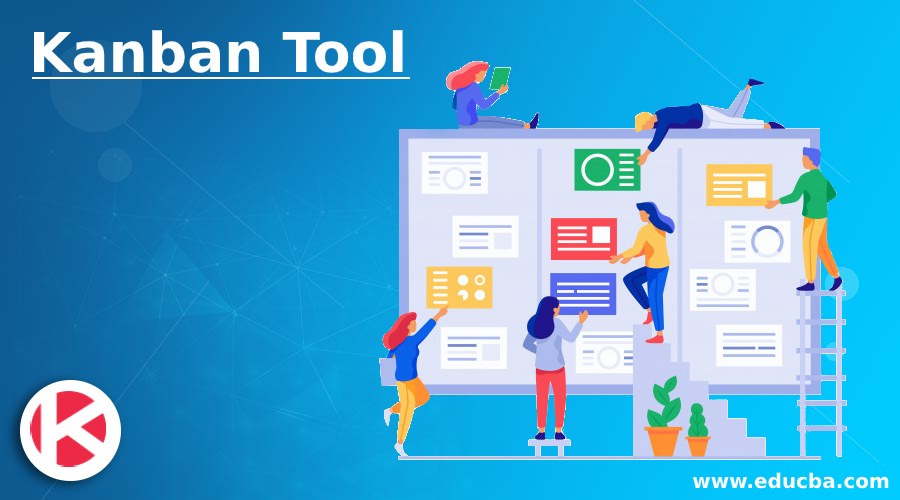 Introduction to Kanban Tool

Project managers have spent days tracking the tasks from start to finish with sticky notes and whiteboards. During these days, several teams are preparing and evaluating the implementation of the project through Kanban online tools, open to all. Kanban tools allow teams to solve problems by allocating time, energy, and money. They also help people track project completion activities and actions. Since this is so useful for visualizing projects, many of Kanban's most common methods for project management use a bigger, more complicated framework. You can use the list of the top vendors below to start shopping for a Kanban tool or use this product comparison method to find the right program for your needs for a free list of project management.
Top 7 Kanban Tools
Given below are the top 7 Kanban Tools:
1. Scrumwise
Scrumwise is a Kanban-integrated project management tool. Teams designed it to follow up on sprints using card and board visualizations to easily monitor and report dependencies and time constraints. Kanban features can be found in the tool through projects and independent boards. Integrate the GitHub account in Scrumwise to add data to your commitments or link to the API to remotely edit and update details. The team does not waste much time updating sites as all data changes are in real time.
2. Volerro
Volerro is a tool for project management that allows you to view the workflows in Kanban and agile contexts by using Calendar System to schedule and delegate tasks without overloading individuals. Connect any documents to your tasks or projects, then Volerro converts them to HTML5 so everyone can access their properties directly in a browser. Volerro offers in-app messaging that lets the team stay linked and interact where the work occurs. Dashboards show progress towards the target for all the projects and the whole team. Check this one with up to three projects free of charge.
3. Kanbanery
You can create templates to copy workflows and delegate tasks to subsequent new projects for your personalized boards. Every task card provides many ways of tracking progress: notes, due dates, and lists. Real-time updates happen, and alerts do not distract you from your increased workload. Send your data between tools and automatically update your Kanbanery boards with the GitHub, device, and API integrations. Using advanced reporting tools, you can track the workflow and define bottlenecks from start to finish. Kanbanery is offered in different pricing plans, but smaller teams can be expensive.
4. PlanviewLeankit
Leankit upgrades the base Kanban board with horizontal swimming lanes to explain simultaneous project objectives. While most of the tools from Kanban retain the traditional vertical rows to denote moves from a single view, Leankit allows you to see dependency and parallel projects. Every project phase is versatile so that you can adapt to the needs of your project. Leankit allows you to view overviews and analytical data for each team project, and the native mobile app includes all features. You can do comparison shopping to find the features, integrations, and rates you like. Leankit rates their plans per customer on many different levels. There is a free 30-day trial without a credit card.
5. Yodiz
Created to execute agile projects, Yodiz uses "Scrumban" views. This gives the team a summary and a zoom-in on activities when monitoring parallel workflows on swimming lanes. The main features of Yodiz are its integrations that support Zendesk, Atlassian products, and GitHub. This makes Yodiz a widely used tool for QA testing, production of new products, and bug tracking, which allows you to work on a single project with your UX and support teams.
6. Trello
Atlassian bought Trello at the beginning of January 2017. No significant improvements to tool usability have been made yet; however, minor integrations and enhancements were released in the intervening month. Because of its usability, Trello is the ideal resource for various individuals and business teams. Trello is solely Kanban, coordinated by team members for accessing and updating tasks and saving documents. Trello provides Slack integrations and other complements, which are known as Jira, Bitbucket, and Confluence, but Trello has its simplicity as its greatest appeal. It allows the basic tool to stay accessible, but business users can upgrade to more power and protection.
7. JIRA
JIRA has licensed the project management system of GreenHopper and has incorporated it entirely into its broad software and project creation platform ever since. JIRA gives the team a view of your projects' 10,000 and 1-foot views to create Kanban tools in the broader sense for projects and workflows. You can create custom workflows and copy those as prototypes when you receive a hang of it. JIRA offers your team-ready workflows.
Recommended Articles
This is a guide to Kanban Tool. Here we discuss the introduction and top 7 kanban tools with detailed explanation. You can also go through our other related articles to learn more –