Updated June 2, 2023
What is the Full Form of JPG
The full form of JPG is the Joint Photographic Experts Group. The JPG or JPEG is the same; it is one of the most prevalent file types, pronounced as Jay-PG, and is common these days. This image type was developed in 1992 by the Joint Photographic Experts Group (JPEG). Realizing a requirement to make large photographic files smaller, the group made JPG for effortless transformations. The only thing is some quality gets compromised.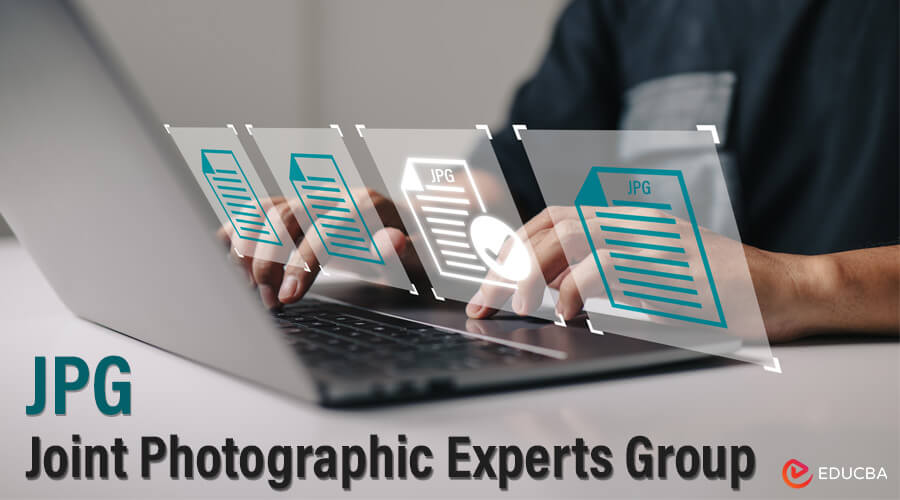 Nowadays, JPG and JPEG have no difference between them; they both belong to the Joint Photographic Experts Group. The number of characters used in the file extension name is the only difference. Now, with the development of Windows, the new versions are accepting .jpeg since they have evolved to have more characters in their file extensions, but .jpg is continuing as a commonly used image file extension.
Photo editing apps like Adobe Photoshop and Gimp on Windows and MACs save JPEGs by default to the .jpg extension.
Competency of the JPG format
The JPG is a lossy compaction file extension that immolates some image quality to reduce the file size and make it transferrable. Hence, JPG files are less efficient and easily transferred than other image formats like PNG and JPEG. These days, .jpg is a commonly-used image format since it creates a smaller file size than other formats and still holds high image quality.
History
The JPEG (Joint Photographic Experts Group) was an informal organization in 1986 to evolve compressed digital images. The published JPEG standard in 1992 is ISO/IEC 10918-1. Soon JPEG developed another image file extension, JPG, which is a lossy compression format of JPEG. So the size of the image files will get reduced and easily transferrable. Since then, it has been for compressing digital images to a greater extent. These days, most web browsers and photo-editing applications like adobe photoshop supported JPG image format and sustained as the default image format.
Features
It is a lossy compression file that discards some data permanently from the original photo to reduce image size. As a result, JPG becomes unsuitable for most images requiring high quality. But JPG is a good choice for images requiring smaller file sizes.
The compression of JPG image files to shorten file size proves beneficial for images to be shared online or stored online.
The file size of JPG is typically smaller than that of other image files like PNG. Hence it is easy to access. JPG files endow clarity, so it's useful for images uploaded on websites.
Work Process of JPG format
The JPG image format uses the process of the lossy compression algorithm. Hence, some of the data in the image are lost to make the file size smaller. Also, in some places, you may require to convert the image to pdf or other file extensions. In that case, quality maintenance is very much essential. And this factor depends upon the specific software and its settings used to create PDFs. But a higher-resolution image and a good quality PDF printer drive would help to retain the quality somewhat. Checking the quality settings in the PDF creation software is a must-to-do before printing out the pdf.
JPG is the most shared file extension and reduction method for those desiring to store and save digital images. It is specifically true for website owners who want to portray visually attractive imagery and uphold a premium user experience.
Recommended Articles
We hope that this EDUCBA information on the "JPG Full Form" was beneficial to you. You can view EDUCBA's recommended articles for more information,