Updated June 28, 2023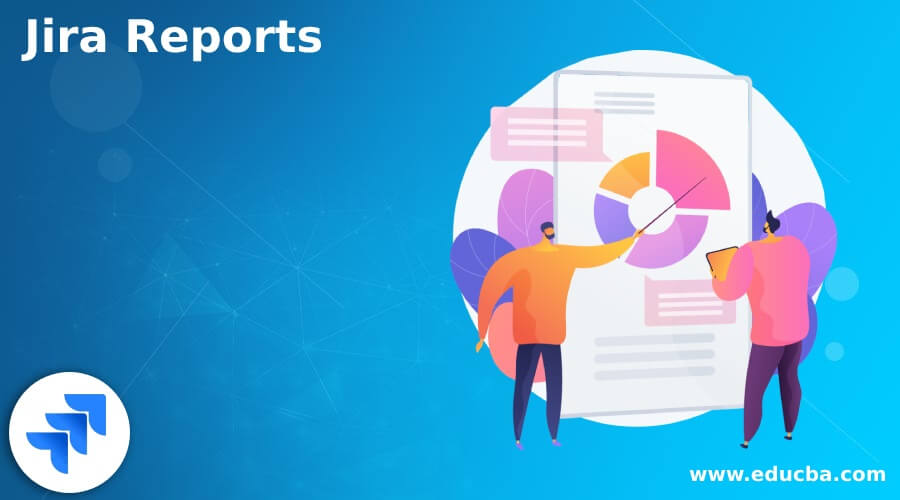 Introduction to Jira Reports
Jira is used to manage the project's entire lifecycle and provides different kinds of features, which is one of the functionalities that Jira provides. We can track all activities of the project. In other words, we can say that the Jira report helps us analyze the progress of the project and track issues and different timeline features of performance. Jira provides different types of reports within the specified project. We can track the problems, bugs, and sprint goals using the Jira report.
Overview of Jira Reports
Reports in Jira assist groups with breaking down progress on a venture, tracking issues, dealing with their time, and foreseeing future execution. They offer essential, continuous experiences for Scrum, Kanban, and other light-footed systems, with the goal that information-driven choices can be made (the absolute best kind).
Value of Jira Reports:
Jira reports assist you with keeping focused on run objectives, diving into issues, overseeing responsibilities, recognizing bottlenecks, and eventually working more astutely.
Also, those are only the reports. There are likewise Jira dashboards, another Jira announcing the choice. These are an approach to sorting out your undertakings and following your accomplishments in a solitary view utilizing many underlying devices. Some of these gadgets have similar Jira reports from your sheets, so they're in one spot, similar to the Created versus Resolved graph and Sprint Burndown.
1. Productivity: We can analyze how much work is completed per sprint and how much work we planned.
2. Predictability: At this point, we check the consistency of work and make suitable plans for the same.
3. Schedule: As per schedule, can we complete our work?
4. Scope: It defines the scope of the backlog.
5. Quality: We are addressing all possible bugs to maintain quality.
Jira provides the following type of report as follows.
Report for Scrum teams.
Report for Kanban teams.
Report for management.
Report for issue analysis
How to Use Jira Reports?
Now let's see how we can use the Jira report as follows:
We can easily access all features of the above table in our respective scrum and Kanban as per our requirements. Jira allows us to generate all types of reports as per our requirements, and also, we can specify who will see the information with the current date and issues. These reports will utilize whichever assessment measurement your board depends on, so assuming you're using Story Points, the reports will follow the progress and finish utilizing those. On the other hand, assuming you have a custom number field, the words will be founded on that. So there are different methods to use the Jira report as follows.
First, we must click on a project, select the required task, and click on reports. If our project is associated with multiple projects, we must choose the report option from the dropdown menu. In the second option, we can select a report from the board only for the server or data center.
The Jira board is shown in the following screenshot as follows.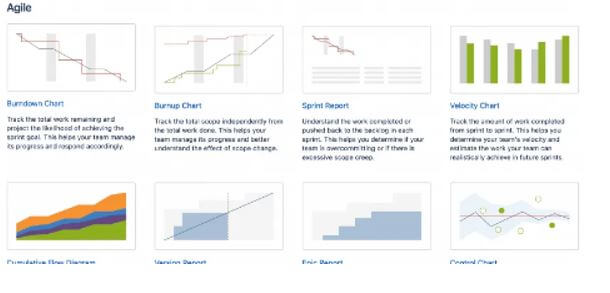 How to Access Reports in Jira?
Now let's see how we can access reports in Jira as follows:
First, we select the project inside the specific project, as shown in the following screenshot.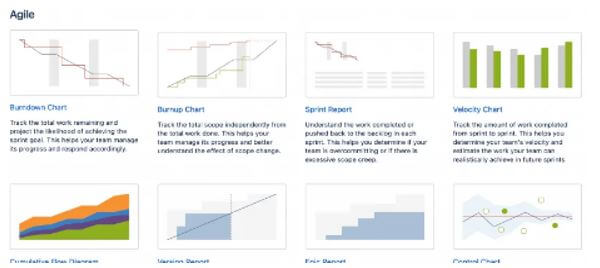 Click on the report symbol; it shows all supported types of Jira reports, as shown in the following screenshot.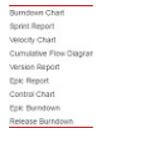 The recollection of reports depends on the type of board used, including specific issues the board addresses. When we open the project, click on the report section; inside the report section, we have different types of the reports, such as charts, velocity, flow charts, sprint reports, etc. Implementing the Jira report is straightforward; as per our requirement, we can use different types of reports.
How to Create Reports in Jira?
Now let's see how we can create a Jira report as follows:
First, we need to navigate the project as per our requirements.
After that, click the report.
Now select the report that we want to generate.
Above three steps as shown in the following screenshot.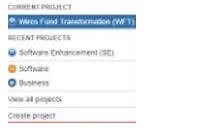 Types of Jira Reports
Given below are the types of Jira Reports:
Agile: Agile reports the following features as follows.
Burndown Chart: It is used to track the remaining work as well as it also used to show project goals.
Sprint Chart: It is used to track how work is completed.
Velocity Chart: It follows how much work we completed sprint by sprint.
Cumulative Flow Diagram: It shows the status of issues over time.
As well as it supports different types of features such as Version Report, Epic Report, Control Chart, Epic Burn Down, and Release burn down.
Issues Analysis Report:
Issue Age Report: It shows the age of the issue.
Reported and resolved Issue Report: It shows how many problems are created and how many we decide.
It also supports chart reports, newly created issues, and resolution times.
Now let's see the Prediction and arrangement report features as follows:
Report for Time Estimation: It shows the current and planned timeline of issues in specified projects.
Report for Workload Estimation: It also shows the time estimation of user work, as it helps us understand which user has more work and less.
Report for Version Estimation: It shows how much work is pending per user and their respective issues; using this feature, we can analyze how much work is pending.
Conclusion
With the help of the above article, we saw the Jira report. From this article, we saw basic things about the Jira report and the integration of the Jira report, and how we use it in the Jira report.
Recommended Articles
We hope that this EDUCBA information on "Jira Reports" was beneficial to you. You can view EDUCBA's recommended articles for more information.