Lord Krishna
Janmashtami, an auspicious Hindu festival celebrated with unparalleled enthusiasm, marks the birth of Lord Krishna, the eighth avatar of Lord Vishnu. Falling on the eighth day of the dark fortnight in the month of Bhadrapada in the Hindu calendar, Janmashtami holds cultural, religious, and spiritual significance. This joyous occasion unites millions of devotees worldwide in commemorating the divine play and teachings of Lord Krishna, whose life and legacy continue to inspire generations. As we celebrate Janmashtami, we must explore Lord Krishna's historical context, rituals, and enduring impact on Hinduism's cultural tapestry.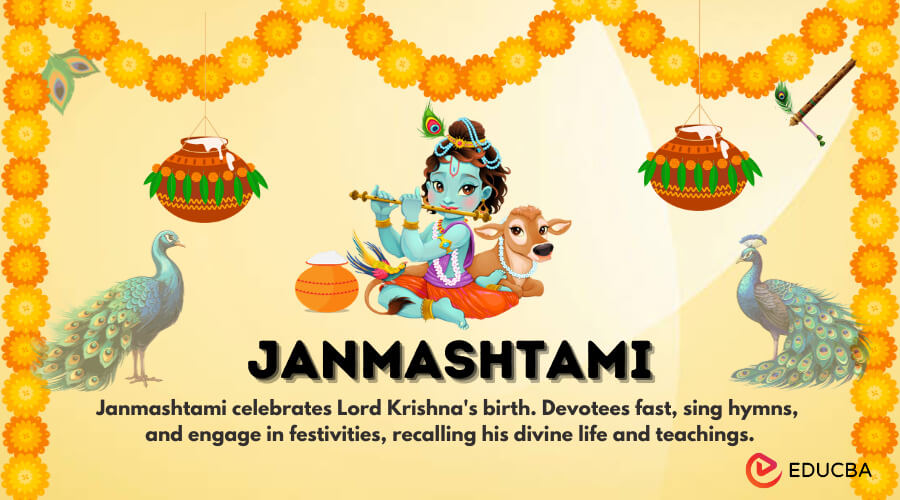 Historical Background
The Birth of Lord Krishna: The enchanting tale of Janmashtami begins with the divine birth of Lord Krishna in the city of Mathura. In Hindu mythology, the eighth day of the waning moon in the month of Bhadrapada is thought to be when Krishna was born. Born to King Vasudeva and Queen Devaki, his arrival was accompanied by celestial phenomena and miraculous events, signifying the embodiment of cosmic harmony.
Krishna's Childhood and Miracles: Krishna's childhood, spent in the pastoral landscapes of Vrindavan, is adorned with stories of mischief, love, and extraordinary feats. His playful dalliances with the gopis (cowherd girls), the endearing tales of stealing butter, and the awe-inspiring display of supernatural powers, known as Leelas, showcase the divine nature of this beloved deity.
Role of Lord Krishna in the Bhagavad Gita: As Lord Krishna grew into a wise and charismatic leader, his teachings became immortalized in the Bhagavad Gita. Spoken on the battlefield of Kurukshetra, these sacred verses impart profound wisdom on duty, righteousness, and the path to spiritual enlightenment. The Bhagavad Gita remains a guiding light for seekers of truth, emphasizing the importance of selfless action and devotion to a higher purpose.
Rituals and Celebrations
Fasting and Prayer: Janmashtami is a devout observance day marked by rigorous fasting and fervent prayer. Devotees engage in day-long fasts, breaking them only at midnight, the auspicious moment of Lord Krishna's birth. The fast is a symbolic gesture of spiritual discipline and a means to purify the body and mind, inviting divine blessings into one's life.
Midnight Celebrations: The pinnacle of Janmashtami festivities occurs at midnight, echoing the precise moment when Lord Krishna is believed to have manifested on Earth. Temples resound with joyous hymns, bhajans, and the rhythmic beats of traditional instruments as devotees gather to celebrate the divine birth. The atmosphere becomes charged with devotion and anticipation, creating a sacred space for communion with the divine.
Dahi Handi: Breaking the Pot of Curd: One of the most vibrant and popular customs associated with Janmashtami is the Dahi Handi ceremony. Inspired by the mischievous childhood escapades of Lord Krishna, teams of enthusiastic participants form human pyramids to reach and break earthen pots filled with curd, suspended at significant heights. This lively and competitive tradition symbolizes unity, teamwork, and the triumph of collective effort—a reflection of the spirit of Lord Krishna's playful nature.
Cultural Impact
Influence of Krishna in Art and Literature: Lord Krishna's enchanting life has inspired artists and writers across centuries. His divine exploits, depicted in classical paintings, sculptures, and literary works, have contributed richly to India's cultural tapestry. From classical dance forms like Kathak to intricate temple carvings, Krishna's presence is woven into the artistic expression of devotion and celebration.
Folk Traditions and Krishna Leela Performances: In the heartlands of India, various folk traditions and performances bring Krishna's stories to life. Colorful and vibrant processions, street plays, and 'Raslilas' (dramatic reenactments of Krishna's divine dance with the gopis) engage communities in the joyous retelling of Krishna's Leelas. These traditions serve as a dynamic bridge between the ancient mythological tales and the contemporary cultural landscape.
Janmashtami in Different Regions: The regional variations of Janmashtami celebrations reflect the diversity of India. Each state adds a unique flavor to the festivities, incorporating local customs, music, and cuisine. Whether it's the exuberant 'Dahi Handi' celebrations in Maharashtra or the elaborate 'Uriyadi' (pot-breaking) events in Tamil Nadu, Janmashtami serves as a unifying cultural thread, binding the nation in shared reverence for Lord Krishna.
Spiritual Significance
Lessons from Lord Krishna's Life: Beyond the colorful celebrations, Janmashtami holds profound spiritual significance. Lord Krishna's life offers a treasure trove of timeless lessons. His unwavering commitment to righteousness, his teachings on detachment, and his emphasis on the path of devotion provide spiritual seekers with practical guidance for navigating the complexities of life.
Symbolism in Janmashtami Celebrations: The rituals and symbols associated with Janmashtami carry deep spiritual meanings. The breaking of the 'Dahi Handi' symbolizes the triumph of good over evil and the breaking of ego. The midnight celebration signifies the divine intervention into the darkness of ignorance. These symbolic acts serve as reminders of the eternal truths embedded in Lord Krishna's teachings.
Devotional Practices and Bhakti: Janmashtami catalyzes deepening one's connection with the divine through bhakti (devotion). Devotees pray, chant sacred mantras, and read scriptures to strengthen their spiritual bonds. The festival encourages individuals to cultivate a heart whole of love, surrender, and devotion, mirroring the profound relationship between the gopis and Lord Krishna in Vrindavan.
Modern Observance
Urban Celebrations and Events: In contemporary times, Janmashtami has transcended traditional boundaries and found expression in urban landscapes. Cities come alive with grand processions, cultural events, and spiritual discourses. Temples organize elaborate programs, attracting people from diverse backgrounds to participate in the collective celebration of Lord Krishna's birth.
Janmashtami in the Global Context: Janmashtami has become a global phenomenon, with the diaspora carrying the festival's spirit to different corners of the world. Hindu communities worldwide celebrate their culture through events, concerts, and gatherings, fostering a sense of unity and pride. The festival's universality speaks to its ability to resonate with people from various cultural backgrounds, promoting understanding and harmony.
Interfaith Perspectives: Janmashtami has also gained recognition beyond Hindu communities, inviting people of different faiths to appreciate its cultural and spiritual dimensions. Interfaith dialogues and events often showcase the universal values embedded in Lord Krishna's teachings, fostering mutual respect and understanding among diverse religious communities. In this context, Janmashtami becomes a bridge for cultural exchange and interfaith harmony.
Conclusion
Janmashtami is more than a celebration; it is a cultural symphony and a spiritual journey. From the divine tales of Lord Krishna's birth to the vibrant rituals and their contemporary adaptations, the festival encapsulates the timeless wisdom of the Bhagavad Gita. As it resonates globally, Janmashtami is a unifying force, fostering cultural pride and interfaith harmony. In its colorful tapestry of rituals, stories, and modern observances, Janmashtami stands as a beacon of joy, wisdom, and devotion, inspiring generations to embrace the eternal message of Lord Krishna.
Recommended Article
We hope that this EDUCBA information on the "Janmashtami essay" was beneficial to you. You can view EDUCBA's recommended articles for more information,